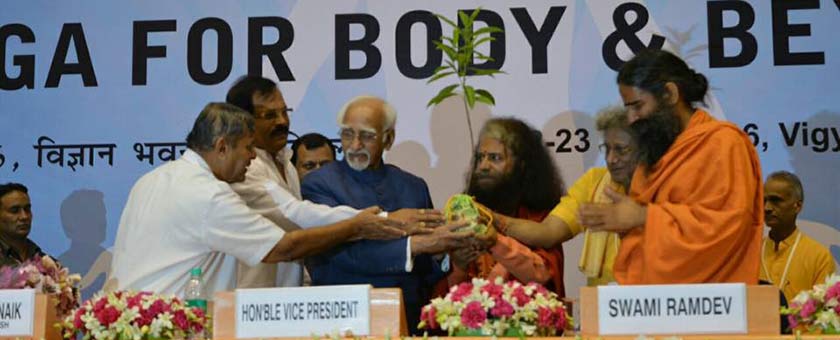 Yoga for Body & Beyond- International Yoga Day
The two day International Conference on 'Yoga for Body & Beyond' was inaugurated today by the Honble Vice President of India Shri Mohammad Hamid Ansariji, Hon'ble Minister of AYUSH, Shripad Yesso Naikji, Pujya Swami Chidanand Saraswatiji, Pujya Baba Ramdevji, Pujya Dr Pranav Pandyaji, Pujya Swami Amrita Suryanandaji, Prof Dr H R Nagendraji, Chancellor of VYASA, Shri Ajit Mohan Sharanji, Secretary AYUSH, Shri Jitendra Sharmaji, Joint Secretary AYUSH.
Shri Ajit Mohan Sharanji welcomed all respected Yoga masters, saints, dignitaries from all across India and the world to the historic second International Yoga Day conference. There was a beautiful lamp-lighting ceremony with all of the respected dignitaries. Hon'ble Vice President Shri Hamid Ansariji gave a beautiful opening speech on Yoga its implications and significance to public health. He shared his exploration of the Patanjali Yog Sutras and explained that poverty, hunger, good health are the need of the hour. He mentioned that it is estimated that 4.8 trillion dollars will be sent globally by 2030 due to noncommunicable diseases, hypertension, cardiovascular diseases, diabetes, etc. He shared that for developing countries who are not able to augment these diseases for them the quest for complementary health approaches is vital, Yoga provided a viable and dynamic preventative and complementary health approach to meet this need.
Pujya Swami Ramdevji shared that Sanskrit is the soul of Yoga. Yoga must be practiced and shared with all. Yoga is a Health, Happiness and Harmony. He committed to personally investing 10 crore in the spreading and sharing of Yoga, to train 1 lakh Yoga Teachers and to annually inspire one crore people who live Yogic life. He encouraged us all to map out our contribution to Yoga on the auspicious occasion of the second Yoga Day.
Dr Pranav Pandyaji, Vice Chancellor of Dev Sanskriti Vishwa Vidyala, shared that is maintaining and sustaining equilibrium in our lives and in our world is Yoga. By doing so, we would create a violence-free and stress-free world. He concluded by adding that when large populations of people practice Yoga the whole environment is purified and sanctified, encouraging to look at Yoga as more than asana but as a way of life.
Pujya Swamiji gave an incredible and inspiring speech sharing that He was so deeply pleased to see, under Hon'ble Prime Minister's visionary leadership, the whole world was coming together in Yoga- in Union. He said, "Today, this is not just a Make In India programme but a Make India programme. Yoga has to make the journey from the United Nations to Uniting all of Creation."
Swami Amrita Suryanandaji shared that India is the Motherland of Yoga and that is the most precious gift to the world. He shared that the gateway to Yoga is ahimsa (non-violence) and this, to him, was the greatest, most compelling need of the hour for us to practice Yoga by ensuring non-violence in our thoughts, actions and words.
Dr. HR Nagendraji said that disease is caused when there is dis-ease. Therefore, bringing back the ease is Yoga. Yoga is a multi-dimensional solution to both inner and outer challenges that we face as individuals, as communities and as nations.