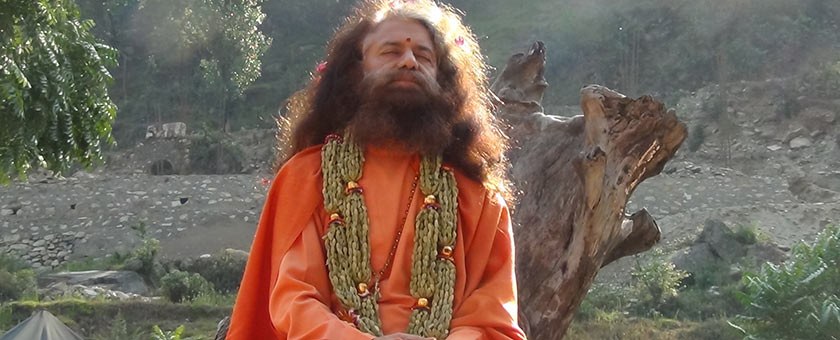 Yatra to Gangotri and Uttarkashi
From 2nd to 5th June, Pujya Swamiji, sevaks from Parmarth, and other devotees went on yatra to Gangotri, the sacred source of Mother Ganga, in honor of Pujya Swamiji's 60th birthday on June 3rd.  On the way up to Gangotri, the group stopped in a beautiful place along the banks of Bhagirathi in Uttarkashi.
Of course, Pujya Swamiji is like Gangaji, in that He keeps flowing in order to serve all, never thinking of Himself first but always of others.  Thus, the trip to Uttarkashi and Gangotri was not just a divine yatra for all, but an opportunity to serve these areas as well.
While in Uttarkashi on the 2nd and 3rd, Pujya Swamiji met with the Divisional Forest Officer (DFO) Dr. IP Singhji and his other forest officials.  Together they planned for about 25,000 trees to be planted there in Uttarkashi.
On the morning of the 3rd, before leaving Uttarkashi, a special tree plantation was held at the camping ground.
That night in Gangotri, a special Ganga Aarti ceremony was held on the banks of Bhagirathi.
On the morning of the 4th, Ganga Action Parivar sevaks and local volunteers and pilgrims gathered at Bhagirathi to do a clean-up of Her banks, particularly focusing on the main bathing ghats in Gangotri which are often littered with all sorts of plastic and polythene, including leftover religious waste.
After the clean-up, GAP proceeded to another area of Gangotri to plant another set of trees.  This was actually the beginning of a massive tree plantation program which is happening in Gangotri in order to beautify and restore the environment there.  Soon, 11,000 trees will be planted in Gangotri!
Pujya Swamiji also met with local pandits in Gangotri who live and serve around the Gangotri Temple.  He discussed with them the "New Face of Gangotri" plan for a clean and green Gangotri, encouraging and inspiring them to all play the role they can to support this effort.
On the way back down from Gangotri, some GAP team members also stopped in Uttarkashi once again for yet another tree plantation.  This was the inaugural tree plantation for the tree plantation program which is now beginning in Uttarkashi, in which over 25,000 trees will soon be planted in and around the city.