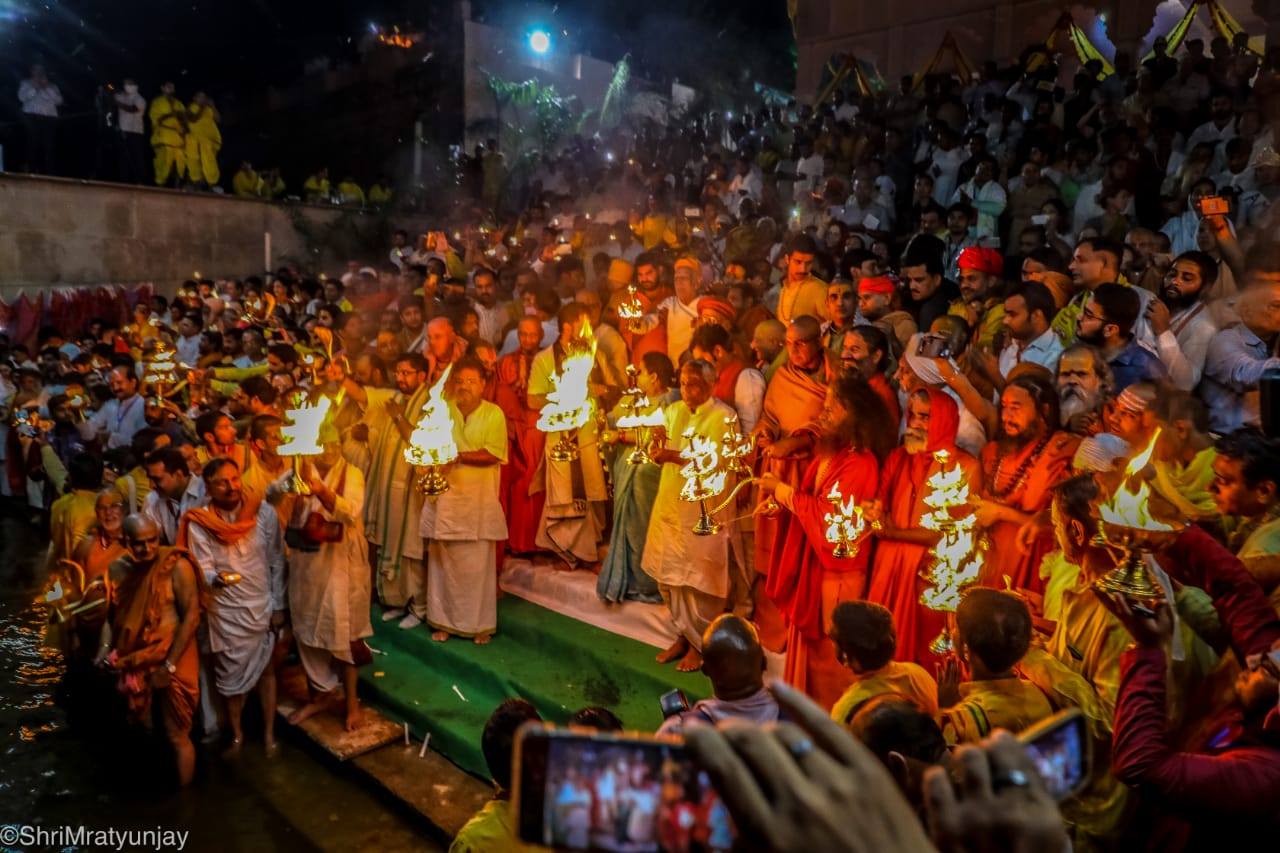 Yamunaji Ki Aarti on Sharad Purnima
The pictures and updates are NOW ONLINE from the gorgeous and breathtaking Yamuna ji ki Aarti in Raman Reti, Mathura- Vrindavan.
Pujya Swami Chidanand Saraswatiji – Muniji​ joins a galaxy of saints on #SharadPurnima on the banks of the #Yamuna River in #Vrindavan-#Mathura under the leadership of Karshnipeethadeshwar Pujya Swami Gurusharananandji in a pledge to protect #water, #nature, #culture & our #future!
Gorgeous, breathtaking pictures now online of #SharadPurnima #Yamuna Aarti in #Vrindavan #Mathura with Pujya Gurusharananandji Maharaj, @yogrishiramdev, @PPBhaishri, @PujyaSwamiji, @AvdheshanandG, @SriPundrik & others! #KartikMas #IncredibleIndia See more: https://t.co/GdYSgqBTKW pic.twitter.com/D8SIAqae9T

— Parmarth Niketan (@ParmarthNiketan) October 27, 2018
Gracing the Yamuna Maha Aarti and Sankalp were Pujya Swami Ramdev​ji, Pujya Ramesh Bhai oza "Bhaishri"​, Pujya Swami Avdeshanand Giri Ji Maharaj​, Pujya Swami Govind Giriji, Pujya Shri Shri Rajendra Das G Maharaj Malookpeeth Vrindavan​, Pujya Gitamanshi Swami Gyananand​ji, Pujya Acharya Sri Pundrik Goswami​, Pujya Anurag Krishan Shastriji (Kanhaiyaji), Pujya Acharya Dr. Lokesh Muni​ji, Pujya Swami Paramadvaitiji and many others. Devotees from across India and around the world took part in this incredible ceremony of light, life and love.
.@PujyaSwamiji joins a galaxy of saints on #SharadPurnima on the banks of the #Yamuna River in #Vrindavan–#Mathura under the leadership of Pujya Swami Gurusharananandji in a pledge to protect #water, #nature, #culture & our #future! Watch it LIVE on #SanskarTV @SanskarOfficial pic.twitter.com/yO6WBuQdif

— Parmarth Niketan (@ParmarthNiketan) October 24, 2018
Glad to be w/ Pujya Maharajji, @yogrishiramdev, @PPBhaishri, @AvdheshanandG, Pujya Govind Giriji, Pujya Rajendradasji, Pujya Gyananandji, @SriPundrik & others on the banks of #Yamuna in #Vrindavan pledging for #climateaction & our sacred #rivers! More: https://t.co/3yrFHn0aQB pic.twitter.com/gGmtsy5op8

— Pujya Swamiji (@PujyaSwamiji) October 27, 2018
Videos and speeches will be coming soon. *pictures courtesy Hemant Bhardwaj and Kishor Bhatt