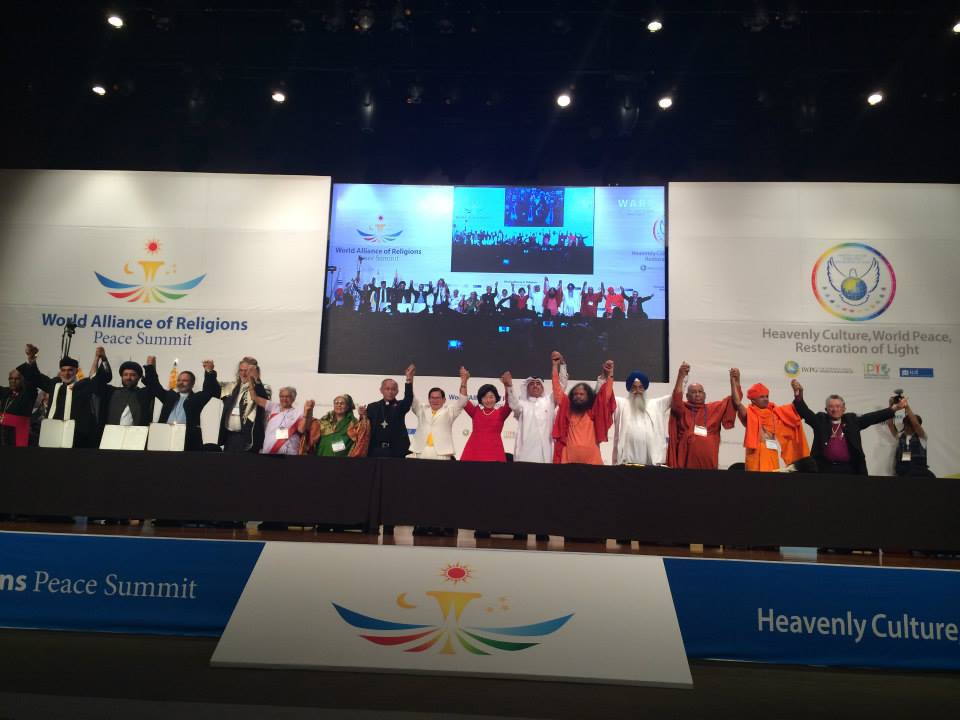 World Alliance of Religions in Seoul, South Korea
A message of peace, unity and oneness resounded in Seoul, South Korea when over 120 interfaith leaders joined together with ambassadors and representatives of over 24 countries for the World Alliance of Religions to sign a petition for peace and pledge their commitment to serve together for world peace. Over three hundred thousand participants gathered together in South Korea's capital from over 50 countries, a majority of them from the International Youth Association as well as International Women's Association.
Representing India, HH Pujya Swami Chidanand Saraswatiji, President of Parmarth Niketan (Rishikesh), Founder of Ganga Action Parivar and the Co-founder of Global Interfaith WASH Alliance, shared that India has always stood for peace, recognizing the world is one family in a spirit of Vashudhaiv Kutumbakam. He said, 'Just as in a family one may have arguments and differences but at the end of the day you are still one. So to amongst the alliance of different religions and countries we are all one. Therefore, let us dedicate 3H's to our global family, aligning our Head, Heart and Hands to serve and spread the message of peace not pieces."
He also shared that India is a country of many faiths and that their is unity amongst the diversity. He said that Indian values teach us to 'worship our own but respect all.' He emphasized that we must move away from creating more borders and boundaries to becoming bridges and filling the chasms that separate us. He inspired all participants and people from all over the world to put aside their differences and work together for the betterment of all, especially to come together to prevent global warming, preserve our sacred environment and ensure access to clean water, sanitation and hygiene for all.
Pujya Swamiji warmly welcomed the Chairman of the World Alliance of Religions to visit the banks of Mother Ganga in Rishikesh, India and shared that India is not merely a piece of land but a land of peace.
Preceding this major interfaith event, on the previous day participants lined a local stadium, jam packed with people shouting "We want peace" in every language. Children lined the parade route waving flags of peace. Heads of numerous countries, Presidents, Vice-Presidents, Prime Ministers – current and former – joined hands with thousands of religious leaders of every conceivable religion from every corner of the Earth.
[fbalbum url="https://www.facebook.com/media/set/?set=a.10152705513237698.1073741884.86246862697&type=1″]
[fbalbum url="https://www.facebook.com/media/set/?set=a.10152280969640667.1073741864.726135666&type=1″]