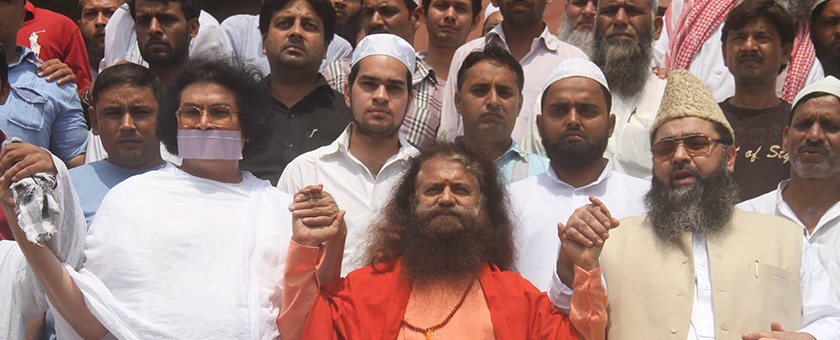 Working for Peace in Muzzaffarnagar
In the wake of the communal violence which gripped Muzaffarnagar in August and September, on the 15th September leaders of the Hindu, Muslim and Jain faith traveled there to bring a message of peace and love to the people.
Pujya Swami Chidanand Saraswatiji, President of Parmarth Niketan Ashram, Rishikesh and Founder of Ganga Action Parivar, Imam Umer Ahmed Ilyasi, President of the All India Imams Association, and Acharya Lokesh Muni, head of the Ahimsa Vishwa Bharti in Delhi, traveled together to Muzaffarnagar to urge the people to see one another, not as enemies, but as brothers and sisters.
Said Pujya Swami Chidanand Saraswatiji: "In this case, yes, wrongs were committed and mistakes happened. But no wrong was ever made right through more violence and it does not matter now who started the fight lets all come together to end it. Let's not make the sugar-cane capital of India, which brings so much sweetness to the nation, a bitterness and hatred capital. It's time we bring sweetness to our relationships and to living together in harmony and love."
Said Imam Umer Ilyasiji: "We must bring back peace to our villages and cities here. We think we are hurting others, but actually we are hurting ourselves through this violence. The false boundaries, borders and divisions must be removed and we must realize there is no difference between 'us and them.' We are all one. It is neither our job nor our right to take the life of another which God has given him. We must have respect for the life of all and protect that."
Said Acharya Lokesh Muniji: ""Come, let's sit together as one family and talk, even if it's few steps, lets walk. Vikas (development) or, and as Pujya Swamiji says, mitas (sweetness) never comes from fighting it only comes from peace and love."
A large event was held in which the spiritual leaders met with local masses and urged them to return to peace. Pujya Swami Chidanand Saraswatiji emphasized that, 'We have to stop fighting with one another and work as one family to fight the many grave challenges that we face as human beings- such as poverty, pollution of our environment, neglect of our sacred rivers, global warming amongst others. These are our collective enemies and much greater threat to our existence evident in the recent tragedy that unfolded in Uttrakhand." He called for all to come together as one family to serve together for our collective green and peaceful futures.
[fbalbum url="https://www.facebook.com/media/set/?set=a.630882143600297.1073741883.195396983815484&type=1″]