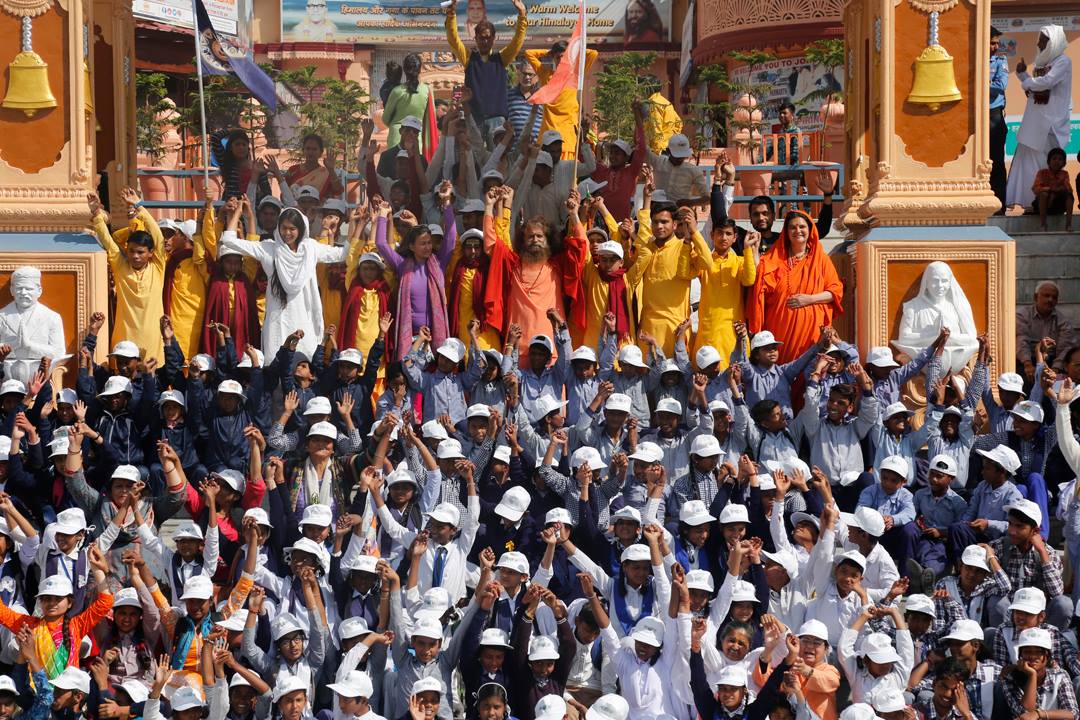 WaterSchool Champions Make World Water Day Sparkle
Hundreds of young water champions gathered on the banks of the River Ganga today to celebrate a World Water Day of pageantry and joy
The program, held at Parmarth Niketan Rishikesh, in partnership with the Global Interfaith WASH Alliance, Swarovski and Ganga Action Parivar, gathered young water champions to share their own song, dance, art, theater and spoken word performances. Together, they vowed to spread the word that now is the time for all to join together to save water and keep the environment clean.
यह न केवल विश्व जल दिवस है बल्कि वास्तव में विश्व जीवन दिवस है I To me #WorldWaterDay is World Life Day because water 💧 is life. Therefore, we must preserve, conserve & serve to protect #water & our children must lead the way! #WWD2019 #Water4All #WaterSchools #BeTheChange pic.twitter.com/CGCuRPzTJD

— Pujya Swamiji (@PujyaSwamiji) March 23, 2019
जल का संरक्षण समेकित प्रयासों से ही सम्भव हो सकता है और इस हेतु स्कूली छात्र महत्वपूर्ण भूमिका निभा सकते है। जल हमारा भविष्य ही नहीं बल्कि वर्तमान भी है, अतः जल की हर एक बूंद को संरक्षित करना हमारा दायित्व हैं। #WWD2019 #WorldWaterDay #WaterisLife #WaterForAll pic.twitter.com/8eWgF54xTx

— Pujya Swamiji (@PujyaSwamiji) March 23, 2019
The participants were proud members of the WaterSchool Programme, which, in partnership with GIWA and Swarovski, has been enabling children from across the region to learn inspiring lessons about nature and its role in their lives, including through hands-on classroom experiments, tree plantations, mass clean-ups, special events and more. As a result, children are motivated and mobilized as champions for a clean, green and water-secure future.
Said a class 4 student, aptly named Ganga, "We humans are the creator of problems of water and we humans have to create solutions to it as well."
Said Pujya Swami Chidanand Saraswatiji, President of Parmarth Niketan and Founder, Global Interfaith WASH Alliance, ""From this Water Day, let us vow to inspire everyone to save water, save our environment and save our future. You are the future, and the future is now. Never think that you are too young to make a lasting difference. Your voices matter, your choices matter, and we are so proud that you have all become champions for a clean, green and serene planet through the WaterSchool programme. I always say there can be a Plan A and a Plan B, but no Planet B- we have only one planet and we must do everything we can to protect, preserve and serve that planet."
Super excited to begin our #WorldWaterDay Celebrations today with more than 500 children, students and delegates from our #WaterSchools & around the world joining us on the banks of the River Ganga, at the GIWA Secretariat @ParmarthNiketan. #WWD2019 #WaterisLife #Water4All #water pic.twitter.com/hmKHATI1a3

— WASH Alliance (@wash_alliance) March 22, 2019