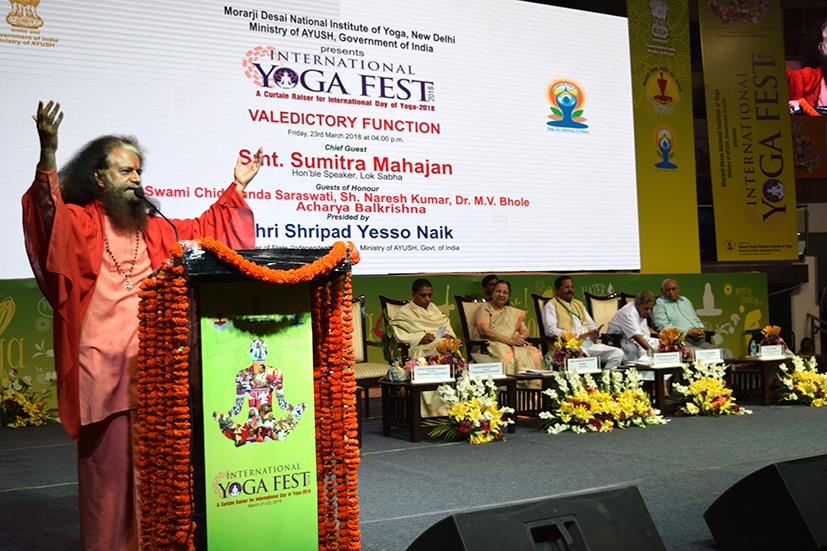 Valedictory Session of Yoga Festival in Delhi
The valedictory session of the three day International Yoga Festival, organised by the Morarji Desai National Institute of Yoga​ with the support of the Ministry of AYUSH, Government of India, was graced by Hon'ble Speaker of Lok Sabha Speaker Smt Sumitra Mahajan​, Pujya Swami Chidanand Saraswatiji – Muniji​, Pujya Acharya Bal Krishna​ji, Dr H R Nagendra​ji, Chancellor SVASYA, Dr MV Bhole, researcher & Yoga Scholar, Lonavala, Pune and Sh.Naresh Kumar, NDMC chairman and many other eminent yoga experts and yoga institutions at the Talkatora Stadium, New Delhi recently.
It was presided by Hon'ble AYUSH Minister, Shri Shripad Naik​ji, Dr Ishwar Basavaraddi​ji, Director of Morariji Desai.
In her valedictory address Smt. Sumitra Mahajan said that just like the end of any festival fills us with a positive energy, in the same way, the positive energy gained from this fest by the people from different corners of the country who have gathered here will reach not just every corner India but across the world. She also said that Yoga is "Apne Swayam Ke Madhyam Se Swayam Ko Jaanna Aur Swayam Ko Saksham Banana."
On this occasion, Shri Shripad Naik said that with the active initiative taken by our Prime Minister Shri Narendra Modi Yoga has reached almost every doorstep not only in India but overseas also. He said that people practise Yoga in one form or the other for maintaining good health or even to overcoming many lifestyle-related disorders. The Minister further said that Yoga is useful in combating these disorders and shows that science and spirituality need not always be treated as separate entities. The AYUSH Minister said his Ministry has taken many initiatives to promote Yoga and AYUSH systems and this will definitely help to reduce the health budget in the years to come.
Pujya Swamiji gave a riveting speech and shared, "Yoga is beyond religion. It is for all. I always share with people, 'Yog Karo, Roj Karo aur Mauj Karo' means 'Do Yoga, Be Yoga, Learn Yoga, Live Yoga and Love Yoga."
Acharya Balkrishanji encouraged all participants to not only propagate the knowledge of Yoga to the entire world but also have to experience that knowledge within themselves.
Everyone lauded Dr Ishwar Basavaraddii for his dedication, commitment and conviction for bringing everyone together in true Yoga, true union.