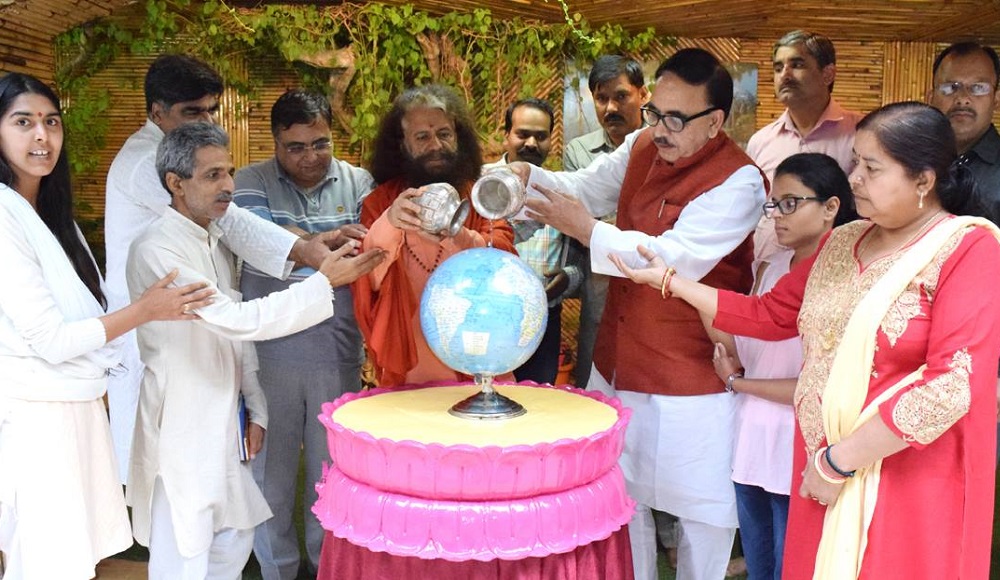 UP BJP State President Dr MN Pandeyji meets Pujya Swamiji
Rishikesh April 8th: BJP President of Uttar Pradesh, Dr. Mahendra Nath Pandey, with his wife Mrs. Pratima Pandeyji and daughter Tarankita Pandey, visited Parmarth Niketan (Rishikesh) and sought Pujya Swami Chidanand Saraswatiji – Muniji​'s blessings. They performed Ganga Aarti, Ganga Poojan (worship) and Snan (holy dip) as well as served special Bhandara (free feast) for all saints, pilgrims and students. They also performed a special water blessing ceremony and were blessed by Pujya Swamiji with a sacred Rudraksha sapling as a symbol of their clean and green pledge before departing their two day visit.
During their visit, they discussed with Pujya Swamiji technologies and solutions that can clean and protect the free flow of the River Ganga in Uttar Pradesh. They also discussed ideas and awareness campaign for a Clean & Green Kumbha Mela in Allahabad from January to March 2019.
Pujya Swamiji also gave a proposal by the Global Interfaith WASH Aliiance (GIWA) and Ganga Action Parivar (GAP) to Dr Pandeyji for the Hon'ble Chief Minister Mahant Yogi Adityanathji detailing a "Swachh Kumbh, Swachh Bharat" campaign. The proposal highlights targeted messaging, planned campaigns, activities, events, key signage, PSAs and other mass awareness campaigns that can help trigger behavior change and gather greater momentum towards the Swachh Bharat Mission and NamamiGange!
Said PujyaSwamiji, "Kumbha Mela is the world's intangible cultural heritage and we should utilize it as a unique opportunity to make it a Mela with a Message. The message should be of a cleaner and greener world for all beings!"
Pujya Swamiji also shared, "The River Ganga covers the distance of 2525 kms from Gangotri to Ganga Sagar but passes through 1140 kilometers in Uttar Pradesh alone. In the 27 districts along the banks of the Ganges, there is a great need for intensive plantation. GIWA and GAP are committed to undertaking a massive plantation programme, especially in Prayag, to restore and rejuvenate the River and its tributaries."
Dr Pandeyji lauded Pujya Swamiji's tireless efforts to purify the sacred River Ganga and His continual inspiration to others to protect and preserve their sacred water bodies. He was joined in his visit by Mr Brijesh Singhji, MLA of Deoband and many others. Joining the discussions for a Clean and Green Kumbha Mela was Nandini Tripathi​, Director of Implementation, GIWA.