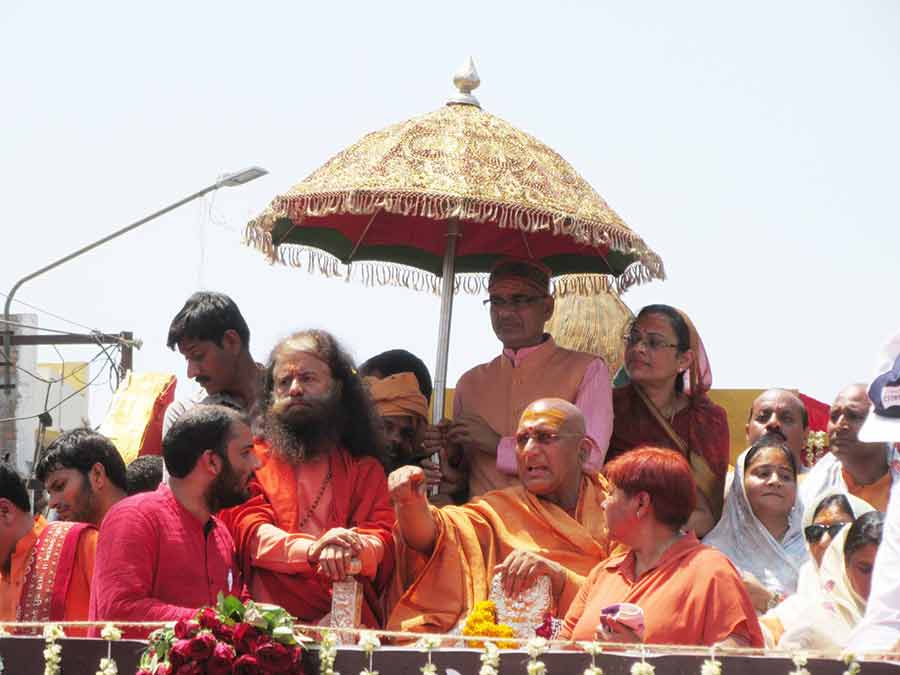 Ujjain Kumbha Mela Welcomes its Saints and Nagas
Pujya Swami Chidanand Saraswatiji 's recent visit to the holy land of the upcoming Kumbha Mela in Ujjain was marked by His meeting with the Hon'ble Chief Minister of Madhya Pradesh Shri Shivraj Singh Chouhanji as the latter gifted him a sacred Peepal sapling. He urged Pujya Swamiji to provide his support and enhance public awareness for the ongoing wide and abundant tree plantation program along the banks of Kshipra River. Juna Akharda Head, Pujya Swami Avdeshanand Giriji Maharaj, Pujya Swamiji and the Hon'ble Chief Minister participated in a grand opening and ceremonial entry of the first ascetics of the Juna Akharda, also known as peshwai, as the Juna Akharda camp celebrated its arrival to the Ujjain Kumbha Mela.
Thereafter, Pujya Swamiji laid the auspicious foundation of his participation in the Mela by planting the Peepal plant in the court premises of Ujjain district court, where He had visited during His last trip in mid-February. District Judge Shri JP Guptaji and hundreds of advocates sincerely pledged to beautify the court premises with the natural and organic color green.
Pujya Swamiji also stated the Global Interfaith WASH Alliance, Ganga Action Parivar, Parmarth Niketan Ashram's appeal to all colleges, universities,all other educational and government institutions of Ujjain to take the tree plantation program ahead, making it a huge success. He said, 'Just how barrister Mahatma Gandhiji had stepped forward to change the face of this nation, I urge you all to come ahead and bring a positive change by actively participating and starting the green revolution in your hearts and in your communities.'
"One's own resolution and determination is the only sustainable solution' Pujya Swamiji explained how greenery is by itself prosperity and happiness, especially as it willalso replenish our vital and precious water resources. He also thanked Simhasth Kumbh Mela Officer Shri Avinash Lavaniya & Ujjain's District Magistrate Shri Kavindra Kiyawat for their active participation in this Green drive.
[fbalbum url="https://www.facebook.com/media/set/?set=a.10154046917647698.1073742113.86246862697&type=1&l=bab83abb05″]