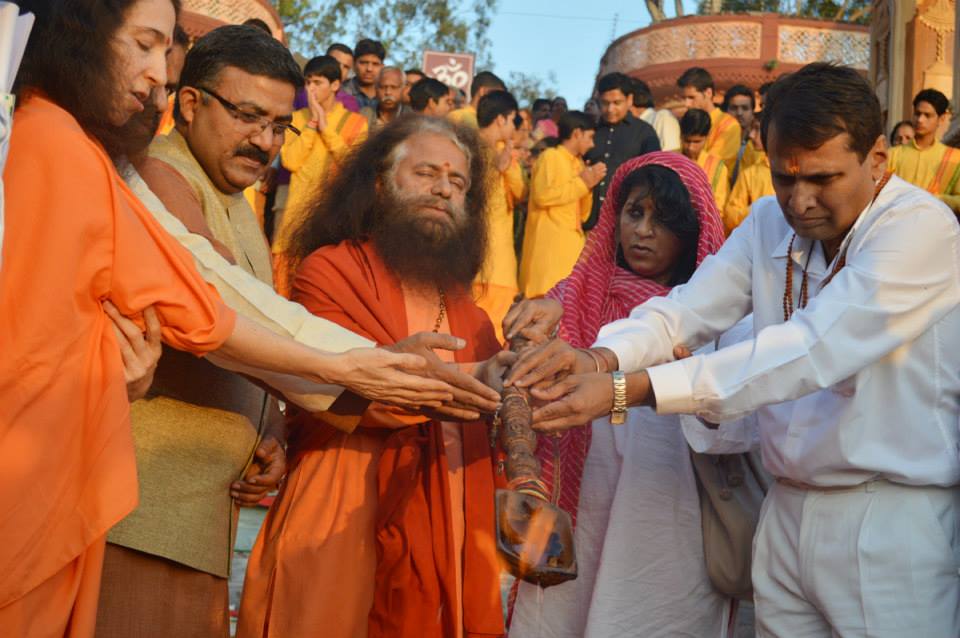 Swachh Ganga, Swachh Rail and Swachh Bharat
Pujya Swamiji welcomed the Indian Railway Minister, Shri Suresh Prabhuji, to Parmarth Niketan (Rishikesh) for divine Ganga Aarti. During the beautiful lighting ceremony, Pujya Swamiji led the Hon'ble Minister in a symbolic bhoomi poojan and shila poojan ceremony, sacred worship and honouring the earth and the bricks, for the planned Rishikesh Bio-Toilet structure.
The Hon'ble Minister commended and lauded Pujya Swamiji's tireless efforts to bring interfaith leaders together to support the Swachh Bharat mission through GIWA's Water, Sanitation and Hygiene initiative. Within the coming days they planned to join and serve together to make a Swachh Ganga, Swachh Rail and Swachh Bharat a reality for all. Pujya Swamiji shared that just as Corporate Social Responsibility we have to inspire Religious Social Responsibility (RSR). Through this RSR, Pujya Swamiji shared, we could bring about true and sustainable change in people's mindsets, perspectives and behaviours.
During the ceremony Pujya Swamiji honoured the Hon'ble Minister and his wife, Mrs Uma Prabhu, with a sacred Rudraksh plant and Pujya Swamiji and Sadhviji gifted them a set of the gorgeous Encyclopedia of Hinduism for the National Railway Library.
[fbalbum url="https://www.facebook.com/media/set/?set=a.10153181428392698.1073741924.86246862697&type=1″]