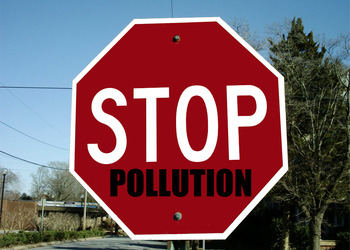 Stop Pollution: Your choices have an impact
This article was published in The Speaking Tree, here.
There is a beautiful saying which is used frequently by those who spend time in the forests and woods:"Take only memories and leave only foot-prints."The Earth is here to sustain our life,not for us to extinguish her.Yet, through the way we are polluting the air, the water and the ground that is exactly what we are doing. Everything we use which is not biodegradable — each item,each piece of packaging,each container,each garment — will someday end up taking precious space in our Earth's landfills. Further, the manufacturing of everything we use generates a huge amount of waste that is dumped directly into or onto our Earth.We may hold a small Styrofoam cup filled with tea or coffee in our hands and think, "It's not more than a few ounces, a few square inches in area. It won't have that big of an effect on the Earth." However, we have to trace back the genesis of the Styrofoam cup to its roots.
Only by seeing the full amount of resources used in the production, manufacture, transportation and sale of this Styrofoam cup can we grasp its global impact. This, of course, does not mean that to live peaceful lives we should never purchase or use anything.It simply means that we need to live with awareness. It means, in continuation with our Styrofoam cup example that we may decide to purchase a small, personal, insulated travel mug which we can fill with the beverage of our choice rather than throwing away paper, plastic and Styrofoam cups every time we purchase a drink. Through being constantly aware of the impact of our choices,we will see innumerable areas where we can make decisions that generate peace rather than pieces for the Earth on which we live. Another serious area in which we pollute the Earth is through our dependence on toxic chemicals for everyday needs.Detergent,bug spray,cleaning supplies, fertiliser, insecticides — all of these are filled with chemicals that are poison for us, poison for our children and poison for the Earth into which they eventually seep…. The Greenhouse effect is probably the most serious threat to the Earth and our existence today.
The way to minimise our personal contribution to pollution is through reversing those behaviours which exacerbate it.For example,by using lowenergy bulbs, fuel-efficient cars, and 'earth-friendly' appliances,we reduce the amount of greenhouse gases which our personal devices emit into the air. Again, awareness is the key. For peace within ourselves,we need to be aware of our own ego, greed, anger, and other emotions. For peace in the family and community,we need to be aware of inter-personal dynamics which contribute to conflict. For peace in the world,we need to be aware of how our behaviour,lifestyle and priorities can lead to a global environment which is fertile soil for seeds of discontent and violence to be sown. For peace on the Earth,we need to be aware of how every choice we make impacts the planet today and in the future. Then, we will be able to make conscious choices that minimise the detrimental effects of our time spent walking on Mother Earth.