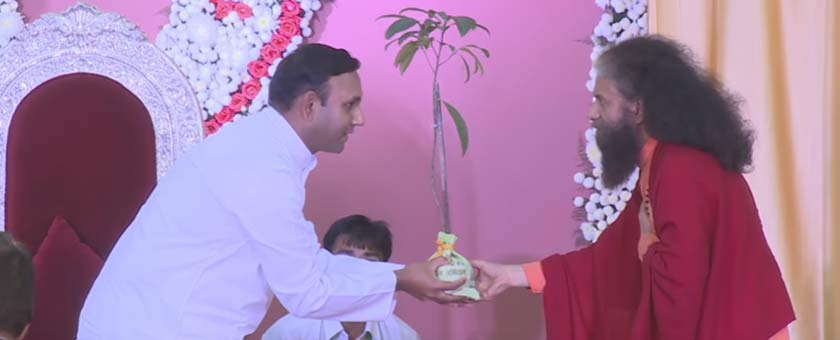 Sri Sathya Sai International Heart Care and Research Centre
Pujya Swamiji and Sadhvi Bhagawati Saraswati recently graced and blessed the dedication ceremony of the Sri Sathya Sai Sanjeevani International Centre for Child Heart Care and Research in Baghola, Palwal Dist, Haryana. The centre was set up under the tenet of "Love All, Serve All" and will provide free of cost and best quality services to all in need, irrespective of colour, caste, religion, status or nation. It is an expansion and continuation of a similar centre already established and running in Naya Raipur, Chhattisgarh (established on Nov 2012).
Nearly 1.3 million children globally suffer from congenital heart disease (CHD). CHD is the most prevalent birth defect in children born in India. This centre will work to address this global and national need. The vision of the centre is to serve towards the cause of the "right to healthy childhood" through creation of a holistic eco-system resulting in reduction of global CHD.
Present during the ceremony were devotees from more than 30 countries in addition to all across India.
Pujya Swamiji blessed the occasion by saying, "Who can say Baba is gone? Baba is not gone, Baba is always on. This centre will not only provide not only the best quality treatment but will also provide the divine touch and transformation through the spirit and the motto of Love All, Serve All. It is great that the hospital is built just off the highway, providing easy accessibility to all, but to me, Baba himself is the highway to humanity. To me this centre is the greatest meditation and the greatest form of worship. Lastly, the purpose of our lives is not to have more but rather it is to be more, to serve more and to give more. Hence, the true currency of life is not notes in the bank but the true currency of life is our karma, our love and our service. This currency will always be there. Through this currency we can not only Make In India but through the currency of love and service we can Make India. That is truly what this centre symbolises."
The Hon'ble Prime Minister, Shri Narendra Modiji, inaugurated the centre via live webcast. He spokeabout his close relationship with Sri Sathya Sai Baba and the organisation. He also shared about the great emphasis and message of Sathya Sai Baba to "Love All and Serve All" and lauded the great work the organisation was carrying on, with Baba's blessings, in the fields of education, healthcare and social services. He acknowledged that the centre will be a great blessing to many and it will help give new life to thousands of children, not only in Haryana but throughout northern India. He also gave appreciation to all the respected dignitaries of the Sathya Sai organisation and offered his salutations to Pujya Swamiji and Sadhviji.
[fbalbum url="https://www.facebook.com/media/set/?set=a.10154790979852698.1073742225.86246862697&type=1&l=2c30a410b9″]