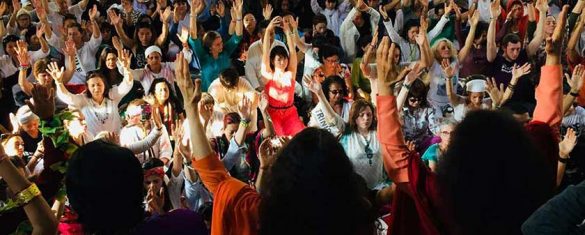 Special Meditation at Maharishi Mahesh Yogiji Ashram Led by Pujya Swamiji During IYF 2018
Yogis Mark 50th Anniversary of The Beatles in India with Special Meditation at Maharishi Mahesh Yogiji's Ashram
RISHIKESH- Yogacharyas and participants of the 29th annual International Yoga Festival at Parmarth Niketan, Rishikesh took part in a special meditation at Maharishi Mahesh Yogiji's Ashram, just steps away from Parmarth Niketan.
2018 marks the 50th anniversary of the time when the world-famous band The Beatles stayed at Maharishiji's ashram in Rishikesh, where they wrote nearly fifty songs that soon became some of their biggest hits. On this anniversary, many celebrations have been planned with the devotees of Maharishiji to remember and celebrate His life and teachings.
Pujya Swami Chidanand Saraswatiji led the participants from 94 countries by foot on a walking pilgrimage to Maharishiji ashram where there was sacred chanting and divine meditation. Honorable Minister of AYUSH and Minister of Forests, Shri Harak Singh Rawatji joined the special event.
Pujya Swami Chidanand Saraswatiji said, "Maharishi always emphasized the power and vital importance of meditation. I often share meditation is the best medication for all agitation. Today, the world needs more meditation. Meditation brings equanimity, harmony, love and peace to our lives. Meditation gives you the inner connection. In the age of internet, we also more than ever need our inner net to stay grounded and balanced. Internet grants us the fastest speed but our inner net grants us the direction."
He added, "When the Beatles came to India their whole journey became from the grief to grace. After having divine darshan of Maharishiji their whole life was filled with grace. That inspiration and transformation is what they shared through their songs which touched millions. Today, let us take this song of peace, love, oneness and yoga, here from the banks of Mother Ganga, from the lap of the Himalayas, in our hearts back with us to our countries and transform our communities."