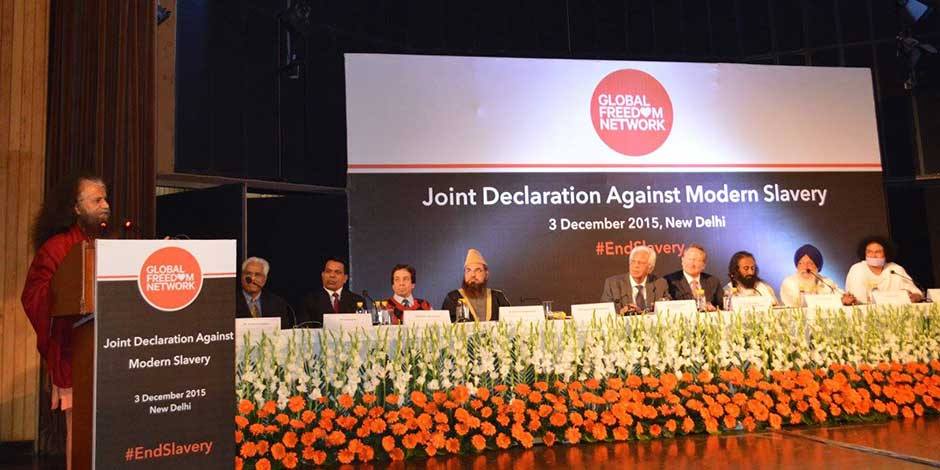 Signing of the Joint Declaration Against Modern Slavery
Nine Indian interfaith and spiritual leaders signed a joint declaration to end modern slavery within a generation at the Global Freedom Network gathering in the heart of Delhi today. This landmark declaration was signed by religious and spiritual leaders from the Hindu, Muslim, Christian, Jewish, Jain, and Bahai faiths:
Sri Sri Ravi Shankar, Hindu Faith Leader
Pujya Swami Chidanand Saraswatiji, Hindu Faith Leader
Dr.Mufti M. Mukarram Ahmed, Muslim Faith Leader
Imam Ilyasi, Muslim Faith Leader
Jathedar Avtar Singh, Sikh Faith Leader
Mr Alwan Mashi, Christian Faith Leader
Rabbi Ezekiel Isaac Malekar, Jewish Faith Leader
Mr Shatrughun Jiwnani, Bahai Faith Leader
Acharya Dr. Lokesh Muniji, Jain Faith Leader
Pujya Swamiji said, "When I heard the news of the agreement signed last year on the 2nd December, 2014, I was so touched and glad to see the leaders of all faiths coming together, beyond borders of religion & race, country, culture & creed, all in agreement about the importance to end slavery. Every child forced into bonded labour is our own. Every woman forced to give her body is our own mother, sister, daughter. Every man trapped in slavery is our own father, brother, son. Today here in India, it is so beautiful to have all our faith leaders together, joining hands and hearts in the great mission to end this atrocity, to end this crime against humanity. Freedom is not a religious tenet. It is an inviolable, inalienable human right. We are here today not only to pray for an end to slavery but to pledge to WORK for an end to slavery."
Today's event marks a major milestone in the rollout of the GFN internationally. It comes one year after the signing of the Joint Declaration of Religious Leaders Against Modern Slavery on 02 December 2014 by Christian, Muslim, Buddhist, Hindu and Jewish leaders in the spirit of peace, love and respect for each other's religion, and a day after a similar inter-faith commitment was made in Canberra by Australian religious leaders, on the occasion of the UN's 2015 International Day for the Abolition of Slavery.
Commenting on the signing of the joint declaration against slavery in India, Chairman of the Global Freedom Network (GFN), philanthropist and founder of the Walk Free Foundation Mr. Andrew Forrest that was a founding partner of GFN said:"Yesterday in Australia we repeated last year's declaration with Australian Faith Leaders and today we strongly and resolutely declare our commitment in India.I applaud the declaration today of India's faith and spiritual leaders to embed action against slavery in the very fabric of their advocacy."
[fbalbum url="https://www.facebook.com/media/set/?set=a.10153718100127698.1073742073.86246862697&type=1&l=bbe85041a9″]