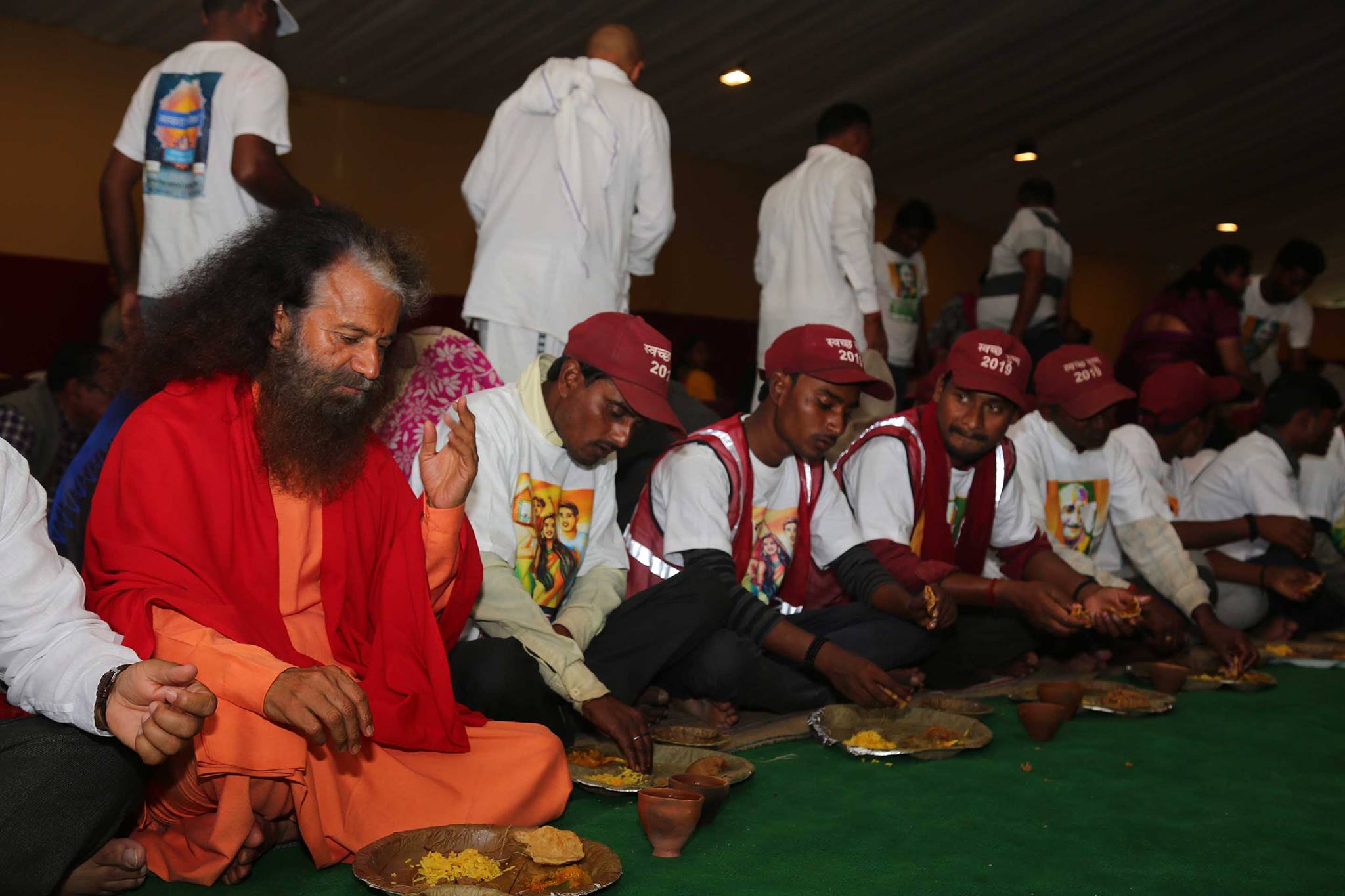 Saints & Sweepers Meet & Eat Together
Today at the Parmarth Niketan camp in Kumbh Mela, Pujya Swami Chidanand Saraswatiji led a historic event during which Saints and the sanitation workers who have performed the most noxious tasks at the Kumbh joined hands and hearts in a ceremony that honored the sweepers. Then the saints, rishikumars and guests at the Parmarth camp fed the sweepers in a large feast and then sat down to join them for a celebratory meal or bhandara.
Under the vision and guidance of H.H. Pujya Swami Chidanand Saraswati, President and Spiritual Head of the Parmarth Niketan Ashram in Rishikesh, this incredible event broke boundaries and borders of to caste (jati) and creed, demonstrated that cultural beliefs that do not serve, and even harm, people and society have no place in today's India and that the jail of jati should be broken. Though their extraordinary, compassionate example saints, sadhus, and other spiritual leaders across India are changing the minds of people in India and around the world.
Society should break all barriers of caste & creed! – the message y'day when we honoured Sanitation Champions w/ Chairman of National Commission of Safai Karamcharis Manhar Valjibhai Zalaji @PujyaSwamiji @SadhviBhagawati @MurlidharJiM of the #Kumbh2019 https://t.co/VIozHlrCoj pic.twitter.com/nZhpbbm1Nl

— Parmarth Niketan (@ParmarthNiketan) February 21, 2019
On this momentous occasion Swami Chidanand Saraswati said, "Today we are here to honor you.. Even more important than saman (items) is samaan (respect). We need to realize that all these people are our brothers and sisters, and the caretakers of our land. As I have been saying from mthe beginning of Kumbh Mela, the holy rivers of Ganga, Yamuna, and Saraswati do not ask for anyone's identification. The sacred Sangam does not ask what jati or caste you are or what lineage you are from. Rather everyone is welcome. Equally welcome. Everyone bathes together with no borders or boundaries. When we bathe in the Sangam, we need to take the sandesh, the message, of the Sangam, which is to give freely to all without any discrimination on any basis."
I shared y'day even more important than saman (items) is samaan (respect). We need to realize that all these people are our sisters & brothers, caretakers of our land. So glad to join & sit alongside our Sanitation Champions for a beautiful bhandara. #SwachhKumbh #SwachhBharat pic.twitter.com/ieK3RkHbxX

— Pujya Swamiji (@PujyaSwamiji) February 21, 2019
Manhar Valjibhai Zalaji, Chairman of the National Commission of Safai Karamcharis came to Prayaj Raj to take part in this program. He was deeply impressed by the initiative taken by Pujya Swamiji to honor the karamcharis. He said, "To have the safai karamcharis honored by Pujya Swami Chidanand Saraswatiji gives a great message to the whole world."
Ms Ritu Suhas, Upper NIgam Ayukt, Prayag Raj and wife of District Magistrate, thanked all the safai karamcharis for their incredible seva in making the city of Prayag clean and beautiful.
Sadhvi Bhagawati Saraswatiji, Secretary-General of Global Intgerfaith WASH Alliance shared, "Our culture teaches us Vasudhaiv Kutumbakam, the world is a family, but you are actually really living that tenet. People clean up their own trash and their own mess or, at most, they clean for their family members. You are the ones who have made the world your family so deeply that you clean for all. For your children, we need to make sure that safai ke saath saath there is also shiksha (education). Your children must not join you in cleaning the streets but they must go to school. If any help is needed in that regard, please let us know. We will help you. You are our family."She led all the workers in a pledge where everyone raised their hands to pledge and promise they would send their children to school.
Sant Shri Muralidharji who has been reciting the sacred Shri Rama Katha at Parmarth Niketan for the last week emphasized that this is the cleanest Kumbh he has every seen and expressed his deep gratitude and appreciation for the workers for doing their seva with such sincerity and excellence.
Before the program ended for the bhandara Pujya Swamiji gave a vigorous rallying call for "Safai, Sachai and Uchai" (Cleanliness, Truth and High Living) and emphasized "Manav Manav Ek Samaan. Sab ke beetar hai Bhagawan." (All people should be respected equally. God lives in everyone). The hundreds of cleaning workers chanted with Him: "Hum ek hai, hum ek rahengay." (We are one. We will always be one).
Yesterday, on the occasion of Ravidasji's Jayanti, Pujya Swamiji led a procession that included the sweepers and the greatest saints in all of India brought the same message to the Kumbh and the people of the world by taking holy dip in the Sangam during the auspicious occasion of Maghi Poornima, a sacred full moon Snan. They joined hands in the water to take the sacred bath emphasizing that honored tradition it is not just about purifying our bodies, rather it is about purifying our souls, purifying the thoughts of the people of India and around the world, purifying our societal evils and all of that divides us. As the Sangam embraces us and bathes us as one, so we need to see each other and embrace each other as one.
In Rishikesh, Pujya Swamiji has been organizing the saints and sweepers to meet, greet, and eat together for several years. Through this program, local "untouchables" are invited to Parmarth Niketan Ashram to be fed by, and eat with, the saints, priests, Rishikumars, and visitors from countries all over the world, where they receivesaman and sanaan in recognition and graitude. Pujya Swamiji emphasizes every evening in the world famous Ganga Aarti that Ganga flows and flows and flows with no discrimination at all. She irrigates the farms of Hindus and Muslims and Christians and atheists and Jews, as well as the high, the low, the rich, the poor, every caste. When we pray to Ganga, we are also absorbing that message.