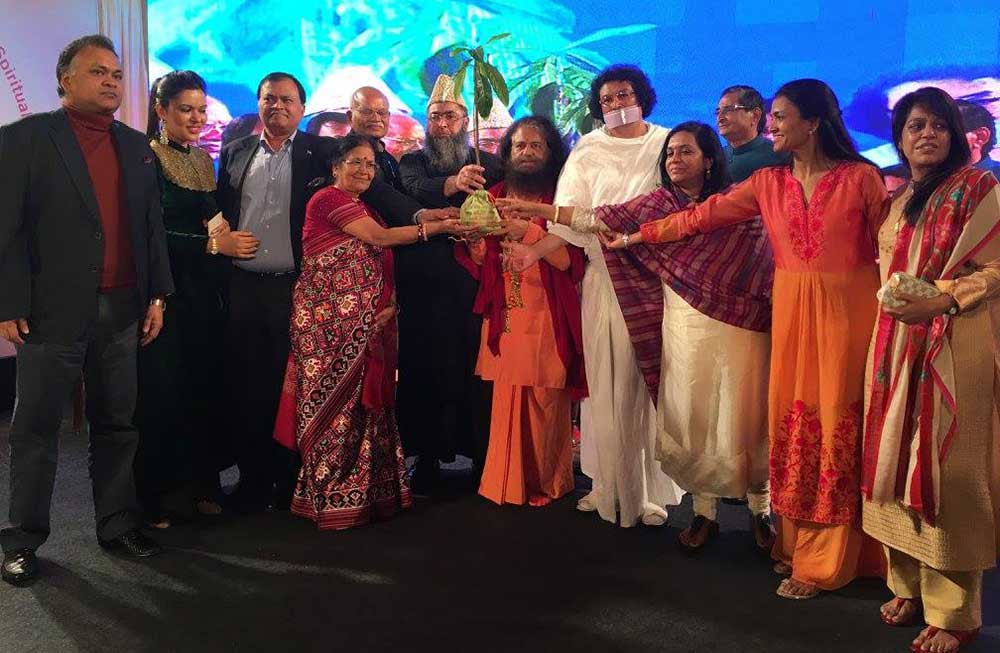 Sach Bharat: Spirituality at Work
An incredible two day conclave, entitled Sach Bharat: the World Confluence of Humanity, Power and Spirituality, took place from 16th and 17th of December, at the ITC Maurya, New Delhi, India. The conference was inaugurated by His Excellency the President of India, Pranab Mukherjeeji and concluded by HH Pujya Swamiji, Acharya Dr. Lokesh Muniji and Imam Umer Ahmed Ilyasiji and others.
Amongst the galaxy of luminaries speaking were: Hon'ble Minister of Energy and Power, Shri Piyush Goyal, Hon'ble Minister of Women and Child Welfare, Maneka Gandhi, Hon'ble State Minister of MSME, Giriraj Singhji and several Members of Parliament, such as Manoj Tiwari 'Mridul', MP Delhi (North-East), BJP, famous Bhojpuri singer and actor, and many others.
Pujya Swamiji inspired the distinguished audience by sharing that, "Spirituality is not a weekend business, it is not just a part of life but it really is all to life. I believe that true worship, prayer and meditation is in the service of others. It is when we rise together to understand that there is no other, all of creation is part of self. Then worshiping the Creator is serving His creation." He went onto share that, "Poverty, malnutrition and lack of WASH are all not due the actual shortage of food, land or water but it really is just a global consciousness shortage. We need to understand that in the world of internet we need to also be deeply conencted with our inner net. In the world of facebook and looking at other's profiles, we need to also face our own book and reflect on our own profiles- where do we stand as a human being."
Pujya Swamiji especially honoured Dr. HP Kanoria, Chairman, Srei Foundation & Head of World Confluence of Humanity, Power & Spirituality and his beautiful wife for being an example of spirituality at work and at home. He also honoured Mrs Kanoria with a special elachi mala as a symbol of the great dedication and love with she brought the fragrance of spirituality in the lives of her children. He also honoured Shri Sunil Kanoria, President of ASSOCHAM and the entire Kanoria family for being the example that others can follow.
Pujya Swamiji also met Former President of Bosnia, Former Vice President of Kenya, Prof. Emeritus Dr. Ernesto Kahan, Former Vice President of IPPNW (Association awarded the Nobel Peace Prize) and the President of the Israeli Branch, and many others. There were several high level leaders, diplomats from countries like India, United States, United Kingdom, Nigeria, Bosnia, Israel, Germany, China and many others.
[fbalbum url="https://www.facebook.com/media/set/?set=a.10154824175912698.1073742229.86246862697&type=1&l=3757b19eeb"]