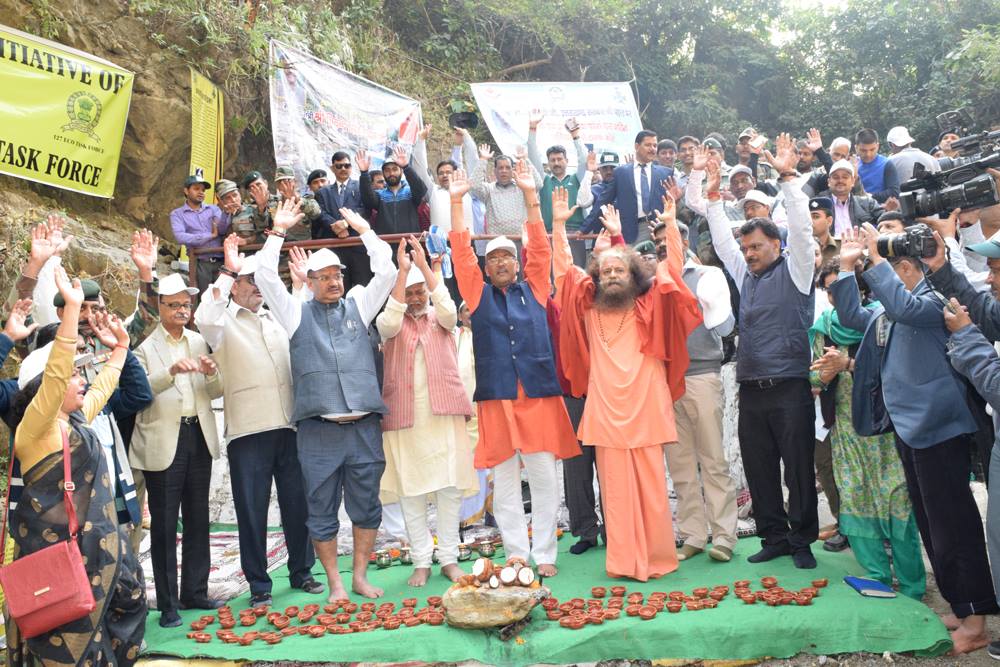 Rejuvenating Rispina River in Dehradun Begins
The Uttarakhand government launched on the 6th November a campaign to revive Rispina and Kosi rivers. As per the plan, saplings would be planted near the banks of the rivers and efforts are underway to ensure the rivers flow.
During the function, Pujya Swami Chidanand Saraswatiji​ blessed the efforts and pledged to provide Rs 1 crore financial assistance in the campaign to revive Rispina, originally known as the Rishiparna river. The funds would be utilised in planting trees and placing dustbins along both sides of the River to prevent pollution, soil erosion, rejuvenate it's groundwater stores as well as raise awareness and encourage locals to take ownership of these efforts.
As part of the cleaning of the river banks, where heaps of garbage can be seen, the state government aims to rope in experts and students in the ambitious project.
Chief Minister Trivendra Singh Rawat​ji along with Rajendra Singh – also known as 'Jal Purush' and Chief Secretary Utpal Kumar Singh, took a pledge to keep the rivers clean.
Rawat said while the population of Dehradun has doubled up in the last few decades, the water resources are on a decline.
"We have identified eight sources of Rispina and they will be included in the campaign," said the CM adding, "the revival of rivers will be done with respect to the culture and nature. People of Uttarakhand need to take a pledge that we will unitedly work for it."
Rawat further said that soon more rivers would be included in the campaign
With the support of Uttarakhand Science Education and Research Centre, the government has formed a junior task force which would also comprise of students. The aim is to bring together experts and students to take their help in the revival process.
Jal Purush Rajendra Singh applauded the efforts of the Uttarakhand government to bring together the administrative machinery, saints and students on a common platform for the cause. "The support from people is extremely important to revive any river," Singh said.
Shortly after this event at the origin of the Rispina River there was a follow up meeting this week with all governmental officers and departments coming together to map the course of the River and prepare a detailed action plan.
Pujya Swamiji also graced and provided His wise suggestions/guidance to the process. He said, "We must work on the ground level, encouraging and engaging the locals, but we must also work on the grand level to ensure every water body in Uttarakhand flows clean and pristine. We must work towards this end with a team plan, distributing tasks and skills appropriately, with an effective time plan." He suggested that an inter-departmental Rispina Action Parivar body be formed which included all stakeholders.