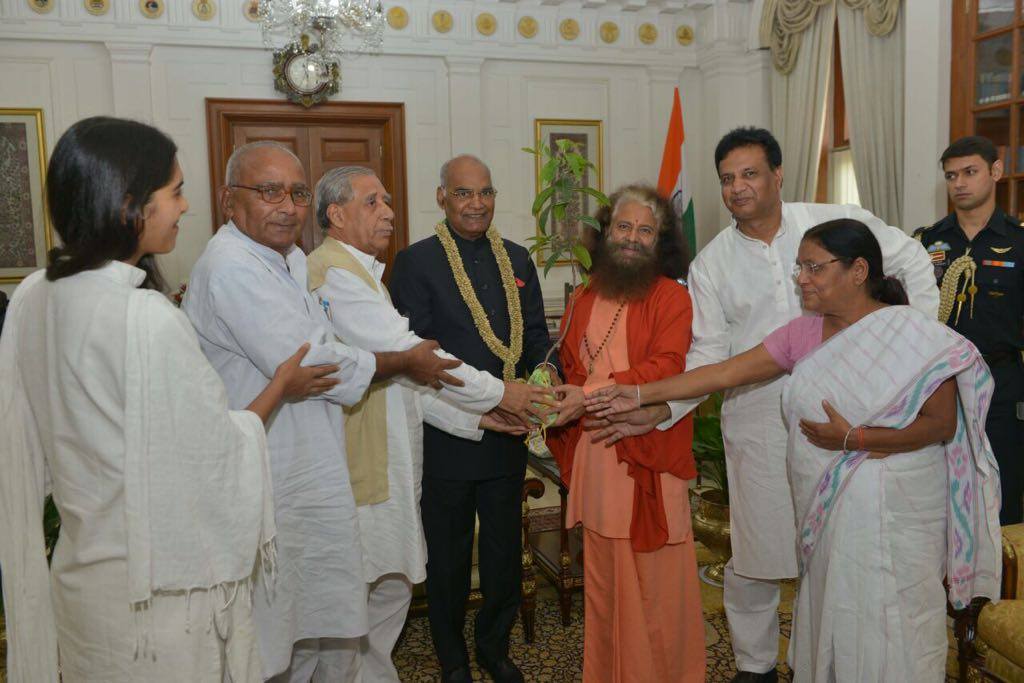 Pujya Swamiji's Warm Meeting with HE the President of India
Pujya Swami Chidanand Saraswatiji – Muniji​ji, President of Parmarth Niketan, Co-founder Global Interfaith WASH Alliance​ (GIWA), had a beautiful meeting with His Excellency the President Ram Nath Kovind​ji at the Rashtrapati Bhawan.
Pujya Swamiji was accompanied by Shri Sankar Kumar Sanyal​ji, President, Harijan Sevak Sangh​ (HSS), other esteemed officers of HSS, and Sushri Nandini Tripathi, Director of Implementation & Integration, GIWA. They briefed the Hon'ble President regarding the upcoming National Summit of HSS, being held in association with GIWA in which more than 5000 members of HSS and tribal leaders from across India would be pledging together to work towards a clean and green India.
Pujya Swamiji warmly invited His Excellency to inaugurate the International Yoga Festival​ at Parmarth Niketan, Rishikesh in March 2018, discussing how it has grown in the last few years and is helping spread the light and love for yoga in every corner of the world.
[fbalbum url="https://www.facebook.com/media/set/?set=a.10155923841767698.1073742330.86246862697&type=1&l=f3289a9e14″]