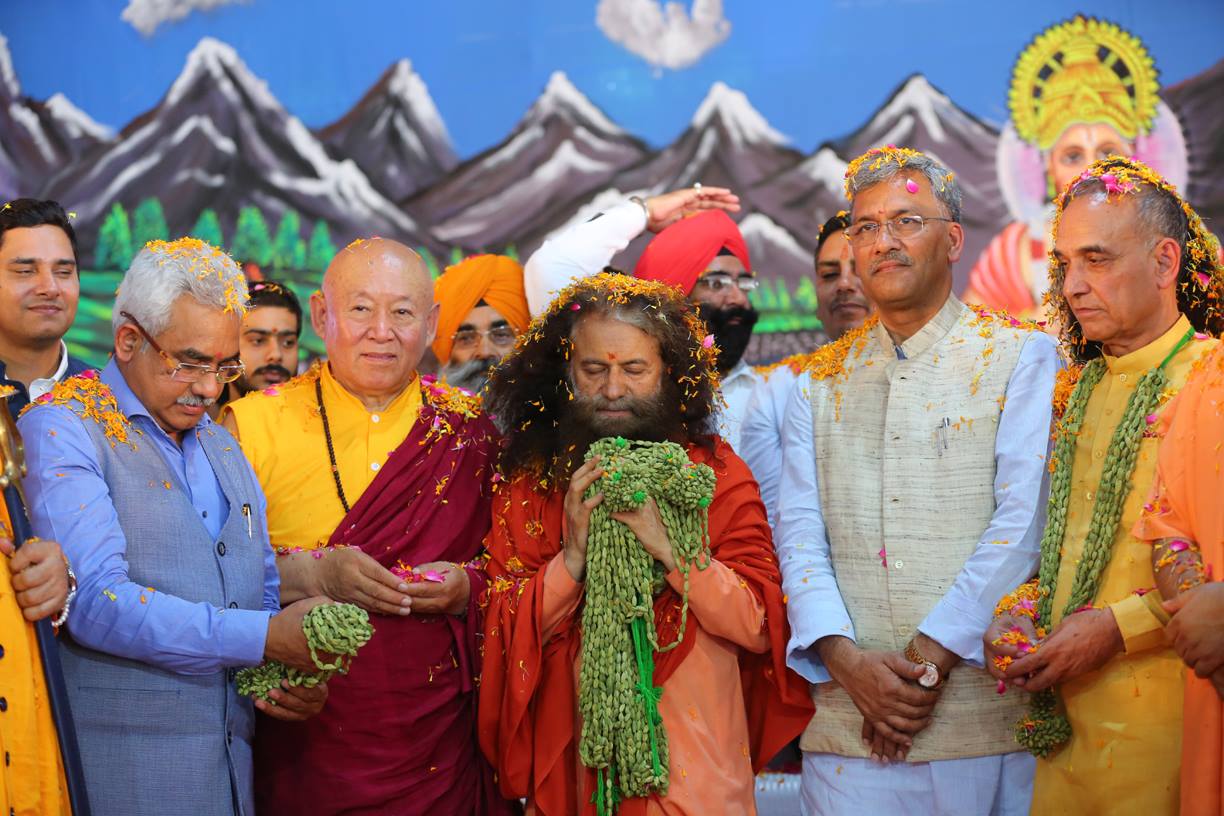 Pujya Swamiji's Green Birthday Celebrations
The revered leaders of Muslim, Sikh, Buddhist and Hindu faiths converged with the Hon'ble Chief Minister of Uttarakhand, the Hon'ble Minister of State for HRD and Ganga Rejuvenation, Ministers and over 5,000 people today to celebrate the birthday of HH Pujya Swami Chidanand Saraswatiji, President of Parmarth Niketan and Founder of Ganga Action Parivar and the Global Interfaith WASH Alliance.
Pujya Swami Chidanand Saraswatiji is revered worldwide for His interfaith crusade to unite the faiths of the world to ensure a cleaner, greener, more peaceful and sustainable world. His lifetime in service for God and Humanity has included globally-renowned actions to help inspire a free-flowing Ganga, the restoration of forest lands, clean and healthy sanitation and much more.
Said Hon'ble Minister of State for HRD and Ganga Rejuvenation, Government of India, Dr. Satyapal Singh​ji, "The beautification and cleaning of the Ganga is possible when everyone comes together. This is the message that Pujya Swamiji gives us, he is an inspiration for all of us."
During today's birthday celebrations, a green sankalp was taken with the Hon'ble Chief Minister and all assembled faith leaders and dignitaries that this monsoon, all will be planting as many trees as they can to restore the environment, clean the air, protect from erosion and enable a more water-secure world. The sankalp came with the presentation of saplings to all dignitaries assembled.
Said the Hon'ble Chief Minister, Shri Trivendra Singh Rawatiji, "Pujya Swamiji has been a source of great inspiration to me and every time there is something new and innovative I learn from him. With His blessings, we will soon be planting 2.5 lakh trees alongside the whole of the Rispana River. We all look forward to realizing a clean and green Uttarakhand together."
Said HH Pujya Swami Chidanand Saraswatiji, "On my 60th birthday, I said no more bouquets and gifts, instead let us gift to the world the 6-T's of Trees, managed Trash, clean Tracks, protected Tigers, free-flowing Taps and Toilets for all. Let us stand together and ensure this happens, through 4 T's: our time, talent, technology and tenacity."
During the celebrations, the Global Interfaith WASH Alliance's and Ganga Action Parivar's prestigious Ganga Awards were given on the Parmarth Ganga Ghat presented to luminaries who have gone to special lengths to ensure a more sustainable world. They were given to the Hon'ble Chief Minister of Uttarakhand for his leadership in Mission Rishiparna to Rispina and his commitment to clean and green development of the Himalayan state of Uttarakhand. It was given to Pujya Acharya Balkrishanji, HH Chetsang Drikung Rinpoche, Giani Iqbal Singhji, Ravi Bhatnagarji and many others.
This was followed by an elegant ceremony during which all participants lovingly poured sacred water on a globe to symbolize their hopes and prayers for a water-secure future for all.
Said Acharya Balkrishanji, MD/CEO, Patanjali Yogpeeth, "Pujya Swamiji's life and service for the nation is an inspiration to all of us and we all pray for his long and healthy life so that he may continue to guide us with his vision and leadership. I have seen that for him every day is really environment day, a day committed to the preservation and protection of our environment and our sacred rivers."
Said Respected Maulana Mahmood Asad Madaniji, Secretary General of Jamiat Ulama-i-Hind, "We need to make this Earth a paradise, we need to clean the outer environment by planting trees and at the same time clean inside. We pledge to plant thousands of trees in Madrasas from Rishikesh and Haridwar all the way to Delhi, Deoband and Ajmer Sharif." Sharing about his visit on the special occasion he said, "Even being Ramazan, not feeling well and even after Pujya Swamiji told me to rest- my heart did not agree and compelled me to come even if just for a few minutes. This is the power of true brotherhood, love, interfaith harmony and oneness."
Said Jathedar Patna Saheb Giani Iqbal Singhji, "may the environment be purified, let the waters be purified, the trees that give life-giving oxygen be purified by the presence of Pujya Swamiji and all the great souls who are assembled here. I wish Pujya Swamiji a long and happy life on behalf of the entire Sikh Community and Patna Sahib Shrine, so that He can continue His great service to humanity and for the nation."
Said HH Kyabgon Drikung Chetsang, the 37th throne holder of the Drikung Kagyu Lineage of Tibetan Buddhism, "Just yesterday, Pujya Swamiji and I signed an agreement to make the lives of the people of India, and especially those living in the remote areas of Ladakh and the Himalayas, more peaceful, more sustainable and more self-sufficient. It is a great opportunity for us to come here and be together. I'm wishing Pujya Swamiji a long and healthy life to carry on His good work. I sincerely look forward to many more opportunities to serve together."
Rinpocheji presented Pujya Swamiji with a sacred trimurti- three sacred trees growing together in one- bodhi, pakad, bargath as a symbol of the sangam of different faiths to bring life and well-being to all. Rinpocheji also presented more than 21 moringa trees with over 3,000 seeds of this medicinal plant to plant along the banks of the Rispina River and the Ganga River.
Said Pujya MM Swami Harichetnanandji, "Pujya Swamiji's name is amongst the names of the saints who have made tireless contributions towards our cultural-spiritual heritage, our Gau Mata and our Maa Ganga."
Said Sadhvi Bhagawati Saraswati, "We are fortunate to be here to see this galaxy of saints and rainbow of faith traditions that have come here to celebrate the life of Pujya Swamiji. He loves all and everyone loves Him, including water, the mountains and the trees. The way in which He works tirelessly day and night is an inspiration for us all. He has taught us to love all just as Mother Ganga loves all without hesitation or discrimination."
Attending Today's Celebrations were:
Hon'ble Chief Minister of Uttarakhand, Shri Trivendra Singh Rawatji
Hon'ble Minister of State for HRD and Ganga Rejuvenation, Government of India, Dr Satyapal Singhji
Hon'ble Minister of Urban Development, Uttarakhand, Shri Madan Kaushik
Respected Maulana Mahmood Asad Madaniji, Secretary General of Jamiat Ulama-i-Hind
HH Kyabgon Drikung Chetsang, the 37th throne holder of the Drikung Kagyu Lineage of Tibetan Buddhism
HH Acharya Balkrishanji, MD/CEO, Patanjali Yogpeeth
Jathedar Patna Saheb Giani Iqbal Singhji
Pujya MM Swami Harichetnanandji
Sadhvi Bhagawati Saraswatiji, Secretary General, Global Interfaith WASH Alliance and President, Divine Shakti Foundation
Pujya Sant Murlidharji Maharaj
Pujya Swami Vedvidyanand Saraswatiji, Basar, Telangana
Ravi Bhatnagarji of Reckitt Benckiser (makers of Dettol & Harpic)
And many other respected saints and dignitaries