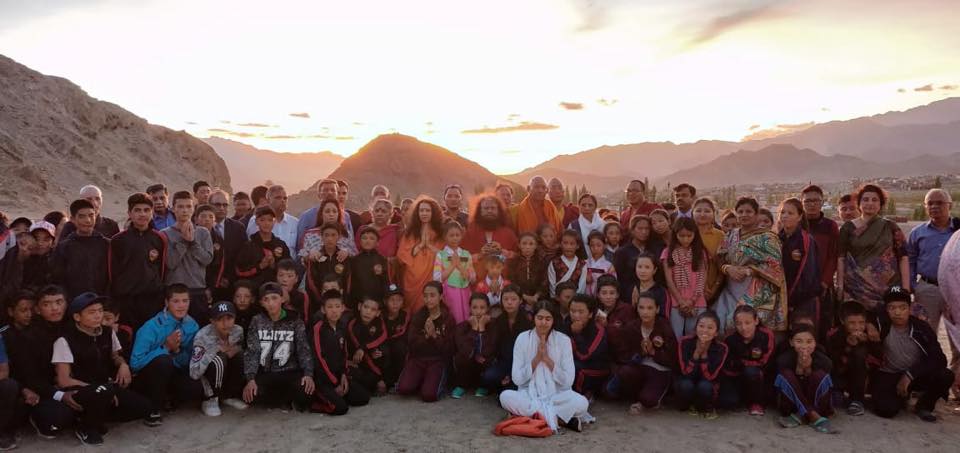 Pujya Swamiji & Sadhvi Bhagawatiji's Recent Visit to Ladakh
Pujya Swami Chidanand Saraswatiji​ & Sadhvi Bhagawati Saraswati​ graced a two day International Conference "Saving the Himalayas through Science and Spirituality" in Leh, Ladakh, organised by the Save the Himalayas Foundation (SHF), in association with Mahabodhi International Meditation Centre​, The Global Interfaith WASH Alliance​ and various other like minded organisations.
Day before the inauguration of the conference, Sadhvi Bhagawati Saraswati​ made a visit to the Buddhist Nunnery at MIMC. She and Dr Vandana Shiva​ were warmly welcomed by the young nuns and spent some beautiful time interacting with them. Sadhviji and Pujya Swamiji later spoke to Ven Bhikkhu Sanghasenaji about the girls plans for the winter and to have them join them at the Kumbh Mela in Allahabad.
Sadhvi Bhagawatiji also spoke on the first day of the conference about the crucial importance of protecting the Himalayas, the Himalayan culture and the need to involve, engage and empower the Himalayan women in this vital mission.
The next day there was a beautiful inauguration programme at the CIBS Auditorium which was graced by interfaith leaders, scholars, scientists, activists and army officials. Read more about the inauguration and the thought provoking speeches by the dignitaries: https://www.facebook.com/pg/ParmarthNiketan/photos/?tab=album&album_id=10156734547167698
After the inaugural programme Pujya Swamiji, Sadhviji and IMAM UMER AHMED ILYASI​ji were invited by Ven Bhikkhu Sanghasena​ji to visit the MIMC Old Age Home, Hospice and Girls Hostel. After magical interactions with the women and girls of the Hospice and the Hostel they left the premises chanting and humming a divine local Ladakhi tune.
Thereafter, they participated in the closing session of the International Conference at the MIMC Guest House and were glad to hear the concrete commitments actions to be made by the participating organisations. Pujya Swamiji offered to support the plantation of a Smriti Van in honour of Former Prime Minister, Bharat Ratna Shri Atal Bihar Vajpayeeji in whose memory a two minute silence was also observed. Pujya Swamiji and Sadhviji pledged 3,000-5,000 fruit trees for this Memorial Garden.
They welcomed everyone and formally announced the upcoming Himalaya Diwas Summit at Parmarth Niketan (Rishikesh) on the 9th September. In between these events much planning was done for the upcoming Himalaya Diwas, especially with Dr Anil Joshiji of HESCO, and inputs for a Himalayan Charter were taken. Pujya Swamiji, Sadhviji and Dr Vandana Shivaji also spoke about promoting and supporting a Organic India and raising greater awareness and action to this end.
There was a beautiful toilet inauguration ceremony of the new toilet complex that had been sponsored by GIWA-Parmarth Niketan near MIMC's large meditation and prayer hall. Pujya Swamiji extended GIWA's and GAP's full support to build any other toilets needed in the area.
Read more about the toilet inauguration:
https://www.facebook.com/pg/ParmarthNiketan/photos/?tab=album&album_id=10156737450427698