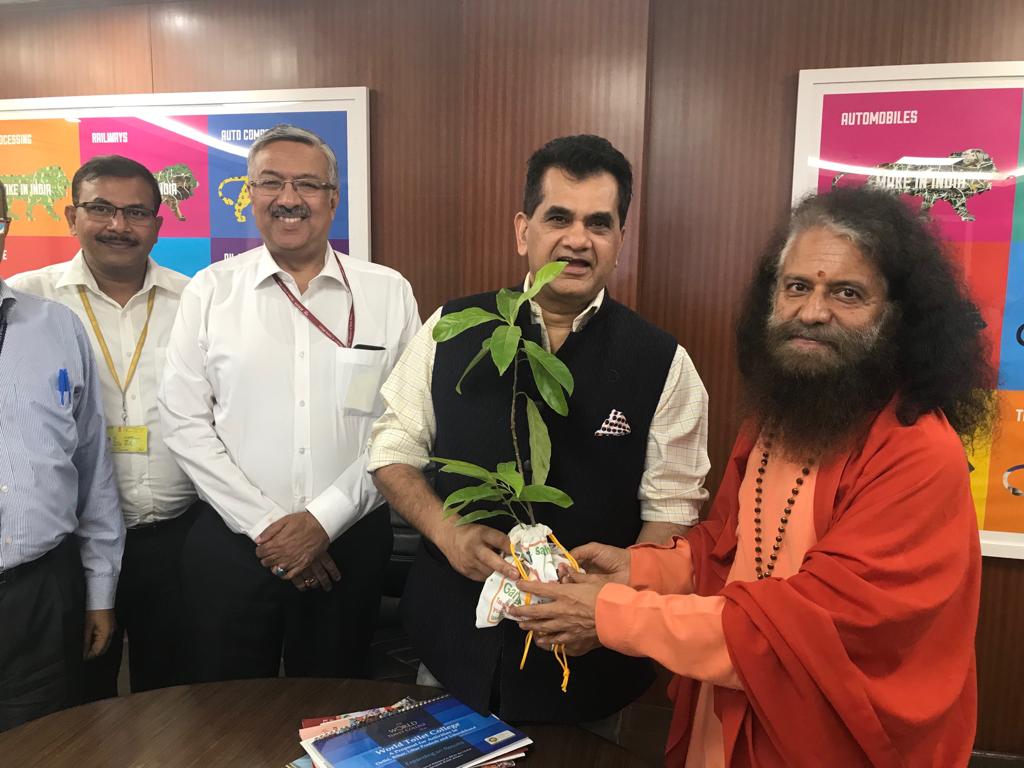 Pujya Swamiji Meets with Niti Ayog CEO
Pujya Swami Chidanand Saraswatiji met with NITI Aayog CEO Shri Amitabh Kant this week along with other officers of Niti Ayog including Shri Yaduvendra Mathur, Addtnl Secy, Shri Sanjay Kumar Singh, Director and others.
During this important meeting, Pujya Swamiji shared:
Ganga Rejuvenation: Implementing Decentralized Treatment Technologies and utilizing innovative "Sewage to Selfie" point models to engage local communities to radically transform dialogue around wastewater management.

Watch the incredible launch of the pilot plan in Rishikesh:


Abating Climate Change & Conserving Water: How in just two years The Global Interfaith WASH Alliance has been able to engage India's topmost faith leaders and their faith communities to be the change they wish to see and create a sustainable Swachh Bharat, aimed at a more water secure future for all.

Watch our two years highlight film:
https://www.youtube.com/watch?v=qtJTBpnF07g

World Toilet Organization(WTC): the regular training and courses being offered with WTC to build capacity, engage and empower women and local community to be the solution in their communities on all issues related to water, sanitation and hygiene.

Watch a special piece done by Rajya Sabha:
https://www.youtube.com/watch?v=98DSsKnfEl4

Agriboard reusing Agricultural waste (paraali-husk) that gets burned and is a great source of pollution to be reused into prefabricated, eco-friendly sheets to create sustainable and green housing. In so doing, transforming slum points to become selfie points and granting every slum dweller their own eco-friendly home.

Watch a short promo on Agriboard:
https://youtu.be/avXc6YfAIF8

PiLo Free Drinking Water Technology to provide safe and clean drinking water at all pilgrimage and public locations across the nation
Woodless and Less Wood Crematoriums & other green technologies.
It was discussed that follow up meetings would be held with NMCG and GIWA's experts to take these initiatives forward and scale these technologies for the common good.
.@PujyaSwamiji met w/ #NitiAyog CEO @amitabhkant ji to discuss a #CleanGanga, Sewage to Selfie point, #climateaction, #SDGs, clean drinking #water, #capacitybuilding thru the #WorldToiletCollege & mass awareness w/ #faithinaction
Read more: https://t.co/2LsNXdm23D pic.twitter.com/BNSFztXLoe

— Pujya Swamiji (@PujyaSwamiji) October 23, 2018