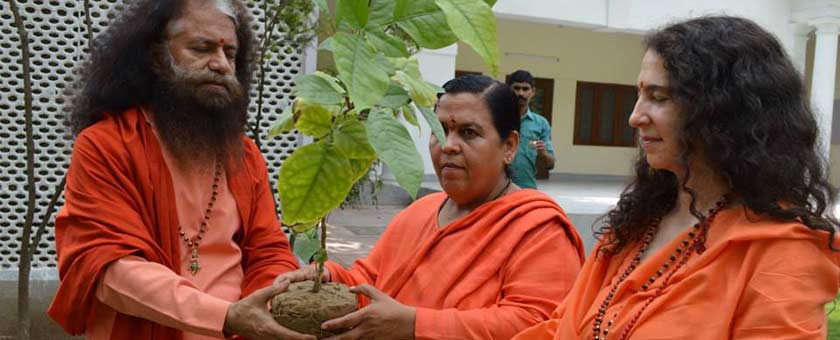 Pujya Swamiji Gives a Green Blessing to Uma Shri Bhartiji
Pujya Swamiji met with Uma Shri Bhartiji, the Hon'ble Minister of Water Resources and Ganga Rejuvenation, Government of India, sharing with her the concrete solutions and technologies that Ganga Action Parivar (GAP) had gathered in the last few years for waste water management, solid waste management, agricultural management, ecological management and alternative energy. He said that the Ganga Action Parivar was ready to serve and support the government in implementing a comprehensive plan for Ganga, including a grand plan, with changes at the policy level, as well as the ground plan, to involve and engage the ownership of all stakeholders. He emphasized that a time plan as well as a team plan would be essential in effective implementation.
Pujya Swamiji also suggested many green activities and actions that could take place along 200 metres of either side of the banks of Mother Ganga. He spoke to her in detail of how each Green Corridors could be developed as green zones with organic farming, tree plantation, in situ plant based management as well as so much more.
The discussed transforming religious sites of pilgrimage into green pilgrimages, especially about green development of Haridwar, Triveni Ghat, Devprayag, Rudraprayag and Uttarkashi in the first phase. Pujya Swamiji shared plans to re-develop these pilgrimages so not only would they be better and safer tourist spaces, offering basic facilities of trash bins, bio-toilets and clean water, but also be deeply inspiring and transforming experiences where people could reconnect with Mother Nature and Mother Ganga.
On the occasion a sacred Bhel Patra sapling was also planted at UmaShriji's residence as a symbol of Pujya Swamiji's divine blessings to her so that her service should grow and give life the way that a tree gives life. Since the Bhel Patra is a sacred tree, one that symbolizes the union of the holy trinity of creation, sustenance and destruction, so to may her impact bring life back to India's most sacred river, ensuring the divine balance of these three forces continue to nourish and flow through the waters of Mother Ganga.
[fbalbum url="https://www.facebook.com/media/set/?set=a.810102722344904.1073741973.195396983815484&type=1″]