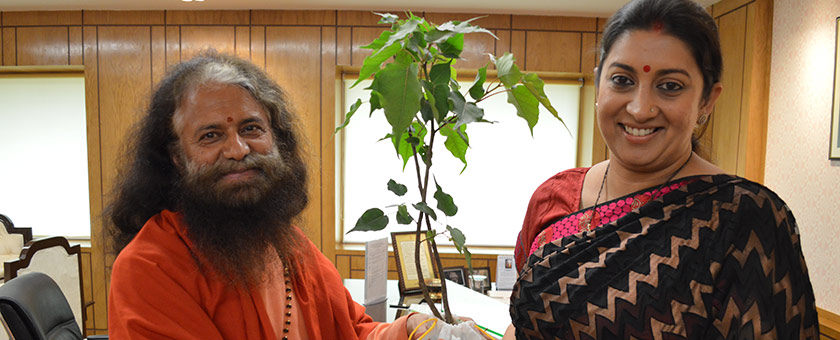 Pujya Swamiji discusses Green Schools with Smt. Smriti Iraniji
Pujya Swamiji met with Smt Smriti Iraniji, Hon'ble Minister of Human Resource Development, Government of India. He spoke to her about the need for every school to incorporate green values into their curriculum and daily activities. He shared that every school across India must be equipped with basic facilities and green technologies, such as bio-toilets and bio-sand filters, ensuring provision for clean water and adequate sanitation and hygiene facilities which are key to improving our children's quality of education. These technologies could be developed in a hands-on way in which the local community is engaged and involved in the actual creation process so that they not only earn livelihoods but also feel strong sense of ownership towards the maintenance of the facilities.
Pujya Swamiji also shared with her the program that Ganga Action Parivar and the Divine Shakti Foundation are instituting under His leadership and guidance of a "Mid-Day Fruit Programme" where fruit trees are planted in the schools by the students. Pujya Swamiji inspired her with the idea that this should be done in every school as an innovative and simple action to help combat malnutrition, global warming, soil erosion and air pollution.
They discussed plans for upcoming Children's Day and she confirmed her participation in the GIWA Summit "Worship to WASH" and "Women for WASH" at Parmarth Niketan (Rishikesh), in collaboration with UNICEF, from the 28-30th November.
She was deeply impressed by Pujya Swamiji's divine vision and leadership and asked for Him to grace her ministry once every month to infuse them with new and green ideas towards the nation's progressive future.