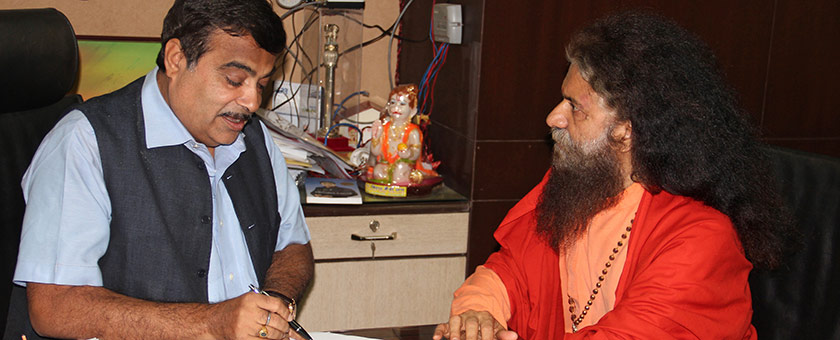 Pujya Swamiji and Shri Nitin Gadkariji discuss Green Ganga
Pujya Swamiji met with Shri Nitin Gadkari, the Hon'ble Minister for the Government of India of Roads, Transport, Shipping and Highways as well as Rural Development and offered him a sacred Rudraksh tree at his official residence.
Shri Gadkariji agreed with Pujya Swamiji's emphasis on the vital importance of a Water, Sanitation and Hygiene (WASH) Revolution in India, and they both expressed great joy at the Hon'ble Prime Minister's vision of a Clean India.. Pujya Swamiji shared that Ganga Action Parivar and Global Interfaith WASH Alliance have been working tirelessly to raise awareness and inspire the construction of not just any toilets but the construction of bio-toilets. They also discussed ways in which costs can be reduced so that every village and school in India could be equipped with one.
Further, Pujya Swamiji shared ideas and insights of various, new technologies that could be utilized to clean up the sacred River Ganga and Her tributaries as well as organic farming and tree plantation on the banks of Ganga. Pujya Swamiji shared with him the need for 100% renewable energy in India as well as ways to create a Solar India. Shri Gadkariji was so glad to hear Pujya Swamiji's concept of a "Give Back" program for Indians living abroad who are ready to serve their Motherland with their energy, experience and expertise, time, talent, technology and tenacity, helping to bring this country towards development that is consistent and stable as well as is inclusive of everyone.