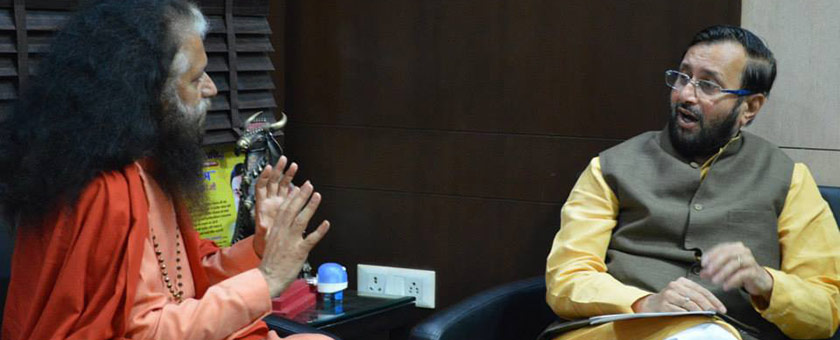 Pujya Swamiji and Prakash Javadekarji discuss Restoring Ganga
Pujya Swamiji met with Shri Prakash Javadekarji, the Hon'ble Minister of Environment and Forests, Information Technology and Broadcasting, and discussed the various technologies that could be utilized to clean up the sacred River Ganga. He shared about boats designed to patrol the banks of rivers, eating up and segregating the solid waste and liquid waste from the fresh water. The discussed how these technologies were functional in other parts of the world and could be utilized in the first phase of the Clean Ganga plan to illustrate immediate results.
They also spoke about in situ and decentralized technologies such as Natural Biological Systems that could be utilized in addition to Sewage Treatment Plants to ensure that all drainage are tapped and treated before they make their way into the river. They also discussed on ways to improve the current STPs so that they become self-sustainable, utilizing the sludge from the waste for energy and thus not being dependent on an external source of energy.
Amongst other important topics of discussion, Pujya Swamiji invited Shri Javadekarji to the upcoming GIWA Summit "Worship to WASH" and "Women for WASH" at Parmarth Niketan (Rishikesh), in collaboration with UNICEF, from the 28-30th November.