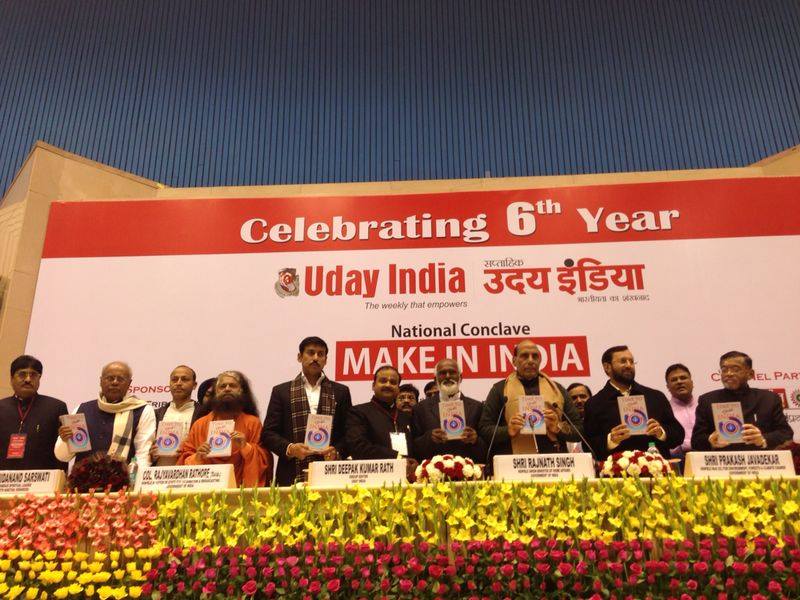 Pujya Swamiji Addresses Uday India's 'Make In India' National Conclave
Pujya Swamiji addressed Uday India's 'Make In India' National Conclave at the Vigyan Bhawan, as a part of their sixth anniversary celebrations, with eminent and respected dignitaries including:

Shri Rajnath Singhji, Hon'ble Union Home Minister,

Shri Jual Oramji, Hon'ble Union Minister of Tribal Affairs
Shri Prakash Javadekarji, Hon'ble Minister for Environment, Forest & Climate Change
Shri Santosh Kumar Gangwarji, Hon'ble Minister for Textiles
Shri G.M.Siddeshwaraji, Hon'ble Minister for Heavy Industries & Public Enterprisers
Col Rajyarvardhan Rathoreji, Minister of State for Information and Broadcasting
Eminent industrialists such as Shri NL Jhunjhunwalaji, Shri Mridu Hari Dalmiaji and many others
As well as Mr Deepak Rathji, Editor of Uday India, organizer of the beautiful programme
The event focused on solutions, strategies and suggestions to overcome the potential hurdles and bottlenecks in Hon'ble Shri Narendra Modiji's progressive and innovative 'Make In India' campaign, especially to jump start the manufacturing sectors, such as automobiles, information technology, security, pharmaceuticals, ports, telecom, skill development, roads and highways, hospitality and railways, in which India has the potential of becoming a world leader.
The Hon'ble Home Minister inaugurated the conclave by sharing "The manufacturing sector is going to be strengthened in order to trigger massive employment generation. It is with this objective Make in India programme has been launched. We are equipped in all respects and are determined to ensure that the economy turns around for the better and become robust…We are also committed for the wholesome development with agrarian economy becoming viable and manufacturing sector becoming robust with massive employment generation. We are going to get a fair quantum of investment in infrastructure, defence and manufacturing sectors. We have the will and determination to achieve this task."
In His address, HH Pujya Swami Chidanand Saraswatiji, President of Parmarth Niketan (Rishikesh), Co-founder of Global Interfaith WASH Alliance and Founder of Ganga Action Parivar and Divine Shakti Foundation, stressed the need for building moral and ethical values among the youth in order to build the nation. "Make in India is not just constructing buildings and laying roads. Make In India has to be taken along with Make India so that we can create a India that is clean, green and serene for all and in which we not only work on the outer growth but the inner growth of human values and service."
He also added for the Media family present at the event, 'Taking inspiration from Corporate Social Responsibility (CSR) let us also create Media Social Responsibility (MSR) also. Let us make our MSR to be from breaking news to making news, from negative to positive and from misinformation to mass inspiration.' He lauded the work Uday India was doing in this direction.
The Minister of State for Information and Broadcasting added that innovation has to be incorporated into the education system.
Mr Deepak Rathji, Editor of Uday India, shared that Uday India is committed to quality journalism with a robust morals & ethics keeping India's interest as upper most in its outlook and attitude. "There will be no compromise on quality, truth, morals and ethics and will continue to hold the torch of nationalism in its duty to the country," he added.
A Book titled "Time to Click India" authored by Deepak Rath, Editor, Uday India, was released at the function. The following eminent personalities and corporate leaders were given awards for Corporate Excellence.
[fbalbum url="https://www.facebook.com/media/set/?set=a.10152920054582698.1073741896.86246862697&type=1″]