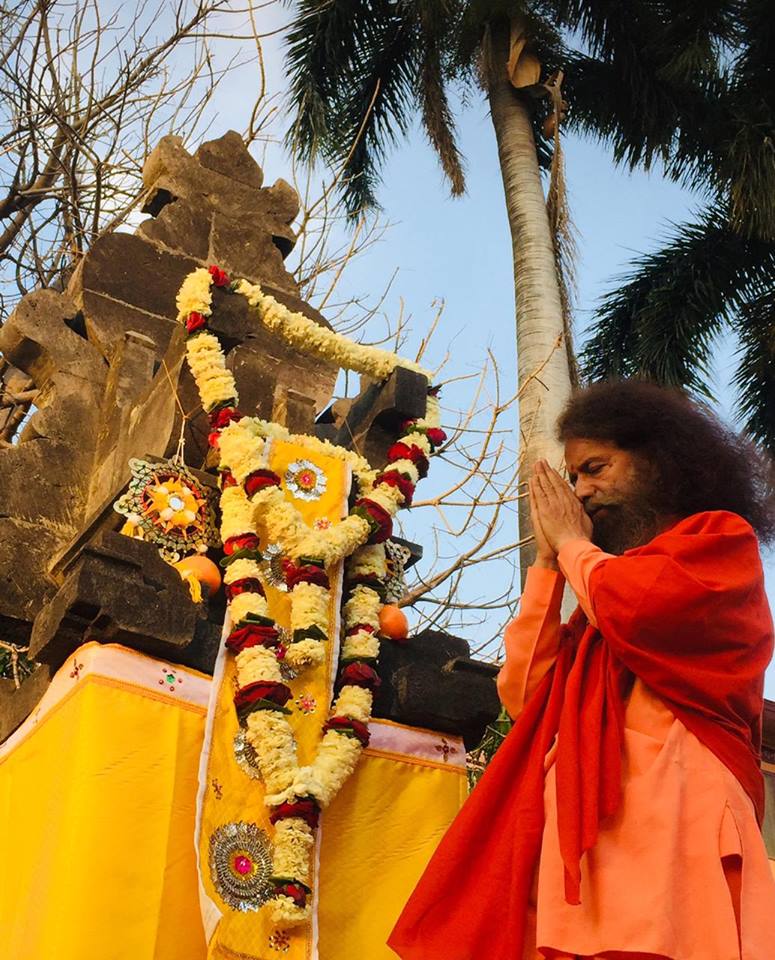 Protecting the Future through Culture & Nature: India & Indonesia
Padmasana to be established at Parmarth Niketan, Rishikesh
RISHIKESH: Resonating with the message of oneness and harmony, one of the largest ashrams in Rishikesh, Parmarth Niketan Ashram, welcomed a high level delegation from Bali, Indonesia. Leading the delegation of mostly Parliamentarians was Head of the Parliament, Dr Putu Parwata and Indra Udayana, Founder and Chairman, Ashram Gandhi Puri, Indonesia, who were welcomed by HH Pujya Swami Chidanand Saraswatiji (Pujya Swamiji), President of Parmarth Niketan, and Sadhvi Bhagawati Saraswatiji, President of the Divine Shakti Foundation, to their Himalayan home with a sacred Rudraksha sapling, mala and shawl.
During the delegation's more than a week-long visit, they discussed setting up a sacred Padmasana* (in Kawi and ultimately derived from Sanskrit term for "lotus pose"), which is a type of shrine in Balinese temples reserved for the seat of Supreme God that holds great spiritual and religious significance to the Balinese people. The Padmasana would be located in the Parmarth Niketan's premises and would serve to not only welcome Balinese and Indonesian people to India but also further strengthen the over 70 year old relationship between Indonesia and India.
Pujya Swamiji graciously blessed the initiative and even shared the perfect location for the placement of the Padmasana. A beautiful lamp lighting and water blessing ceremony was done by the group on the first day of their visit to symbolize this beautiful beginning. Work was started soon thereafter to complete the first phase of the project.
On the occasion of the first pooja and thanksgiving ceremony today, Pujya Swami Chidanand Saraswatiji shared, "Our mantra should always be to meet, greet, respect and accept all. This establishment of the Padmasana in Rishikesh, India puts this mantra into action. India and Indonesia are like two bodies but one soul. We are not separate at all and this is a great beginning to deepen our connection. I often share that India is not a piece of land but rather it's a land of peace. India has always worked for maintaining peaceful relationships with other nations. Hence, both countries coming together in this beautiful cultural exchange is a powerful symbol of greater harmony, love and peace in the world."
Agus Indra Udayana, Founder and Chairman, Ashram Gandhi Puri, Indonesia, "Pujya Swamiji is always bringing people together, across diverse communities, from all over the world, more than 15 years ago the initiative had been conceptualized and now thanks to Pujya Swamiji's leadership these plans are coming to fruition. Pujya Swamiji's heart is very kind, compassionate and he is incredibly action oriented. Hence, when we asked Him for space for the installation of the Padmasana He gave the space immediately within the gorgeous and sanctified space of the Parmarth Niketan Ashram, accepting our request and the next day work had begun." He added, "The people of Bali, Indonesia love to come to banks of Ganga. Now our sisters and brothers will have yet another reason to visit and have a beautiful space to call their home away from home."
A special thanksgiving pooja was done today with devotees and pilgrims from all across the world, signifying the completion of the first phase of the two phase installation, and the official inauguration will take place with the Hon'ble Governor of Bali and other eminent dignitaries in April, when artists and more of sisters and brothers from Bali, Indonesia will join us here on the banks of Maa Ganga in celebration and union.
Talks about such cultural exchanges between the two nations have been taking place since Hon'ble Former Prime Minister of India Shri Atal Bihari Vajpayeeji visited Bali, Indonesia in 2003 and thereafter when Pujya Swamiji spoke to the former Hon'ble Chief Minister of Uttarakhand over 15 years ago to establish a space for the Balinese people, for whom the River Ganga holds a very special and sacred place in their hearts and minds.
*Padmasana is a Balinese Hindu temple. It is a shrine to Hindu people of Bali to worship Ida Sang Hyang Widhi Wasa (God). Padmasana is the symbol and image of macrocosm or the Bhuana Agung (the universe). Padmasana can be found in many Buildings all around Indonesia. Padmasana comes from Kawi language (old Javanese) it is derived by two words, Padma means lotus flower or center and Asana means seat or throne. The meaning of Padmasana is the image of universe (macrocosm) which is Sthana (a place to stay) of Ida Sang Hyang Widhi Wasa (God). The main function of Padmasana is is a place to worship Almighty God. The symbols on a Padmasana represents the natural levels that Hindu people believe as Tri loka. Tri Loka consists of Bhuha Loka (earth), Bhuvha Loka (atmosphere) and Swah Loka (heaven). This symbol can be seen from Bedawang Nala (big turtle in Hindu mythology) with Antaboga and Basuki (two dragons).
Padmasana consists of 3 main parts. The foot is called Tepas, the body is called Batur and the Head is called Saris.
The foot (as the base) there are Bedawang Nala, Antaboga dragon and the Basuki dragon carving. There are also carvings of lotus flowers.
The body (as the center) there is a many types of carvings. The main carving is The Astadikapala Gods (guardian of 8 cardinal directions).
The Head (Sari) there is a throne made out of carved stones.
Based on the location, Padmasana is distinguished by direction of winds into 9 types.