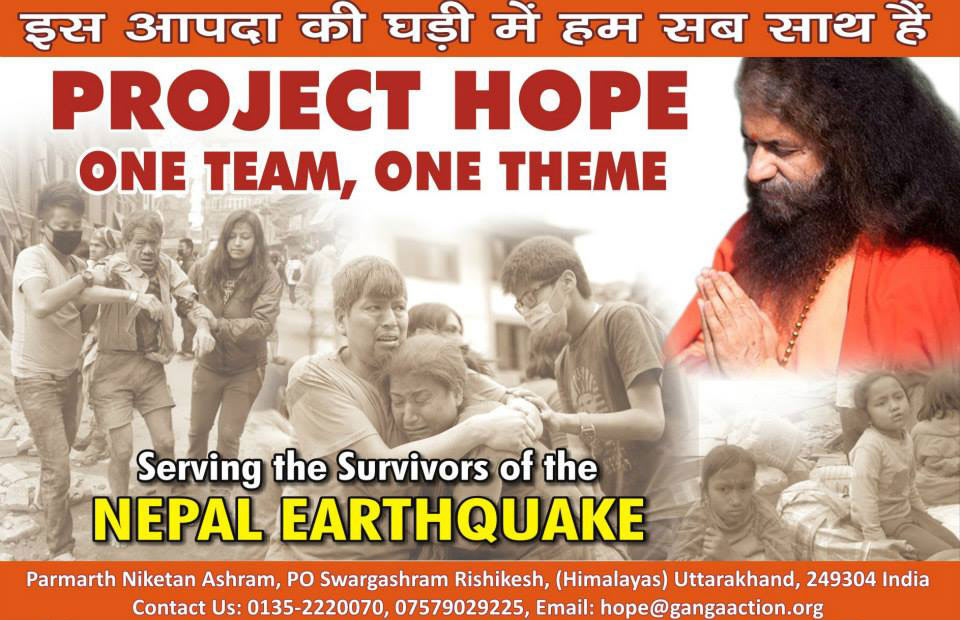 Project Hope Swings Into Action for Nepal
After hearing about the tragic earthquakes that have devastated Nepal, Pujya Swami Chidanand Saraswati has inspired and led Global Interfaith WASH Alliance, Divine Shakti Foundation and Ganga Action Parivar, Parmarth Niketan, Rishikesh – along with many other dedicated partners – to work together as one team, under the Project Hope umbrella, with one theme: to serve our brothers and sisters in Nepal during this tragic time.
Project Hope, Parmarth Niketan, Rishikesh just dispatched a huge truck-load of essential supplies to Nepal this morning and is in constant contact with our team of over 50 volunteers in Nepal, where they are working in the heavily-devastated region of Bhaktpur as well as in the significantly-affected regions of Dhaulikhel and Kathmandu. The truck is carrying 5000 blankets, hundreds of pairs of new clothes, shoes, solar lanterns, sheltering tarps, daily necessity items such as toothbrushes, toothpaste, soap, food, medicine, water filtration systems and so much more.
We are deeply thankful to the Emami Foundation for its generous contributions and partnership through which GIWA, GAP and DSF have been able to send many of these necessities.
We are also deeply thankful to FICCI and GIWA-NCR Delhi Chapter for sending thousands of water bottles that not only will bring fresh cleaning drinking water to the people of Nepal, but will support hundreds of India's Army widows, who package the water as their livelihoods.
Project Hope also plans to send a team of ten healthcare practitioners, including doctors, nurses, a pharmaceutical compounder, and other medical personnel, to serve in Nepal within the week.
Our on-ground team in Nepal has conveyed the great and urgent need for Physicians, General and Orthopaedic Surgeons and Orthopaedic Doctors. If you would like to serve or know medical professionals who may be interested, please contact hope@gangaaction.org.
We look forward to keeping you posted as to the latest developments of Project Hope's Relief Efforts in Nepal as well as to serving together for our brothers and sisters in Nepal and in India.
[fbalbum url="https://www.facebook.com/media/set/?set=a.10153232541162698.1073741935.86246862697&type=1&l=885b00dc71″]