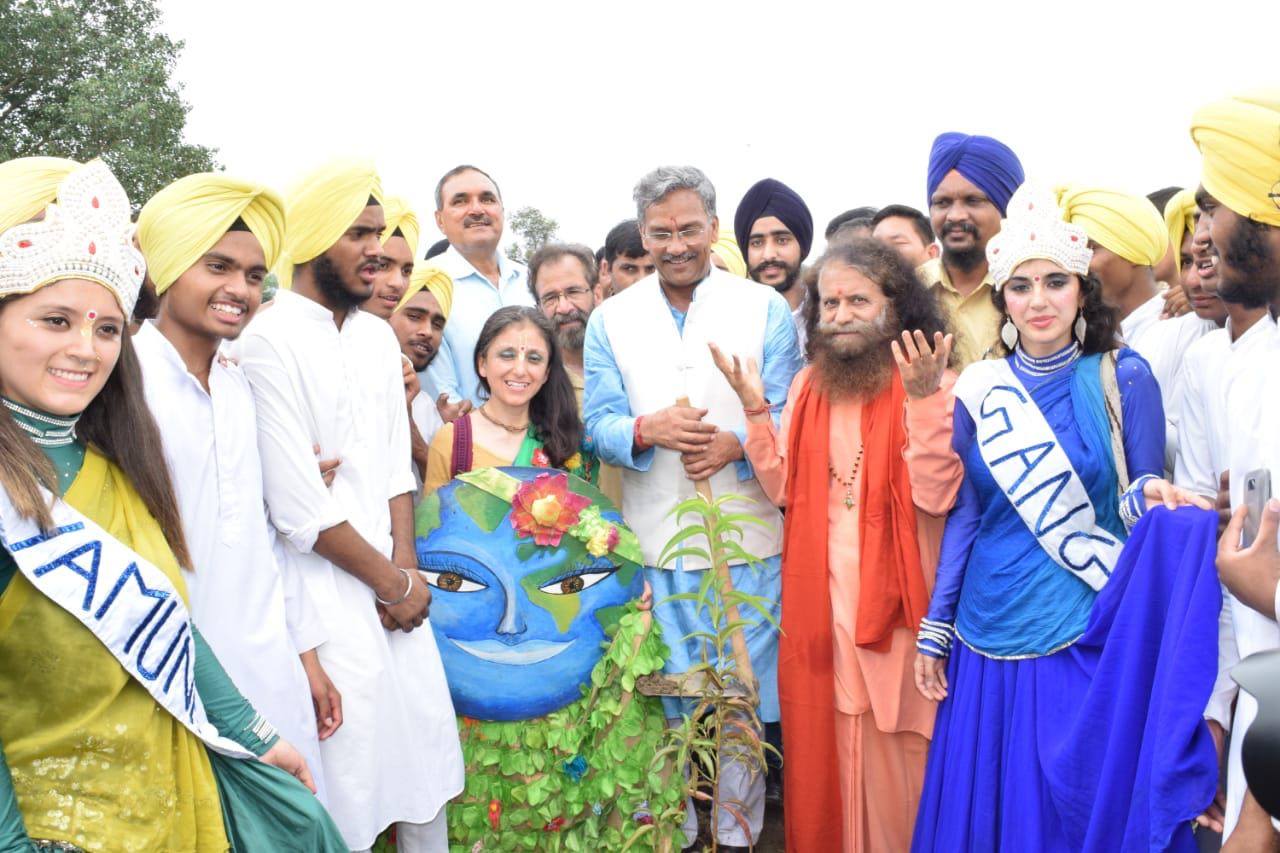 Planting & Pledging for Trees of Love, Harmony & Peace
The Mission of reviving Dehradun's ancient river Rishiparna (now called Rispina) back to its original free-flowing and unpolluted condition, saw a historic milestone when, under the leadership of Uttarakhand's Hon'ble Chief Minister Shri Trivendra Singh Rawat​, with HH Pujya Swami Chidanand Saraswatiji – Muniji​'s guidance, inspiration, support and blessings, thousands of youth, students, civil society organisations, Eco-Task force, Army, government officials and many others came together to plant more than 2.5 lakh (250,000) trees in Dehradun, the capital of Uttarakhand. The event saw the active participation of Honble Chief Secretary Shri Utpal Kumar Singhji, Director General, Namami Gange​ Shri Rajiv Ranjan Mishraji, Shri Hitesh Kumar Makwanaji, Executive Director (Project), Dr Pravin Kumar, Technical Director, NMCG, DM Dehradun Shri SA Murugeshanji, Dr Raghav Langar, Director, Swachh Bharat Mission, Uttarakhand, and Program Director, SPMG and many others.
Many of the rivers and tributeries in the Himalayas are fed not directly by glaciers but rather by trees. As the trees are deforested, the rivers dry up. Hence, the tree plantation programme is one which has been undertaken to abate climate change and replenish the tributeries and rivers of the Himalayan region. The Rispina is one of the main rivers feeding into the Ganga.
The plantation today started from the origin of the Rispina River and continued along the river's 40 km stretch.
A very special programme was organised at the last site of plantation in Mothrowala, Dehradun by the Global Interfaith WASH Alliance​, Ganga Action Parivar​ and Parmarth Niketan, under Pujya Swami Chidanand Saraswatiji – Muniji's inspiration, to bring interfaith leaders together to plant an interfaith garden along the river's stretch.
Buddhist lamas and nuns, Muslim leaders from across the nation as well as a large delegation from the Jamiat Ulame-i-Hind came together with Sikh students, Hindu students from the Parmarth Gurukul, and devotees from USA, England, South America enthusiastically and energetically to plant trees of unity and oneness.
Pujya Swami Chidanand Saraswatiji – Muniji began the plantation by leading everyone in a pledge to protect and preserve water and to work together to improve water, sanitation & hygiene (WASH).