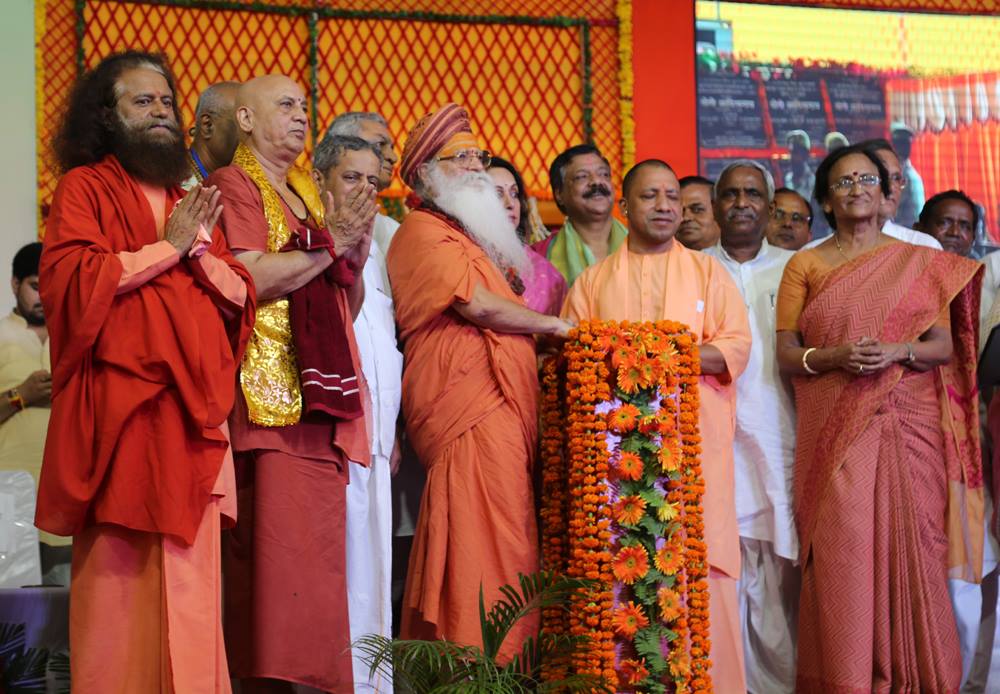 Plans for Clean, Green & Yogic Vrindavan
Pujya Swami Chidanand Saraswatiji​ graced and blessed a large event in Vrindavan recently, just before Krishna Janmasthami, organised by the UP Tourism Department and UP Braj Teerth Vikas Parishad, with the Hon'ble Chief Minister of UP Shri MYogiAdityanath​ji, Param Pujya Swami Nrityagopal Dasji, Ayodhya, Param Pujya Karshnipeethadhishwar MM Swami Gurusharananandji Maharaj, Shri Madhu Pandit Dasa​, Chairman, The Akshay Patra Foundation, Smt Prof. Rita Bahuguna Joshi, UP Tourism Minister, Dr H R Nagendra​, Chairman, IYA, President of SVASYA, Smt Dreamgirl Hema Malini​, MP, Mathura, Shri Laxmi Narayan Chaudhary​, Minister of Culture, Government of Uttar Pradesh, Shrikant Sharma​, Energy Minister of UP, Smt Hansa Jayadeva Yogendra, Director, The Yoga Institute​, Shailjaji Kant, Vice Chairperson UPBTVP as well as many other respected faith leaders, political leaders and leaders of the yoga community and was held at the Chandrodaya Mandir, Akshay Patra.
Pre #KrishnaJanmasthami @uptourismgov & #UPBTVP launched numerous large scale programmes & initiatives in #Vrindavan w/ CM @myogiadityanath & many respected faith leaders, political leaders & leaders of the yoga community at #AkshayPatra. Learn more:https://t.co/gLvUVErAYj pic.twitter.com/SuDNR2bBXL

— Parmarth Niketan (@ParmarthNiketan) September 6, 2018
The event unveiled various projects that would help develop Braj Vrindavan region as a clean, green and sustainable tourism destination. One of the projects was a large Biodiversity Park being planned in Vrindavan, a portion of the park would be highlighting the different yoga styles, lineages and would inspire and encourage pilgrims to understand their rich yogic heritage. The Park is being sponsored through PHD Chambers and Commerce's CSR Initiative and the Indian Yoga Association​ would be providing the technical know how, assistance and support to the section being developed for Yoga.
Pujya Swamiji had the divine opportunity to guide many of the senior officers on the sidelines of this event on how to truly develop a clean and green destination, emphasised the need to restore and rejuvenate the River Yamuna and ensure basic water, sanitation and hygiene (WASH) facilities to all yatris be at the core and center of these plans. He also met with several of the high level faith leaders and planned several interventions during the upcoming Kartik Mas (mid October to mid November). The faith leaders planned for a beautiful Yamuna Aarti on the auspicious occasion of Sharad Purnima on the 24th October, under the patronage of Pujya Swami Gurusharananandji Maharaj, to engage, inspire and empower the faith community and faith based organisations in Braj-Vrindavan to restore their ailing river.
Beautiful mtng w/ @dreamgirlhema Maliniji, Member of Parliament, Mathura regarding a clean & green #Vrindavan, upcoming #KumbhMela2019, #Ganga, #Yamuna River restoration efforts especially thru art & film. Read more: https://t.co/cfG8u8LaZB #braj #greenpilgrimage #SwachhBharat pic.twitter.com/hbB9C8MO0l

— Pujya Swamiji (@PujyaSwamiji) September 7, 2018