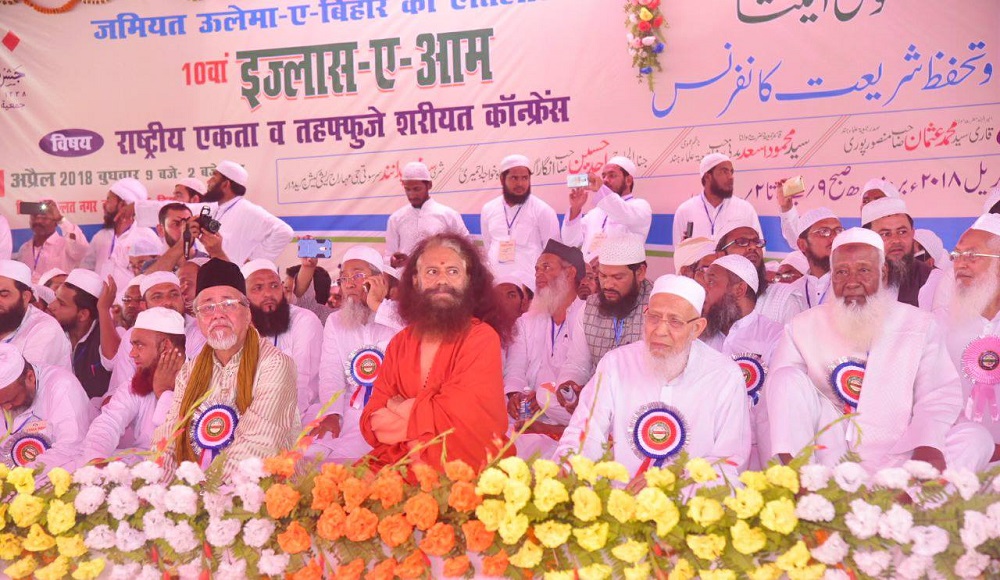 Peace and Unity Summit Organised by the Jamait Ulama-i-Hind,Bihar
Pujya Swamiji was the Chief Guest at the 10th annual event organized in Kishanganj, Bihar in which more than two lakh Maulana and Muslim brothers from different provinces of India participated.
Watch Pujya Swami Chidanand Saraswatiji – Muniji's historic and inspiring address: https://bit.ly/2I4IaqA
He and Maulana Mahmood Madani​ Ji, Secretary General of Jamiat Ulama-i-Hind, traveled together from Delhi to Bihar, and were warmly and enthusiastically welcomed by many members of the Jamiat Ulama-i-Hind national, state and local chapters at the Bagdogra Airport.
The next day the highly anticipated Peace and Unity Summit was held with the purpose of peace building and interfaith harmony, especially in light of the recent communal clashes in Aurangabad, around the time of Ram Navami. The purpose of the conference was to emphasize national unity, brotherhood and swachhta (cleaniness) in our communities. It also addressed how young people of every faith tradition could be inspired to do away with violence, instigation and intoxication, especially how they could be motivated to actively work towards building greater harmony between members of their own faith as well as members of other faith traditions.
Pujya Swamijiand Respected Maulana Mahmood Madani Ji collectively inspired everyone with the message of working together for water conservation and tree plantation in order to create Clean, Green and more united communities for all.
Amirul Hind Hazrat Maulana Qari Syed Muhammad Usman Mansoorpuri Sahib, President, Jamiat Ulama-I-Hind, Maulana Mahmood Madani​od Madanii, Secretary General, Jamiat Ulama-i-Hind​, Hussein Sahib Chishti Angara Gaddi Nasheen, Secretary Anjuman Khuddam Khwaja Sahib Ajmer Sharif and many others gave inspiring addresses during the Summit.
The programme was presided over by the following members of Jamiat Ulama-i-Bihar, President Maulana Mohammed Qasim Sahib, Convenor Maulana and Mufti Javed Iqbal Sahab Qasmi, Co-chairman Maulana Mohammad Nazim Sahib, General Secretary Hazrat Maulana and General Secretary Jamiat Ulama –i-Kishanganj Mufti Munajir Noman Kasi Sahib and Ustad Jamia Hussain and Madani Nagar Farigolla of Kishanganj.
Pujya Swamiji presented all respected dignitaries with a sacred Rudraksha sapling as a symbol of their clean and green pledge.