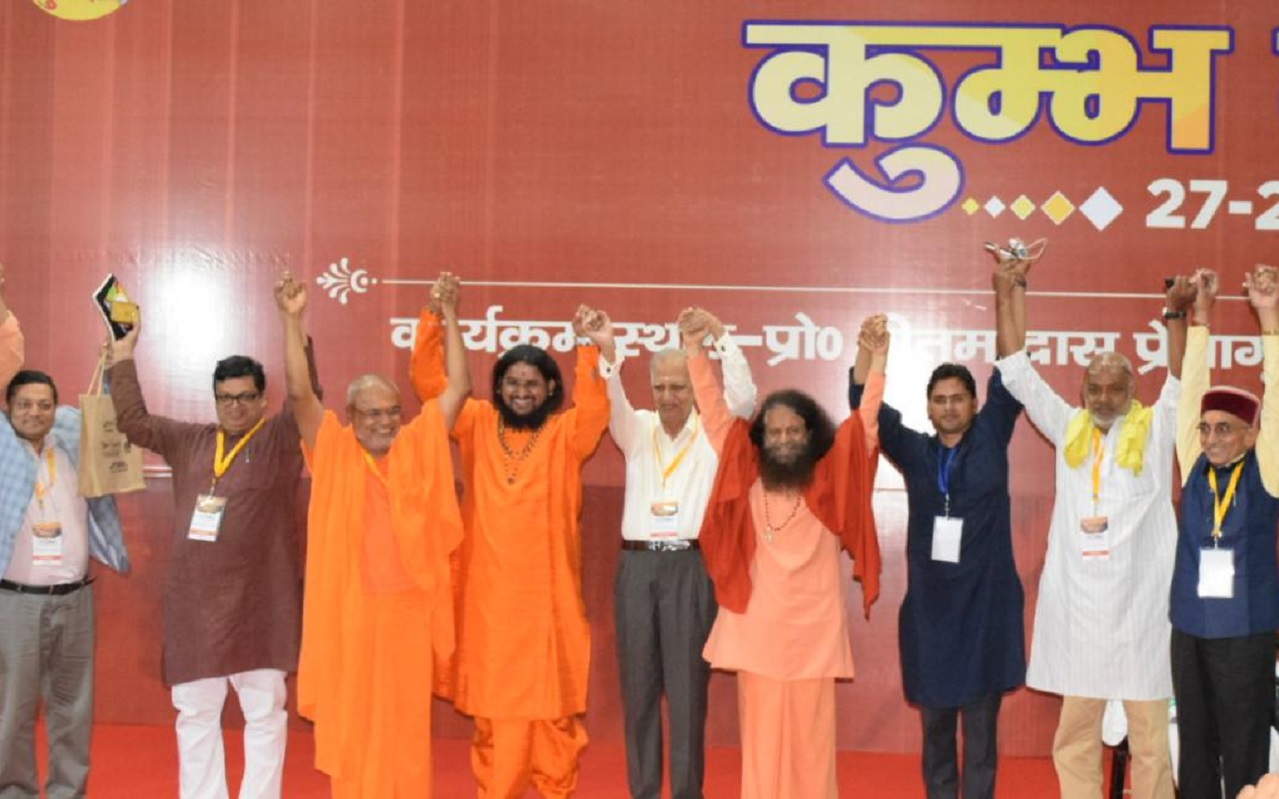 Our Kumbh Mela, Everyone's Kumbh Mela will be a Green Kumbh
HH Pujya Swami Chidanand Saraswatiji – Muniji​, President of Parmarth Niketan​, Co-Founder, Global Interfaith WASH Alliance​ and Founder, Ganga Action Parivar​, was warmly welcomed to Allahabad today and had a busy schedule of meeting, dialogues and addressing the three day Kumbh Conclave.
The first meeting included a high level roundtable of the cities civil society leaders, experts, educationists and concerned citizens of Allahabad, which included IG Allahabad Ramit Sharma​ji, Amicus Curiae, Advocate High Court, Arun Kumar Guptaji, Satpal Gulati​, Vice Chairman, United Group of Institution, President Vyapar Mandal, #Ekal Vidyalaya Management, #Lions, #Rotary Allahabad and many other eminent leaders at El Chico Conference Hall.
Everyone shared their deep concerns with Pujya Swamiji at this roundtable, here are some of the pertinent points summarised:
Protection of the remaining greenery in the city
Massive level of tree plantation in Allahabad to maintain the cities green cover
Plastic and pollution free Kumbh Mela
Promotion of Eco-friendly, clothe hand bags to raise awareness for making green choices and green living
Coordination of the CSOs, individuals and groups so that they work in unison and in harmony with the government
Pujya Swamiji said, "This Kumbh Mela must be a Mela with a Message. This Mela will only be successful with all of your active participation. We must join our efforts with Hon'ble Prime Minister Shri Narendra Modiji and Hon'ble Chief Minister Mahant Shri Yogi Adityanathji and add our own contribution to this Rashtra Yagya, the Kumbh Mela is not only the largest gathering of humanity its also a reflection and inspiration of our nation's spiritual, cultural and natural heritage. For that we must make sure that the centre of our Kumbh, the sacred Rivers Ganga, Yamuna and Saraswati are pristine and clean for all to bathe and worship."
Ramit Sharmaji IG Allahabad shared, "I encourage you to break the concept of us vs them. The adminstration is open and welcome to all your suggestions. In order to make the Kumbh Mela a grand success we need to work together as one family to welcome our world family. I look forward to Pujya Swamiji's blessing to bring a greater harmony between each other and between the people and the political administration."
Thereafter, Pujya Swamiji also addressed a panel of the Kumbh Conclave at the Motilal Nehru Medical College Auditorium, organised by the India Think Council's Shri Saurabh Pandeyji, in a session entitled "Ganga, Environment and Faith" with Justice Giridhar Malayviyaji, Prof. Sh. Rajaram Yadav, Hon. Vice Chancellor, Purvanchal Jaunpur University, Prof. (Dr.) Sanjay Paswan, Member- Bihar Legislative Council, Ex Union Minister, Dr. Deena Nath Shukla "Deen," Ganga Activist , University of Allahabad, Shri Pramod Sharma, CMP Degree College, Allahabad University moderated Shri Harshvardhan Tripathi, Journalist and Senior Fellow –SPMRF , New Delhi and many other eminent scholars and dignitaries. Pujya Swami Parmatmanandji, Rajkot, Gujarat and Pujya Brahmeshanandacharyaji, Goa also graced the session and joined Pujya Swamiji for its concluding pledge.
At both events Pujya Swamiji shared the various activities, programmes and projects that solutions can be implemented. He also shared about the recent Sewage to Selfie point inauguration, as a solution to cleaning one of the major drains in Rishikesh, and the efforts underway, with the support of Namami Gange, that by the 26th January there will be visible results for Assi in Varanasi, some of the major drains in Allahabad and Uttarakhand.
The day concluded with a beautiful Ganga Aarti on the banks of the Sangam with the Hon'ble Commissioner of Allahabad, Hon'ble Mela Adhikari of Allahabad, Justice Arun Tandonji and many others. The entire management team of all 6 STPs in Allahabad were also honoured with a sacred Rudraksha by Pujya Swamiji and a pledge was taken for an aviral and nirmal (free flowing and unpolluted) River Ganga.