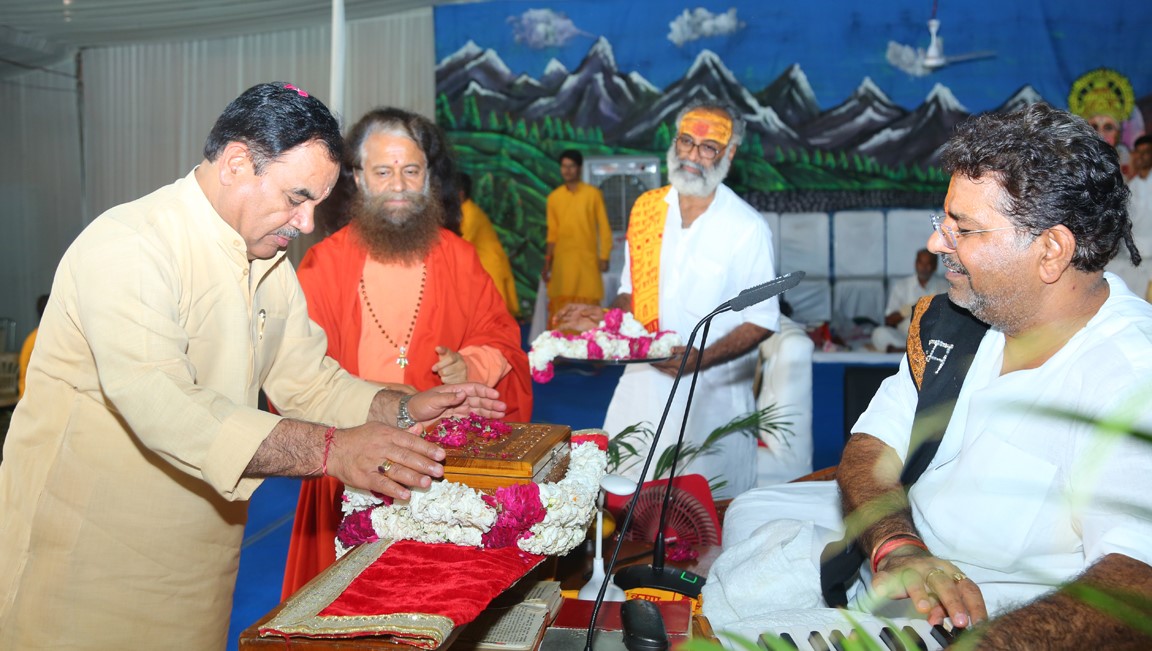 Open Garbage Free Uttarakhand inspired during the Shri Ram Katha
The Hon'ble Environment and Forest, AYUSH Minister of Uttarakhand Shri Harak Singh Rawat ji was warmly welcomed by Pujya Swami Chidanand Saraswatiji to grace the fifth day of the month long Shri Ram Katha by Pujya Sant Murlidharji Maharaj being held at Parmarth Niketan recently.
#OpenGarbageFree (#OGF) & #PlasticFree Uttarakhand pledges made during the 5th day of Shri #RamKatha by Pujya Sant @MurlidharJiM as @PujyaSwamiji & #Uttarakhand Cabinet Minister @drharaksrawat ji grace the occasion. Read more: https://t.co/IRpPdILKad #GreenKatha #SwachhBharat pic.twitter.com/fONSIpxsQb

— Parmarth Niketan (@ParmarthNiketan) May 23, 2019
During his visit, Pujya Swamiji lauded the efforts made to end Open Defecation in the state of Uttarakhand.
He shared now its time to have the Himalayan State set a new precedence in ending Open Garbage littering its picturesque pilgrimage sites and landscape. He shared that the upcoming Kumbh Mela in Haridwar should be the opportunity to welcome the nation and the world to a clean, green and plastic free Uttarakhand.
Speaking to thousands of pilgrims in the Katha, during the broadcast heard around the world through Sanskar Channel, Pujya Swamiji shared, "young girls were dropping out of school due to lack of clean toilets. But now, with an Open Defecation Free (ODF) India and over 9 crore toilets built in India over just four years. Now it's time to move from ODF to OGF – an Open Garbage Free India!"
Pujya Swamiji continued. "It's time to keep our country clean, to stay healthy and happy. We need to provide waste bags to communities…to get the garbage off the streets and out of the neighborhoods. We've awakened a stream of consciousness, a flow like Mother Ganga of information and awareness around these problems, and the need to maintain a world free of chemicals and pollutants. We need to rid the world of single-use plastics – objects that are clogging our rivers and streams and causing a crisis for our holy cows as well as sacred aquatic and marine life. This has to stop!"
Uttrakhand Cabinet Minister Shri Rawatji agreed, saying that we should and will save the environment while praising the work of Pujya Swamiji in the areas of environment and water conservation.
He lauded both Pujya Swamiji and Pujya Murlidharji, stating that "Only through sadhana and service, such as theirs, can the ultimate goal of life be reached. The real confluence of meditation and service is found in Parmarth Niketan. From them the Ganga for the environment, the nature and the service of all the people is constantly flowing. It is, in fact, a confluence of devotion, knowledge and action. Bhagawan Ram also gives the same message."
Pujya Murlidharji Maharajji said, "We must all work together for the good of all of us to protect our forests, our water and our trees. This is what the Shri Ram Katha is dedicated to and what these sacred Rudraksha saplings given as prasad and blessings signify."
This is especially so, declared Pujya Swamiji, "when faced with the annual summer fire outbreaks in the forests. We need to pay special attention to the high risks involved in these fires. There is a special religious significance to these (tree) plantings. With them, we can secure our future."
The Hon'ble Minister joined the massive bhandara and personally helped serve hundreds of people being feed free of cost daily. He also joined for the traditional water blessing ceremony and graciously received a sacred Rudraksha sapling as a blessing for his leadership and service.