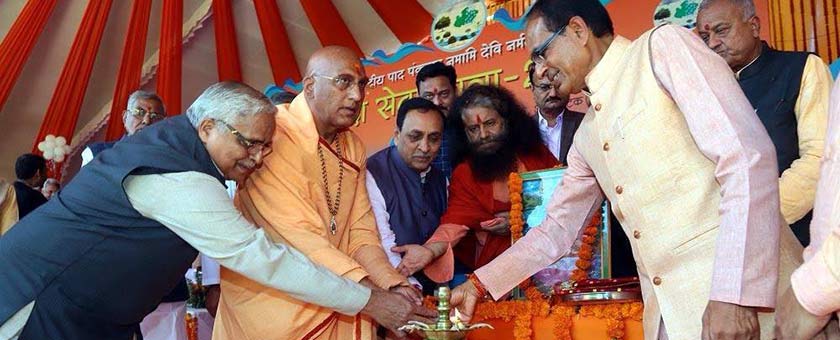 Narmada Seva Yatra
A historic 144 day Narmada Seva Yatra began yesterday led by Hon'ble CM Madhya Pradesh Shri Shivraj Singh Chouhanji, blessed and graced by Pujya Swamiji, Pujya Acharya MM Swami Avdheshanand Giriji, Pujya Acharya MM Swami Shukdevanandji, as well as many other revered saints and joined by Hon'ble CM Gujarat, Shri Vijay Rupani, Shri Bhaiyyaji Suresh Joshi, General Secretary, Rashtriya Swayamsevak Sangh : RSS and many other dignitaries.
There was a special Narmada Devi poojan on the banks of the sacred river, beautiful shobha yatra and inspiring words by the respected dignitaries. It began yesterday and will commence on the 11th May, 2017. Participants in Narmada Seva Yatra will march the 1,900 km stretch of the Narmada in the state across five months, covering 900 villages in 16 districts. After the yatra begins, Hon'ble Chouhanji will join it once a week.
The Narmada is a lifeline for at least 30% of Madhya Pradesh but it's water is utilised by the states of Gujarat, Maharashtra and Rajasthan. One of the highlights of the event was a mass pledge to ensure a pollution-free, open-defecation free Narmada. The Hon'ble CM symbolically planted the first tree and shared that throughout the yatra trees would be planted along the banks of the river and announced significant investment in sewage water treatment technology, so that only treated water would flow into the river. He encouraged all stakeholders and all people to join him in this holy mission and shared that by the end of the yatra all villages along the river would be ODF.
Pujya Swamiji shared, "I am so glad to see that the pledge we took in the Simhastha Kumbha Mela coming to fruition today. I strongly believe with political will and people's dill (hearts) we can rejuvenate and restore our nation's rivers. However, to make the protection of our life-giving rivers top priority is the critical need of the hour and the Narmada Seva Yatra is a clarion call for all others to follow this great campaign. Every state must pledge and work to protect their fresh water bodies as well as protect all of our sacred rivers of India. It is time that we collectively pledge to make our rivers free from any kind of pollution, especially open defecation and untreated human waste. We must also work together to bring back beautiful green corridors along both sides of the river banks. Most importantly, this movement needs to involve and engage the people and I am so proud of our Hon'ble Shivraj Singh Chouhanji for being a green leader and a green example for all. Let us join him and the state of MP in this great endeavour."
[fbalbum url="https://www.facebook.com/media/set/?set=a.10154796045242698.1073742226.86246862697&type=1&l=aa910f2e41″]