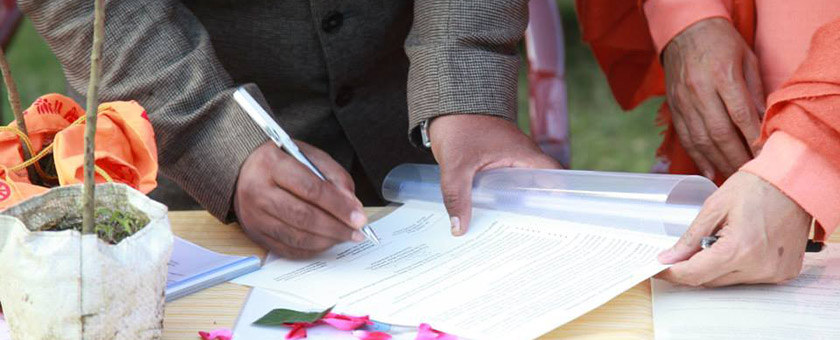 MoU Ceremony for Biosand Water Filter
On the third day of a Biosand Water Filter training workshop hosted at Parmarth, the 25th of January, a formal MoU ceremony was signed between the organizations SAPWII, FWFW, the Global Interfaith WASH Alliance (GIWA) and GAP to train and distribute Biosand Water Filters in the flood-recovering Himalayan state.
On the occasion Hon'ble State Minister of Education and Water, Shri Mantri Prasad Naithaniji shared, 'It is truly a testament to the dedication of Project Hope and Pujya Swamiji who has been able to connect so many people from not only all over the world but all over the nation. I also believe that clean and safe water is a fundamental right that must be available in every school of the state. Together we can provide clean and safe drinking water to all of Uttarakhand's, schools providing clean water to some 4 million children."
Pujya Swamiji said on the occasion that, 'We must not only worship the creator but also His creation, thereby service of humanity and the environment can also become our worship in action. Time has come that we collectively move from temples to toilets, taps and trees. The need of the hour and the true pooja (worship) is to work to provide adequate facilities for sanitation, clean water, and raise awareness about health and hygiene so that we ensure healthier and happier lives for all. I am so proud of the dedication and the commitment of this whole team to this divine and vital cause."
The trainers, Dr. Micheal Lipman, Director of SAPWII (America), Ms. Shivani Kumar, Country Coordinator-SAPWII (America), Mr. Ramachandre, Managing Director-SAPWII (Kolar) as well as Dr. David Albert, Director of FWFW (America), Mr. Richard Kyambadde, Country Representative –FWFW (Uganda), Mr Wayne Medrud and his twelve year old son Noah, Technical Advisor-FWFW (America) were so glad to join together in this formal agreement to provide clean water to all in Uttarakhand.
[fbalbum url="https://www.facebook.com/media/set/?set=a.699820843373093.1073741949.195396983815484&type=1″]