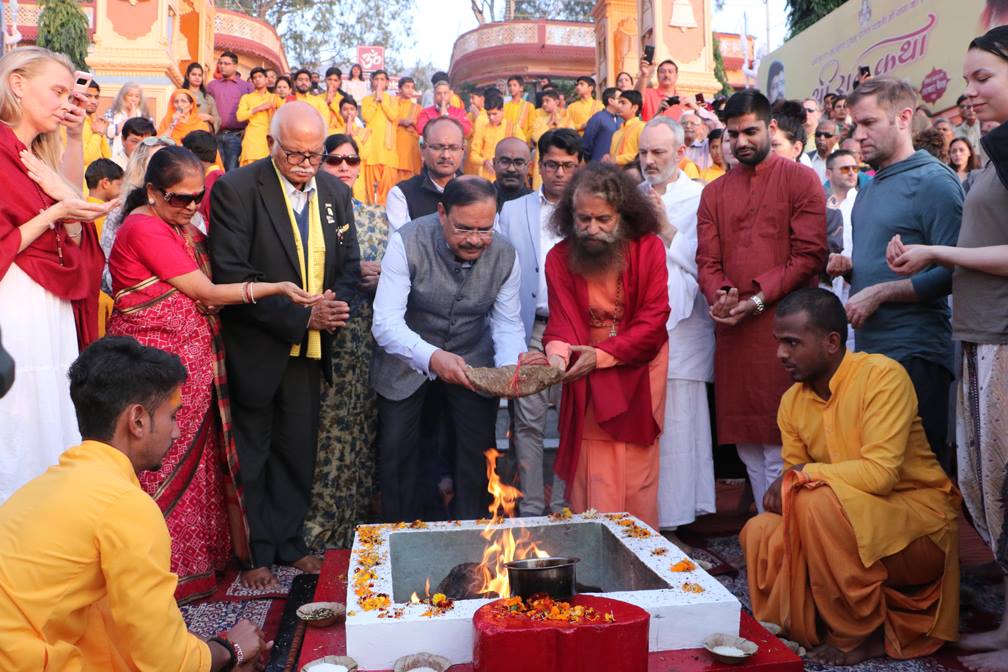 MOEF,CC Secy Joins Pujya Swamiji to Inaugurate Woodless Holika
Secretary, Ministry of Environment and Forests, Climate Change, Government of India Shri CK Sharmaji joined Pujya Swami Chidanand Saraswatiji to inaugurate the Green Holika Dahan celebrations
The green Holika Dahan initiative was inaugurated recently during the Ganga Aarti with a special ceremony in which the Hon'ble Secretary, Ministry of Environment and Forests, Climate Change, Government of India Shri CK Sharmaji joined Pujya Swami Chidanand Saraswatiji to offer the first two biscuits and inspired a mass pledge to make all our festivals, celebrations and holidays into clean and green ones. District Forest Officer, Dehradun Shri Shri PK Patroji and other delegates also joined on the occasion.
Great to see @timesofindia sharing our green pledge for a woodless & eco-friendly #Holi. Join us in making all our #festivals & #celebrations clean & green, reducing our carbon & water footprint 👣 on the planet. #SDGs #GlobalGoals #ForestDay #ClimateAction #HappyHoli #Holi2019 pic.twitter.com/VsHGaoGKk3

— Pujya Swamiji (@PujyaSwamiji) March 21, 2019
Pujya Swamiji shares that by Kumbh 2021 woodless havan with cowdung patties would be propagated widely across the region and inspiration to make all our festivals and celebrations clean and green by reducing our carbon and water footprint. In this way, He adds that trees would be protected, the cow dung would be properly utilised, waste would be reduced and Mother Nature would be preserved. He added that in context of Holi falling this year during the time of World Happiness Day, World Forest Day and World Water Day that only by protecting our Nature and Culture can we truly be happy, healthy and thereby protect our collective Future.
Inspiring #GangaAarti today in which @PujyaSwamiji & Secy @moefcc Shri CK Sharmaji inaugurate our green #HolikaDahan, Woodless Havan & Ecofriendly #Holi intiative. Part 1: https://t.co/6Mb2jMNU4N Part2: https://t.co/BmSORASTWr #WWD2019 #SDGs #HappyHoli2019 #HoliSpecial #ForestDay pic.twitter.com/viv0ZjoBts

— Parmarth Niketan (@ParmarthNiketan) March 19, 2019
Watch the LIVE stream of the Ganga Aarti again: https://www.facebook.com/ParmarthNiketan/videos/419657381939375/