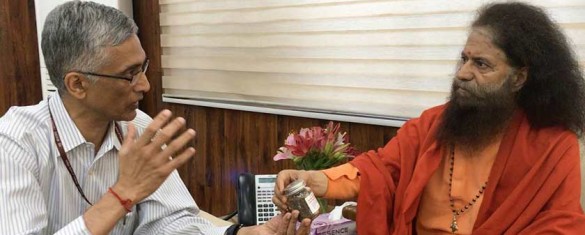 Meeting with Parameshwaran Iyerji
In a meeting with Shri Parameshwaran Iyerji, Secretary Drinking Water & Sanitation, Government of India, Pujya Swami Chidanand Saraswatiji – Muniji​ discussed the upcoming Swachh Uttarakhand, Swachh Bharat Summit and warmly invited him to inaugurate the event.
Respected Iyerji graciously agreed and shared the collective efforts of central and state governments to declare the state of Uttarakhand Open Defecation Free (ODF) in the coming weeks. He also urged Pujya Swamiji through GIWA to help share the twin pit toilet composting technology as a simple yet effective solution to the pollution of open defecation.
He also shared with Pujya Swamiji that unlike the misconception with this technology, the composted fecal matter is actually converted into rich manure that can be used in our fields to give rise to healthy crops and produce.
Pujya Swamiji shared his vision of the summit to showcase frugal technologies and share simple yet effective solutions such as these and many others. He also shared how everyone everywhere is truly the solution to the pollution, making not just one step but every step towards a cleaner and greener India for all. Respected Iyerji shared this vision and offered his ministers support to make this summit a successful and impactful one.
[fbalbum url="https://www.facebook.com/media/set/?set=a.1915704985334734.1073741889.1483177965254107&type=1&l=0479d54d9c"]