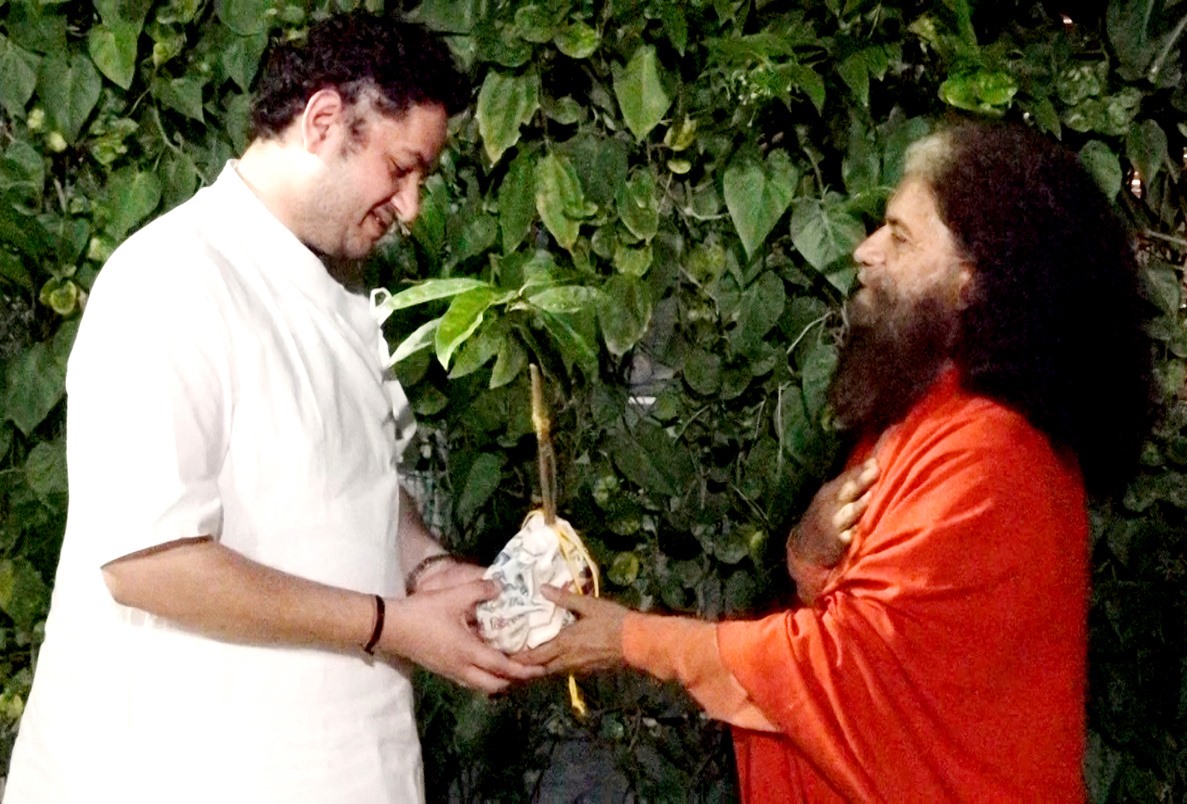 Meeting for Yamuna with Acharya Pundrik Goswamiji
Glad to meet with Acharya Pundrik Goswamiji at Parmarth Niketan recently and discuss ways that spiritual leaders and kathakars must come together to engineer a more sustainable, clean and green world for all. I hope that our discussions for another special Aarti on the banks of the sacred Yamuna River will come to fruition soon and we can work collectively to bring faith into action to protect the actual River and the sacred space in which Bhagawan Krishna performed his leelas.
Glad to meet w/ Acharya @SriPundrik Goswamiji recently. We discussed ways in which spiritual leaders & #kathakars -together – must engineer a more sustainable, clean & green world 4 all. Read more:https://t.co/U1le6dXfDe #EngineersDay #EngineeringInspiration #BeatPlasticPollution pic.twitter.com/lTDfRQK2Sy

— Pujya Swamiji (@PujyaSwamiji) September 15, 2019

We also discussed a Yamuna Jal Jagran Yatra with Revered Saints, Kathakars, Acharyas and priests for making the prohibition of #singleuseplastic a peoples led movement. Around the world, one million plastic drinking bottles are purchased every minute, while up to 5 trillion single-use plastic bags are used worldwide every year. In total, half of all plastic produced is designed to be used only once — and then thrown away. Today, we produce about 300 million tonnes of plastic waste every year. That's nearly equivalent to the weight of the entire human population! Plastic waste — whether in a river, an ocean, or on land — can persist in the environment for centuries. 80% of the plastic polluting our oceans comes from plastic waste in our land and rivers. If current trends continue, our oceans could contain more plastic than fish by 2050. LEARN MORE about how you can #BeatPlasticPollution : https://www.unenvironment.org/interactive/beat-plastic-pollution/
Pujya Swamiji said, "On Engineers Day this is the yatra and this the future we must engineer for our future generations in which their nature and culture are both protected. Just as we have Corporate Social Responsibility let us rise together for Kathakar Social Responsibility – making a far greater impact to protect our culture, nature and thereby our future then any other agent of change!"
Together we preformed a symbolic water blessing ceremony re-firming our commitment and I offered him a sacred Rudraksha sapling to take back from the banks of Maa Ganga in Rishikesh to the banks of Maa Yamuna in Vrindavan.