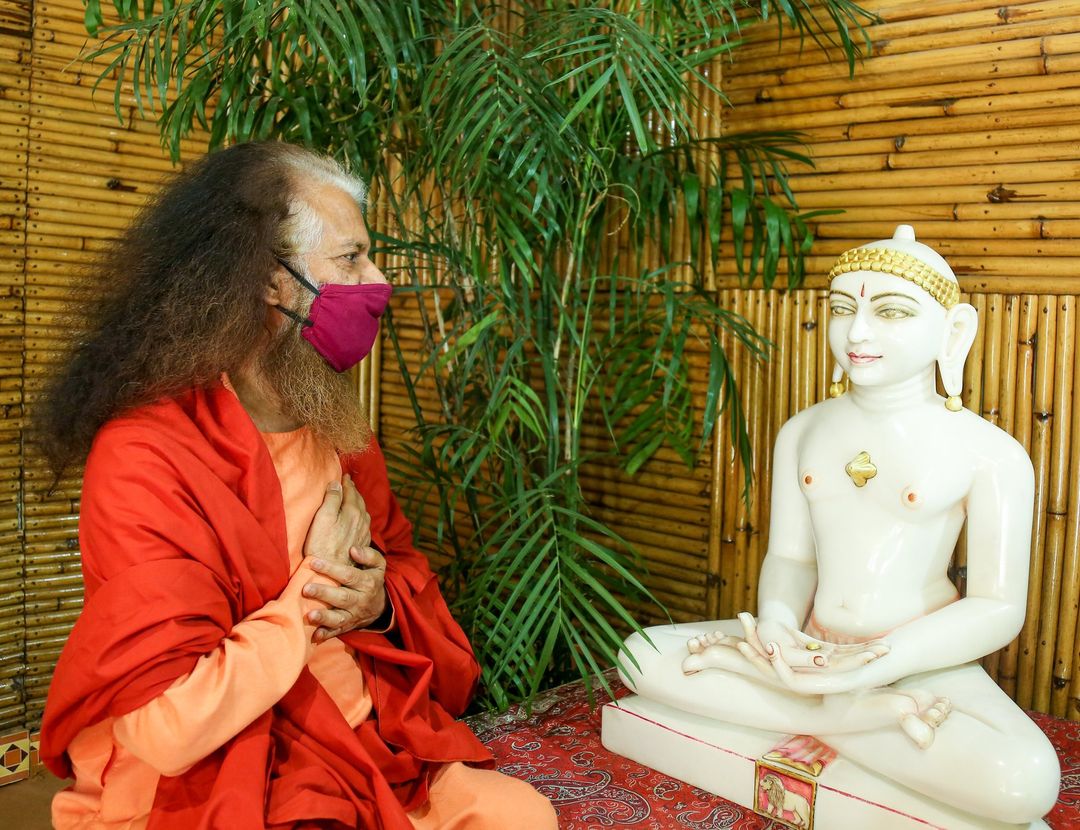 Mahavir Jayanti & World Malaria Day!
With most of India locked-down yesterday on the last Sunday of April, it was the perfect day for introspection, as HH Pujya Swami Chidanand Saraswatiji has been such a passionate advocate for – especially during the past 13 months of the Covid-19 pandemic. And, on Sunday, there was much upon which to reflect.
For yesterday was the Birth Anniversary of Lord Mahavir Swamiji, the 24th and last Tirthankara of Jainism, who abandoned all worldly possessions and left home at the age of 30 in pursuit of a spiritual awakening. After practicing intense meditation and severe austerities for over 12 years, he delivered a message of non-violence, truth, aparigraha, astheya and celibacy and offered the wonderful message of "live and give life" to the world. "Do not," said Pujya Swamiji, "live only for yourself, but give life to all! It is an important message that is needed today, in the Corona era."
It was also the 102nd Birth Anniversary of the former Chief Minister of Uttar Pradesh, the Late Hemwati Nandan Bahugunaji. Pujya Swamiji beautifully shared that Shri Bahugunaji "did a wonderful job as a freedom fighter. Even after the independence of the country, he continued to work throughout his life for Swaraj, social justice, harmony and national dignity and pride."
And, yesterday was also World Malaria Day, a World Health Organization (WHO) event that celebrates the achievement of countries that are approaching – and achieving – malaria elimination. Pujya Swamiji shared that, according to this year's report and update, efforts made to curb this other global health challenge through prevention, diagnosis and treatment were successful to a great extent – including in India, which now faces a critical second wave in the struggle with Coronavirus.
Pujya Swamiji said, "There was a time when eradicating malaria seemed to be a big problem in a country with a large population like India, but the efforts of the World Health Organization, the Government of India and public awareness showed it can be beaten."
"Today," Pujya Swamiji continued, "the Coronavirus is a major epidemic facing the entire world, including India. If we all move ahead with patience, we can overcome this epidemic. Really it is an extremely difficult time. Many of us have lost our loved ones. But if you are patient, this difficult time will be overcome. This is the time of Global Solidarity. Let's stay together and move forward!"
Pujya Swamiji also took the opportunity to thank the nation's and the world's Corona Warriors. He said, "It has been more than a year since our frontline workers have devoted their lives in service to others. All of this so that our society and country can be healthy!"