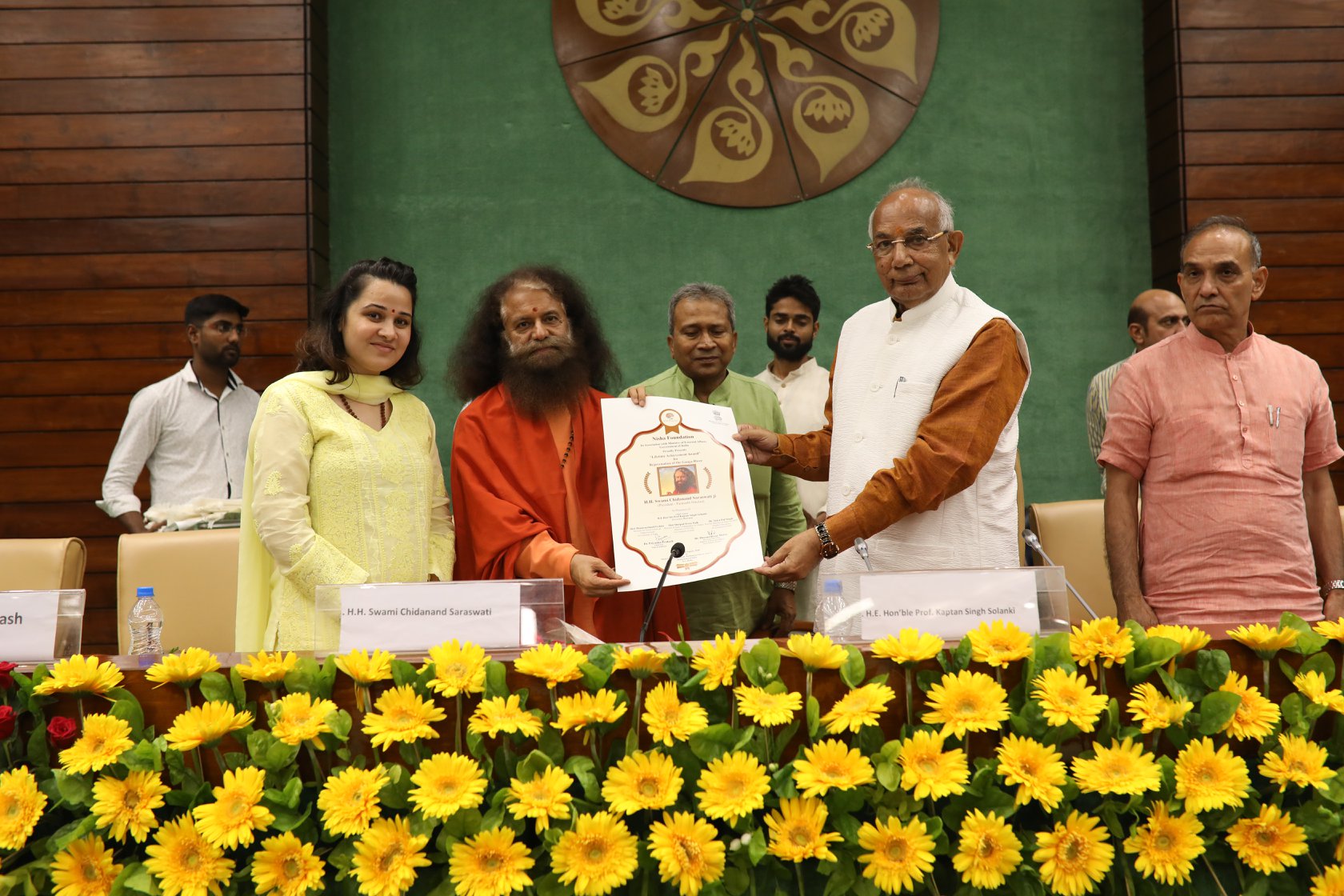 Lifetime Achievement Award & Homage at the Parliament of India
Two divine programmes took place in the Parliament House recently, one in the beginning and one at the end of this month, organised by Joint Secretary Parliament of India Shri Dal Singh Malhaji and the Nisha Foundation​, under the leadership of Actor and Social Acitivist Priyanka Kothari Prakashji.
Highlights from two very special events this month at the #ParliamentofIndia offering special homage to Former Prime Minister Shri #AtalBihariVajypayee & @PujyaSwamiji receiving a #lifetimeachievement award for His incredible #service to the nation! More: https://t.co/rnj8nSm6nh pic.twitter.com/JgnJi3DN1K

— Parmarth Niketan (@ParmarthNiketan) August 29, 2018
Shri Dal Singh Malhaji who had come to the banks of Maa Ganga and was so deeply touched by HH Pujya Swami Chidanand Saraswatiji – Muniji​'s work and divine leadership that he requested and insisted Pujya Swamiji to grace the Parliament and accept their Lifetime Achievement Award for His incredible service to the nation. Sadhvi Bhagawati Saraswati​ji who was supposed to be reaching back from the USA at the beginning of this month was also asked to grace and bless the auspicious occasion. Pujya Swamiji graciously consented and the event took place with of HE Governor of Haryana Prof. Kaptan Singh Solanki​iji, Honble Union Minister of State, HRD and Ganga Rejuvenation Dr. Satyapal Singh​ji, Shri Dnyaneshwar Mulayji, Secretary, MEA. The event included a beautiful book launch of Shri Dal Singh Malhaji's "Sansad Meri Karma Bhumi" which shared his lifetime of service to the Parliament of India.
Good to be at the Shradhanjali Samaroh of Respected #AtalBihariVajpayee & Book Launch 'Loktantra Ka Mandir Sansad Bhawan' at Parliament House today w/ Union Minister @irvpaswan & @santoshgangwar as well as #DalSinghMalha #PriyankaKothari @Munilokesh #BhaskarPrakash & many others. pic.twitter.com/txvl271srT

— Pujya Swamiji (@PujyaSwamiji) August 28, 2018
केंद्रीय मंत्री भारत सरकार श्री रामविलास पासवान जी (@irvpaswan) जिन्होंने भारत की आत्मा व सविंधान को जाना ही नहीं बल्कि जिया भी । लोकतंत्र में रहकर ,लोभतंत्र या भोगतंत्र के शिकार नहीं हुये। जो केवल दल के लिये नहीं बल्कि देश के लिये जी रहें हैं और दिल से जी रहें हैं । pic.twitter.com/OduBzHalLY

— Pujya Swamiji (@PujyaSwamiji) August 28, 2018
The second event took place as an offering of Shri Dal Singhji's book to pay tribute and as a homage to Former Prime Minister, Bharat Ratna Shri Atal Bihari Vajpayeeji. It began with a special shradhanjali, lighting of the lamp and moment of silence in his honour. Thereafter powerful words of inspiration from Union Minister Shri Ram Vilas Paswan​ji, Shri Santosh Gangwar​, Pujya Swamiji, Priyanka Prakash and Acharya Lokesh Muni​ji as well many others.