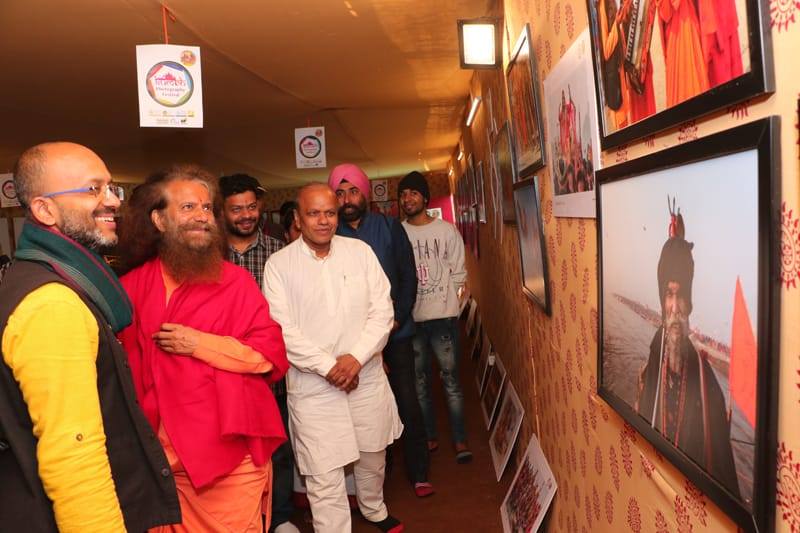 Kumbh Photography Festival
The first major event at the camp is the Kumbh Photography Festival, in which nearly two hundred photographers from around the world have been hosted by YUVA Foundation,Parmarth Niketan and Indian Institute of Photography (IIP) from the 13-16th January.
The event began with inspiring blessings and messages from Pujya Swami Chidanand Saraswatiji and Sadhvi Bhagawati Saraswatiji, Secretary-General, Global Interfaith WASH Alliance and President, Divine Shakti Foundation. The participants gathered in rapt attention to
the speeches, inspiring them to "Photograph with a Purpose" and highlight the "Mela with a Message."
More than 1000 other photographers were connected online and given#KumbhPhotographyFest Tshirts/Kits to submit their Photo entries of the Kumbh. All these veteran and new photographers were given four main themes to click – Sadhus at Kumbh, Prayag City during Kumbh, Devotees at Kumbh, and Snan at Kumbh Sadhviji added a fifth them of the "Form of Faith," encouraging them to take pictures that fill the viewer with the experience of faith.
On the final day, 200-300 best photos from all categories were framed & displayed in a
wonderfully curated photo gallery installed at the Kumbh site. The gallery will be open and the
photos on display throughout the Kumbh.