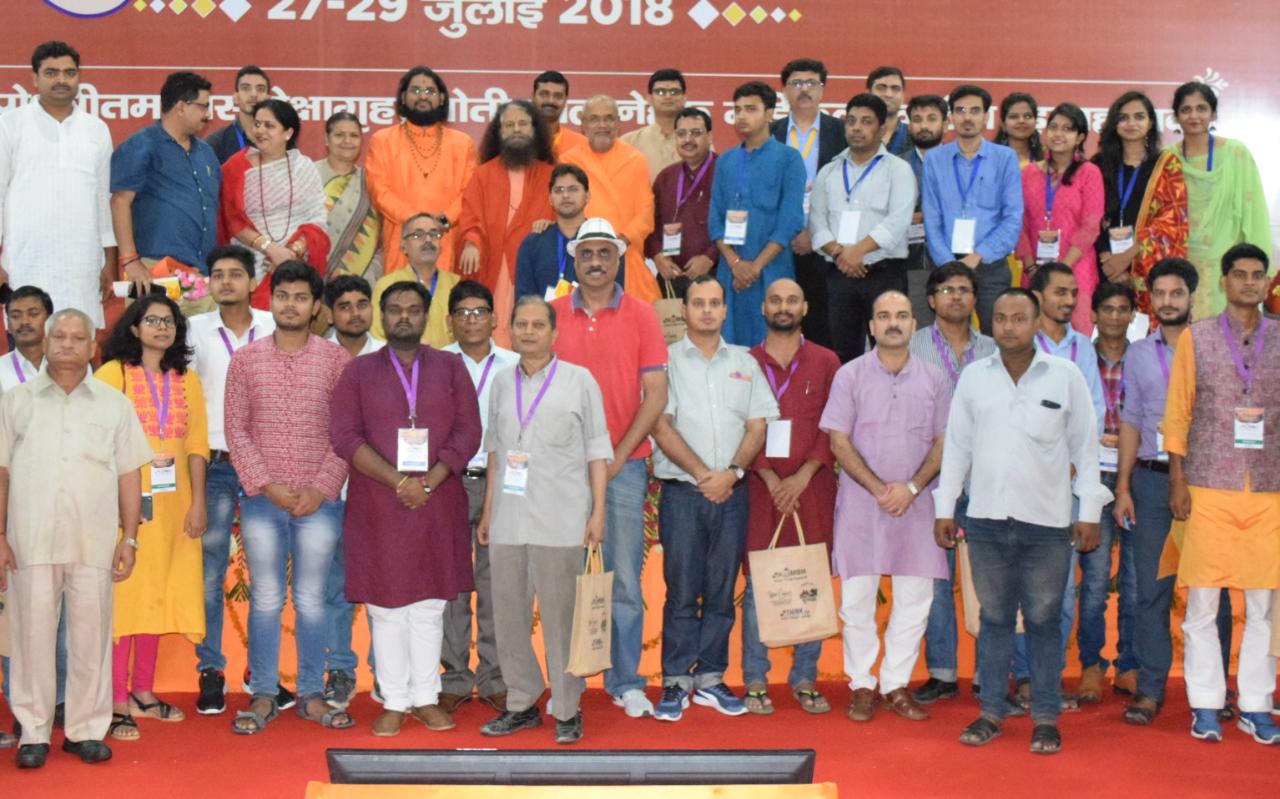 Kumbh Mela is a Make India Program: Kumbh Conclave Concludes
The three day Kumbh Conclave, organised by the India Think Council​, in association with Uttarakhand Tourism​ Department, Motilal Nehru National Institute of Technology Allahabad​ University of Allahabad, etc, from the 27-29th July, saw it's successful conclusion at the Motilal Nehru Medical College today.
Pujya Swami Chidanand Saraswatiji – Muniji​, Pujya Swami Parmatmanand Sarswati​ji, Gujarat, Pujya Swami Sadguru Brahmeshanandacharya​ji, Goa, Pujya Kamal Nayan Dasji, Ayodhyay, Prof Dr Raja Ram Yadav, Vice Chancellor, Jaunpur Purvanchal University, Shri Rakesh Tripathi​, BJP Spokesperson, Uttar Pradesh and Shri Nishchal N. Pandey, Director Centre for South Asian Studies, Kathmandu amongst many others gave their views and thoughts on the role of spiritual and religious leaders, akharas and ashrams in the vital task of nation building in the afternoon session.
Pujya Swamiji led the valedictory session with Pujya Swami Parmatmanandji, Gujarat, Pujya Swami Brahmeshanandacharyaji, Goa. The concluding ceremony included special video messages from Hon'ble Deputy CM Uttar Pradesh, Shri Keshav Prasad Maurya​ji, Hon'ble Union Minister of State HRD, Ganga Rejuvenation, Dr Dr. Satyapal Singh​ji and Hon'ble Chief Minister Mahant Shri MYogiAdityanath​ji. In their video messages all of the leaders gave their well wishes and wished this conclave all the success. They expressed that this was a great beginning to a historic Kumbh Mela that will bring together all stakeholders from all walks of life including the world together on the banks of the Sangam.
Pujya Swamiji inspired all the youth of the organising committee of the India Think Council and its President Shri Saurabh pandey​ji a beautiful Rudraksha sapling from Rishikesh, invited them home to Parmarth Niketan and charged them to be the Green Ambassadors of the Kumbh Mela 2019.
Pujya Swamiji delivered a powerful and speech in the conclave in which He said, "Kumbh Mela is a great Make India programme. Its a programme of all, by all and for all. Time has come for us to rise above our ego and logos and come forward to protect our culture and our nature to shape and mould our collective future. Spiritual leaders, Akharas and Ashrams must come together for a New India. We must encourage our Saints and Spiritual Leaders to follow a 4I programme: they must provide Information on the real challenges and threats faced by our nation, Inspiration to address these challenges by finding and becoming the solutions, furthermore they must lead the appropriate Implementation of these solutions and lastly provide Innovation in the assimilation of these solutions with the society."