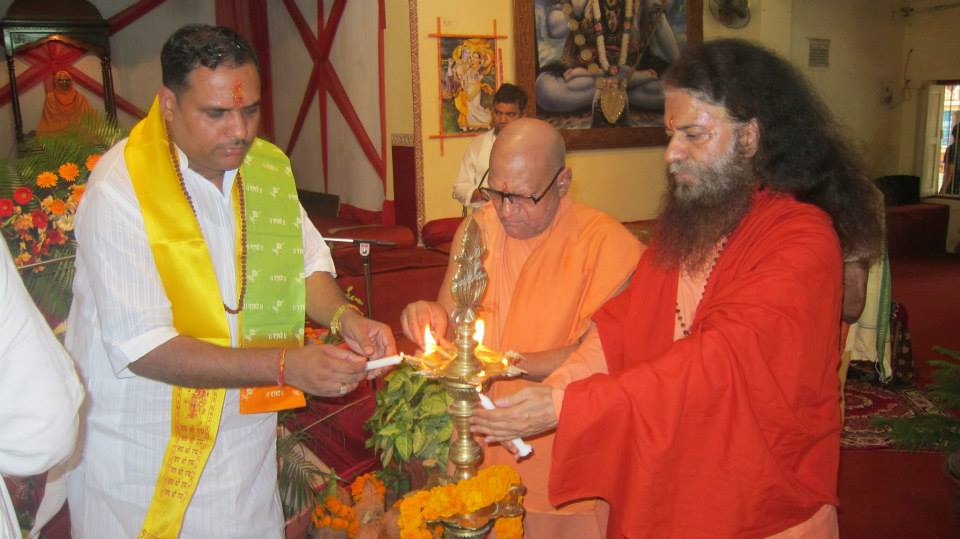 Kedarnath Katha
Two special kathas were held in memory of those who lost their lives during last year's devastating floods in Uttarakhand, and in honour of their families who struggle to rebuild their lives from the tragic loss. It was Pujya Swamiji's inspiring vision that the kathas would be both a sacred occasion to bathe in the divine stories of the Creator as well as an opportunity to honour the divine Creation, filling the listeners with renewed peace and hope.
One katha was delivered in Augustmuni, Rudraparayag, near the center of last year's disaster , by Respected Acharya Shiv Prasad Mamgaiji and the other was delivered at Parmarth Niketan (Rishikesh) by Respected Sarasji Maharaj. During both of the week-long kathas Pujya Swamiji reminded and encouraged everyone to take the message of the katha within and to pledge themselves to bringing about a green vision in their own lives. He inspired everyone to not only nurture the roots of devotion within their hearts but to also pledge to nurture and tenaciously protect the sacred soil of Uttarakhand by planting more trees.
On the one year anniversary of the disaster and throughout the duration of the kathas , many of the plans and activities being led and inspired by Pujya Swamiji through the Ganga Action Parivar, Divine Shakti Foundation and Global Interfaith WASH Alliance were unveiled.
Some of these projects include:
Kedarnath and Uttarakashi Smriti Van: International Memorial Gardens- Inspiring the plantation of thousands of indigenous trees as a symbol of the resilient spirit of the innocent lives lost in last years floods.

Sustainable Livelihoods: from handicrafts to organic farming in order to empower and reignite the spirit of entrepreneurship in the hearts and minds of the Himalayan people, especially the youth. Three livelihoods centers — at Triyuginarayan, Guptakashi and Rudraprayag — will be opened in the first phase.
A New Beginning and Divine Union: sponsorship of sacred marriage ceremonies for the widows who lost their husbands at a very young age.
School Rehabilitation and Reconstruction: Plans are already underway for two schools, one in Uttarakashi and another in Rudraprayag, as well as to incorporate green technologies and programmes into every school in Uttarakhand so that children are proud of their traditional heritage, equipped with the basic necessities and green values to lead their future as green ambassadors of change.
Biosand Filter and Clean Water For All: Planning to help provide every school and gram panchayat with 3-4 Biosand Filters, depending upon the population. Encouraging NGOs, organizations and corporations, through their Corporate Social Repsonsibility, to come forward and make clean water a reality for all. Work to manufacture these filters have already started and volunteers are most welcome to join us in this vital initiative.
Mid-Day Fruit Programme: planting fruit trees in every school so children are nourished and nurtured into strong and thriving adults
Water, Sanitation and Hygiene for All
To learn more about our efforts to bring relief and rehabilitation to those affected by the Uttarakhand floods, please visit www.gangaaction.org, www.divineshaktifoundation.org, www.washalliance.org and www.projecthope-india.org.
[fbalbum url="https://www.facebook.com/media/set/?set=a.802043303150846.1073741970.195396983815484&type=1″]