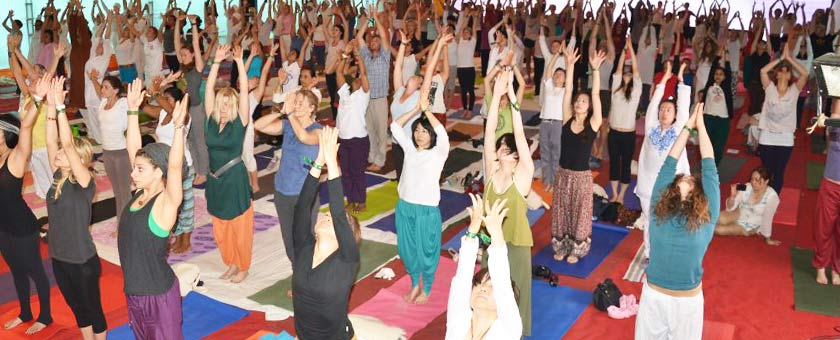 International Yoga Festival 2012
The annual International Yoga Festival at Parmarth Niketan Ashram in Rishikesh began on March 1, 2012 and ran for one week, until the 7th March.  The Uttarakhand Tourism Department and Parmarth Niketan Ashram jointly organized the festival.
The International Yoga Festival increased in size and scope this year, drawing nearly 500 participants from more than 30 countries across the world. The event featured world-renowned teachers such as Padmashri Bharat Bhushan, Gurmukh Kaur Khalsa, Manouso Manos, Sri V. Vasudevan, Andrew Cohen and many more. In fact, this year there were more than 30 teachers.
Further, many revered Indian spiritual masters gave enlightening discourses on the deep philosophy of yoga, including Pujya Sri Shankaracharya Swami Divyanand Teerthji, Pujya Swami Dayanandaji, Pujya M.M. Swami Asanganandji, Pujya Swami Chidanandji and Pujya Radhanath Swamiji.
The week-long festival offered about twenty classes a day, spanning many disciplines and branches of yoga, including kundalini, Iyengar, meditation, pranayama, kriya yoga, yoga nidra, nada yoga, reiki, karma yoga and more.
The festival, as always, was more than just a learning experience:  it was a chance to imbibe the sacred science of yoga at its source, in the holy land of the rishis on the banks of Mother Ganga.
Music and cultural events complemented the experience each evening, organized by Uttarakhand Tourism.
For more information, please visit www.internationalyogafestival.org
[fbalbum url="https://www.facebook.com/media/set/?set=a.10150579301695667.372252.726135666&type=1″]