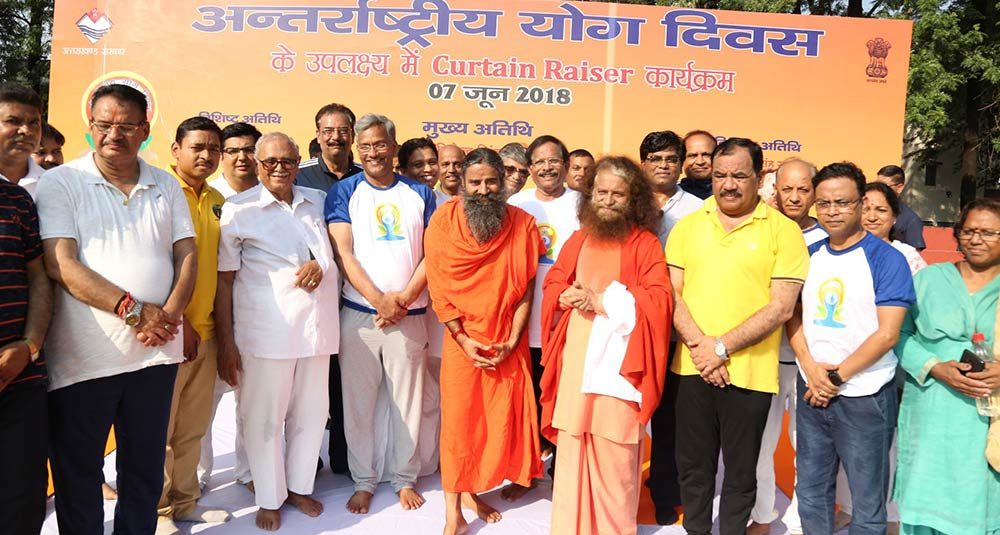 International Yoga Day Curtain Raiser in Dehradun
Hon'ble Chief Minister Shri Trivendra Singh Rawat​ thanked the Hon'ble Prime Minister of India Shri Narendra Modi​ for choosing Dehradun for this year's official national function of International Yoga Day on the 21st June during a curtain raiser event in the nation's capital, at the BR Ambedkar Stadium at ONGC, Dehradun, this morning.
Gracing the occasion were Union Minister of State for Ayush Shri Shripad Naik​, Pujya Swami Ramdev​, Patanjali Yogpeeth, Pujya Swami Chidanand Saraswatiji – Muniji​, President of Parmarth Niketan, Acharya Bal Krishna​, Patanjali Yogpeeth, Uttarakhand Ayush Minister Dr Harak Singh Rawat​, Chief Secretary Utpal Kumar Singh, DGP Anil Raturi, Union Ayush secretary Rajesh Kotecha, Uttarakhand Secretaries R.K. Sudhanshu and Dr . Pankaj Kumar Pandey, legislators Harbans Kapoor and Ganesh Joshi and a large number of senior officers practiced yoga with them.
Speaking on the occasion, Uttarakhand Chief Minister Mr. Trivendra Singh Rawat said that Yoga must be shared and spread across the world as Yoga is the key to make the world disease free. He said that in the India Culture has always said "Sarve Bhuvante Sukhin: Sarve Bhuvantu Niramaya" which is the very core tenet of the Indian spiritual cultural heritage to think, act and work for the well being and welfare of all beings. Yoga, he shared, originated from the sacred land of Uttarakhand and was codified by the Sage Patanjali and has been shared and spread by our respected sages, saints and rishis.
Chief Minister said that through the efforts of Prime Minister Mr. Narendra Modi the entire world has recognized the power of yoga and June 21 is being celebrated as International Yoga Day. He said that Prime Minister Mr. Narendra Modi is working to join the entire world through yoga. He further said that when political power, saint power and spiritualism joins hands then it paves way for the welfare of the world.
Chief Minister said that it was matter of pride that Dehradun has been chosen for hosting the national function of the International Yoga Day. This will help Dehradun and Uttarakhand to figure on international horizon. He said that everybody should resolve to do yoga daily to make the world disease free. He said that involvement of common people is necessary to make yoga a people's campaign. The Chief Minister called upon the people to participate in the International Yoga Day programme to be held at FRI on June 21. He said that those who could not attend the function should join the celebrations by doing yoga in their villages, cities and homes.
Union Minister of AYUSH Shripad Yesso Naik said that it was due to efforts of Prime Minister Mr. Narendra Modi that the message of yoga has spread to the world. The national programme on the International Yoga Day is being held in Devbhoomi Uttarakhand at Dehradun on June 21. Earlier, similar international Yoga Day celebrations had been held been held successfully at New Delhi, Chandigarh and Lucknow.
Yoga Guru Swami Ramdev said that people across the world do yoga on International Yoga Day. He said that it is a matter of privilege that Prime Minister has given priority to Dehradun, Uttarakhand for holding the main function of the International Yoga day. He said that there is need to prepare environment for spread of Yoga. It is to be mentioned that after Delhi, Chandigarh and Lucknow, Dehradun has been selected as the venue for hold international programme of International Yoga Day. The function will be held at FRI campus from 6 am to 8 am on June 21 and preparations are being made.
Pujya Swamiji, Inspiration behind the International Yoga Festival at Parmarth Niketan said in a written statement as He was in silence, "For healthy, happy, harmonious life we must put Yoga first. It is a historical moment that in the land of the Char Dham, in the birthplace of Yoga, our Hon'ble Prime Minister of India is coming to celebrate and share Yoga. I call everyone to come forward to celebrate Yoga day with the spirit that in Uttarakhand every day and every moment is Yoga."
The Common Yoga Protocal was led by Pujya Swami Ramdevji along with eminent citizens, hundreds practiced yoga, pranayama and dhyana.
The programme was successfully conducted by the support of Panatanjali Yogapeeth, Parmarath Niketan, Brahamkumaris, Devsanskriti University, Art of Living and many other organisations. The online and offline registration for participation in the programme has started. Free yoga training at Dehradun, Haridwar and Rishikesh is being provided to the participants so that there is uniformity in the conduct of main event on June 21. Those keen to participate in the main event to be held at FRI campus and get gate pass, can apply online at http://egatepass-uk.in/yoga_pass.php.