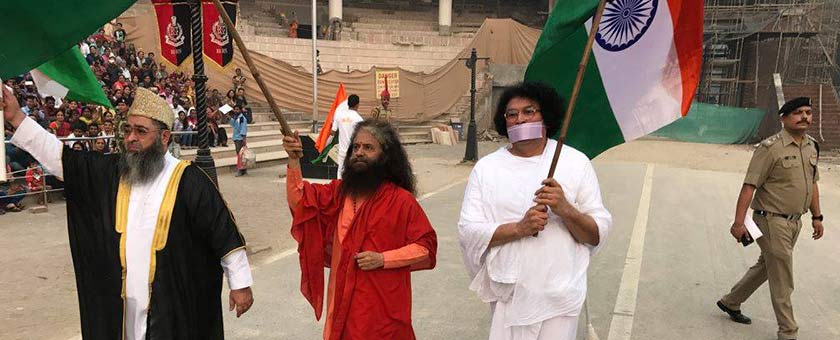 Interfaith Leaders Celebrate Diwali with Soldiers at Border
Today the nation is united in salutation to every soldier who keeps our lives safe and free from terror, violence and fear. The nation honours the sacrifices that our army and security forces make every day and every moment to guard our borders. As Hon'ble Prime Minister of India, Respected Shri Narendra Modiji recently urged the nation to boost the morale of our soldiers – the Army, Naval forces, Air Force and all security forces – by sending them greetings on Diwali.
In this spirit, President of Parmarth Niketan (Rishikesh), Pujya Swami Chidanand Saraswati ji, Founder President of Ahimsa Vishwa Bharti Jain Acharya Dr. Lokesh Muni ji, President of All India Imam Organization Respected Imam Umer Ahmed Ilyasi ji and representatives on behalf of Chief Jathedar of Akal Takht, Golden Temple, Amritsar Sant Giani Gurbachan Singh ji joined together to embark on a march to visit our brave soldiers at the Wagah Border, near Amritsar. They lauded the efforts of the army, blessed their great service to the nation and performed prayers for national integrity, unity, peace and harmony.
The interfaith leaders reached Amritsar by morning and attended a special prayer at Harminder Sahib Gurudwara and later reached the border to address the soldiers and thousands of patriotic visitors. Respected faith leaders shared that the nation stands with our soldiers and remembers them fondly on the auspicious occasion of Diwali.
On the occasion Pujya Swami Chidanand Saraswati ji said, "Every human and all creatures value their life but as a soldier you put your own life on the line to protect your nation. For me you are not only soldiers but also saints, giving every part of your being for the welfare of all. This is why today, on Diwali, the entire nation is with you- as one family- with full gratitude that it is because of you we are able to celebrate a joyous and peaceful Diwali. I pray that you may know at all times that you are empowered and strengthened by the blessings of all faith leaders and have the prayers of the people of this great nation behind you. To me you are the true diya (the light) that brightens the way for our secure future. May God continue to bless you."
On the occasion Pujya Acharya Lokesh Muniji and Respected Imam Umer Ahmed Ilyasi ji urged, "We invite you to join this journey towards respect and sharing the responsibility of our respected guards. The army is toiling and putting all his efforts to protect our nation. This is a moment when we can show them that we are with them by lighting a candle for our brave soldiers. We urge everyone to join this national movement and share their messages on social media and twitter by placing #Sandesh2Soldiers in your posts and wishing our soldiers a blessed and safe Diwali."
The faith leaders also invited media to be part of this historical move, urging media personnel to disseminate the message beyond boundaries.
[fbalbum url="https://www.facebook.com/media/set/?set=a.10154624569247698.1073742213.86246862697&type=1&l=812c3f5109″]