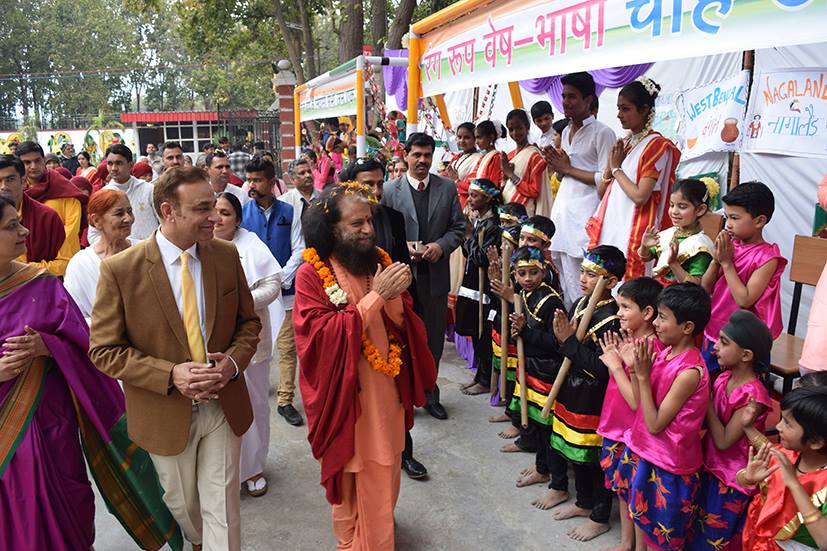 Interfaith Harmony Event Ushers in Shivratri
Pujya Swamiji Inaugurates the Interfaith Harmony Conference held at Dehradun's Cambridge Senior Secondary School during their Silver Jubilee ahead of Shivratri.
Pujya Swami Chidanand Saraswatiji​ was the chief guest and key note speaker at the 'Interfaith Harmony Conference' organized at the Cambridge Senior Secondary School in Dehradun during their Silver Jubilee Function. The theme of the conference was 'the whole world is a family' and was designed to give the message of universal harmony to the younger generations and assimilate India's culture and sacraments into everyday life.
Buddhist Monks, Lamas, Maulanas, Church representatives and Parmarth Rishikumars all took part, making it a truly interfaith event. 1,000 students were in attendance and more than 4,000 participants.
Prizes were distributed to outstanding students and teachers for their excellent performance. Students staged a street play to assimilate universal harmony and 'the whole world is a family' principles, through which the message that given that equal respect to all religions is the Indian tradition.
In order to make the school's silver jubilee memorable and green, seven fruit trees were planted by special guests, students, and teachers.
Pujya Swamiji gave an inspired and riveting speech, in which He shared, "Today we have to re-establish India as an advocate of the vedic, scientific and sustainable development leadership and for this, participation of youth is most important. 65% of India's population is under 35 years of age, I call upon all the young people to come forward above the religion and caste for the nation and become a responsible citizen. By protecting our environment and keeping our communities clean we are performing the highest form of pooja and is the greatest way to express our nationalism." He lead participants in a beautiful water blessing ceremony symbolizing their commitment to Mother Earth and keeping her healthy and clean.
Amongst other faith leaders speaking at the event were: Rajyogini Manju Bahenji, Maulana Mohammed Ahmed Kasami, Representative Jama Masjid, Acharya Shanta Kumar, Representative H.H. Drikung Chetsang Rinpoche ji, PJ Singh, Representative Marison Church Dehradun, Sardar Madan Singh ji, Chief Granthi, Gurudwara Dakpathar, and a few others.