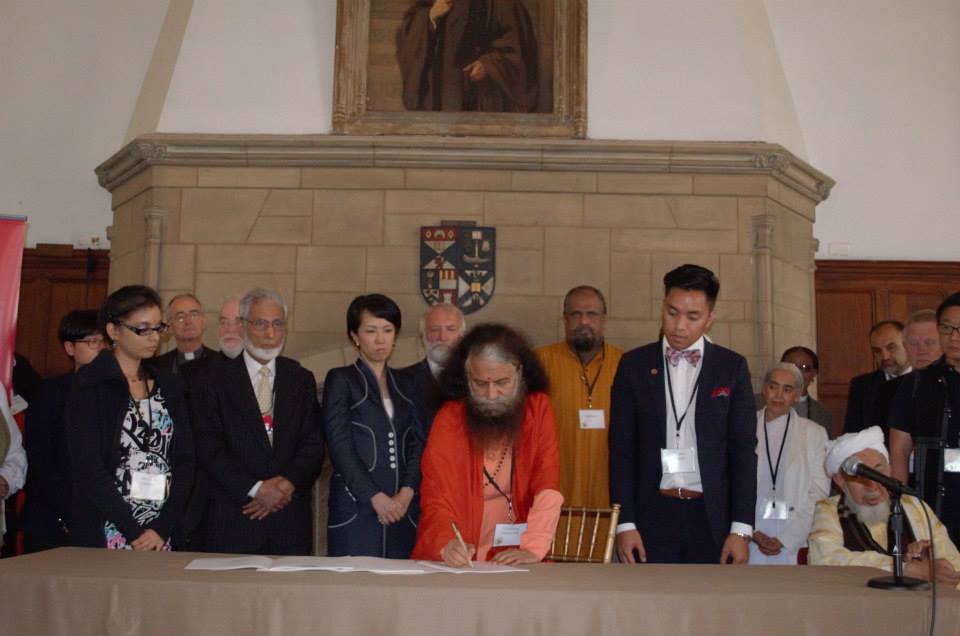 Interfaith Climate Change Summits and Meetings in New York
On September 21st and 22nd, Pujya Swamiji took part in the Climate Change Summit organized by Dr. William Vendley, the head of Religions for Peace and Rev. Dr. Olav Fykse Tveit, head of the World Council of Churches.  The summit was a small, select gathering of 30-35 top religious leaders of the world's religions from many countries. 
The first aim of the summit was to sign a declaration to be handed to Ban-ki-Moon, the Secretary General of the United Nations, on the stance of faith leaders regarding Climate Change. Pujya Swamiji was one of the signatories to the Declaration. The second day focused on specific actions and commitments the leaders themselves could make to bring the message and the peril of climate change back to their congregations and to help reduce our carbon footprint, reduce our dependence on fossil fuels, reduce our need for "more, more and more" which fuels the factories, and otherwise embrace a green and sustainable vision and model for the future .
While in New York, Pujya Swamiji also had a wonderful meeting with Anthony Lake, the head of UNICEF, in which Pujya Swamiji shared the progress being made by the Global Interfaith WASH Alliance which was launched last year at the UNICEF headquarters at the UN in New York.
[fbalbum url="https://www.facebook.com/media/set/?set=a.10152284311025667.1073741865.726135666&type=1&l=b3cc3d26a3″]