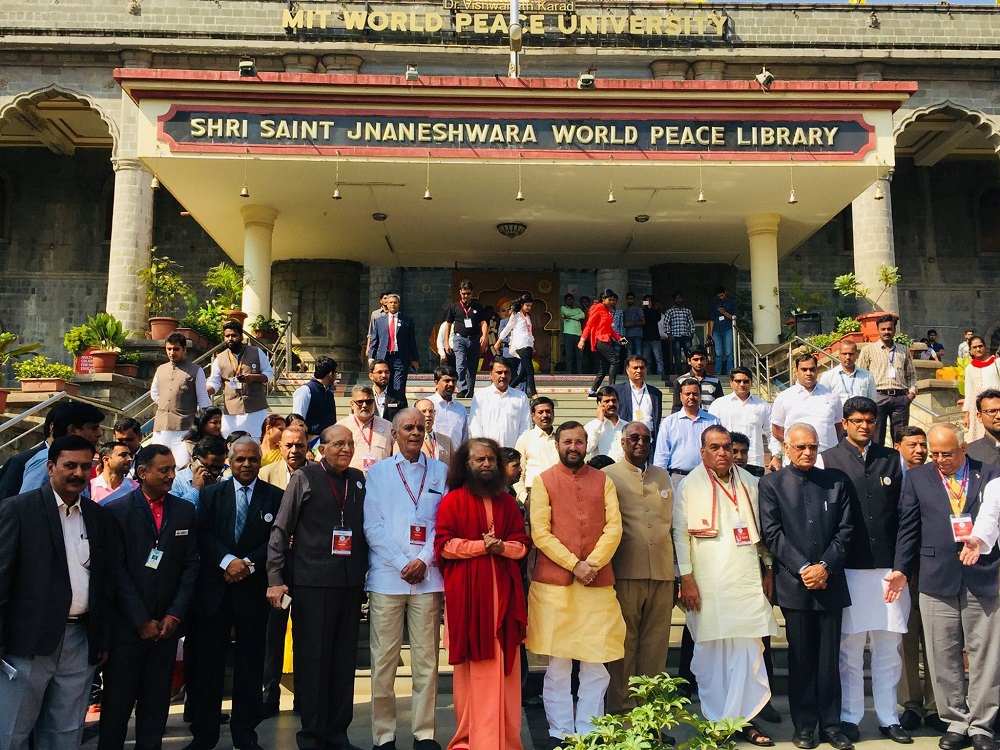 Inauguration of the 8th Indian Youth Parliament
The inauguration of the 8th Annual Bharatiya Chhatra Sansad​ (Indian Youth Parliament) brought together thousands of students from more then 35 states of India, and was graced and blessed by Pujya Swami Chidanand Saraswatiji​, Honble Union Education Minister, Shri Prakash Javadekar​ji, Hon'ble Education Minister of the State of Maharasthra Shri Vinod Tawde​ji, Hon'ble Former Home Minister Shivraj Patil​ji, legendary Indian classical flautist, Pandit Hariprasad Chaurasia​ji, Founder of the Super Computer Shri Vijay P. Bhatkar​ji, Rajiv Bajajji, Managing Director of Bajaj Auto and many other luminaries. It was organised and hosted by the World Peace University-MIT in Pune, blessed by its Founder Shri Dr. Vishwanath Karad MIT World Peace University​ and led by his son Shri Rahul Karad​ji.
During His inspiring address Pujya Swamiji said, "India is not just a piece of land it's a land of peace. India is the land of the super computer and of a super culture. A culture that is built on the core tenet that the world is one family, that life is not about having more but really about being more, giving more and sharing more. As leaders of tomorrow we need to bridge the gap between culture and computer, between tradition and technology. We can check our Facebook but must face our own book at the end of the day. We must ask ourselves where do we stand whether we are becoming bitter or better, whether we are living in peace or pieces." Watch His entire speech here.
Watch the rest of the programme and hear more of the beautiful talks: https://www.bharatiyachhatrasansad.org
The event began with a beautiful offering of flowers and respect to the Sant Jnaneshwarji Pratima. Thereafter the dignitaries presided to the stage area where they symbolically rang the bell of democracy and lit the lamp to begin the programme on a note of auspiciousness.
At the conclusion of the ceremony included a pledge and Pujya Swamiji honoured Pt Hari Prasadji for his legendary contributions to classical Indian music. He also wrapped Rahul and Vishwanath Karadji in a beautiful sandalwood mala for their great efforts to inspiring a new generation of youth.