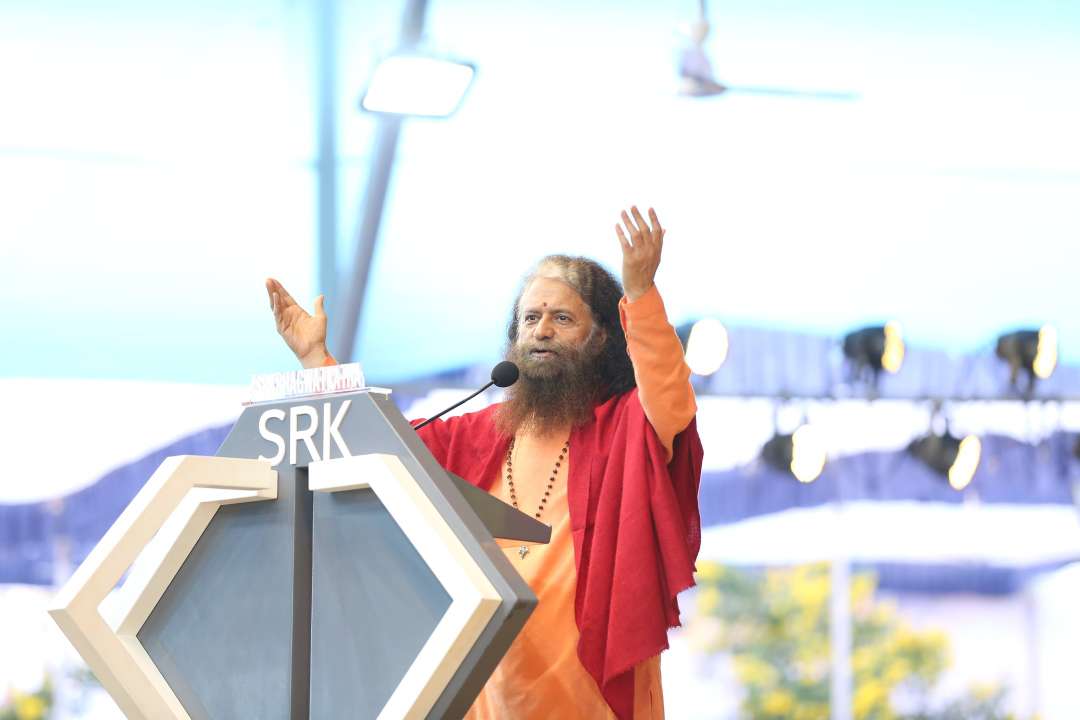 Inauguration Ceremony of Bhagwat Katha in Surat Gujara
Pujya Swami Chidanand Saraswatiji, the President of Parmarth Niketan attended the Inauguration Ceremony of Bhagwat Katha in Surat Gujarat at the beginning of January. The Katha was organised by SRK Hira Group, led by Govind Dholakia, and by Famous Kathakar Shri Ramesh bhai ojhaji. Pujya Swamiji gifted a divine Rudraksh sapling to Shri Govind Bhai, the famous Diamond trader, supporting their shared commitment to the environment.
While expressing his views on CAA to the gathering of thousands of devotees, Pujya Swamiji said,"CAA is not against anyone. It is against neither any religion nor caste. This is an Act that will bring solidarity, strength, progress and fraternity to the Nation. It is for the protection of citizens. I want to suggest to those who misguide people that hate can never be a fate of this nation. Therefore I request you to stop spreading hate and start working together hand in hand and heart in heart to enrich economic progress and unity admidst diversity. " Further He added that the public need not to be in fear and misinformation – He encouraged them to understand CAA and help others understand it. He appealed to thousands of people sitting in the packed auditorium to come together for the security, prosperity and progress of the Nation.
Pujya Shri Ramesh Bhai Ojha shared,"The truth is always with those who are truthful. Faith always protects those who are pious. Success and failure are like the banks of a river. Success is more dangerous than failure if it is achieved by wrong and unrighteous means." Thereby going on to lead an enthralling Katha which ignited great love, devotion and shared great wisdom from the Srimad Bhagavad Gita.
Pujya Swamiji added the importance of protecting our Nature, Culture and Future. He inspired everyone to pledge together and encouraged youth to not only follow a party culture but to have respect for their ancestors Aarti culture. He shared that Club Culture might be sought-after in metropolitan cities of India, but that we must work together to revive and strengthen our sacred Katha Culture. He lauded Govindbhai and his family for his divine example of simplicity and humility and for treating his employees as an extended part of his family. He shared that if our wealth is spent to protect and preserve our rich spiritual cultural heritage then that is the ultimate investment.